big data
big data news search results
Developer news items we found relating to big data
35 results
---
SAP Data Hub launched at SAP TechEd conference

Friday, October 5, 2018 by Christian Hargrave



SAP SE announced the latest release of SAP Data Hub, which helps build agile, data-driven pipeline applications that tap a single, logical data set representing an entire enterprise. The all-in-one data orchestration solution distills business value from all data for operational excellence and digital expansion. The announcement was made at the SAP TechEd conference, be...
---
AWS and Salesforce announce new integrations

Tuesday, September 25, 2018 by Richard Harris



AWS and Salesforce just announced at Dreamforce 2018 new integrations that they hope will dramatically simplify how data and events are shared across AWS and Salesforce services. As part of the next phase of their global strategic alliance, the two companies will work together to deliver integrations and frameworks for connecting the Salesforce Platform with AW...
---
National Coding Week is here

Monday, September 17, 2018 by Richard Harris



National Coding Week is upon us. That's why we thought it would be great to compile some quotes from industry experts to talk about what they think is most important about learning how to coding - a question seen through many different lenses. "Today, software drives business. So, if an organization wants to excel, it needs to become a software-powered jugg...
---
Smart Transit SDK has launched from HERE Mobility

Friday, September 7, 2018 by Richard Harris



HERE Mobility announced the launch of their Mobility Software Development Kit (SDK) using intelligent matching algorithms and big data to provide developers with smart mobility capabilities to enrich their apps and increase user engagement. The HERE Mobility SDK enables native integration with the HERE Mobility Marketplace, a global one-stop-shop for aggregating mobi...
---
Cisco invests in Dremio to provide better data analytics

Thursday, August 2, 2018 by Richard Harris



Dremio is a new Data-as-a-Service Platform company, created by veterans of open source and big data technologies, and the creators of Apache Arrow. They just announced that Cisco Investments will be investing into the company, extending Dremio's Series B financing to $30 million. The company previously closed their Series B round in January 2018, led by Norwest...
---
Better programmatic ads and fraud protection come from YouAppi upgrade

Wednesday, August 1, 2018 by Richard Harris



YouAppi, a growth marketing platform for premium mobile brands, just announced upgrades to its 360 Platform, initially launched last year. The 360 Platform hopes to address five critical needs for today's marketers: user acquisition, brand video, rewarded video, re-engagement and social media. Moshe Vaknin, CEO of Youappi had this to say; &ldquo...
---
Autonomous vehicles and data collection talks coming August 7-8

Wednesday, August 1, 2018 by Christian Hargrave



Three no-cost discussion sessions will explore the growing importance of data capture, use and safe/reliable storage in vehicles and the autonomous transportation at the Flash Memory Summit August 7-8 at the Santa Clara Convention Center. During the free sessions; engineers, executives, urban planners, government officials and transportation researchers will explore ...
---
Tackle big data from space at Space App Camp

Monday, June 25, 2018 by Richard Harris



Big data from space such as the EO program Copernicus and the ESA Sentinel satellites provides tremendous amounts of data to many industry sectors. This big data from space offers countless opportunities in connection with mobile apps: From space, our planet's atmosphere, land, and water can be continuously monitored for multiple application fields. To ma...
---
The role of the mainframe in digital transformation

Friday, June 22, 2018 by Subodh Singh



Today's economy centers around the idea of technologies being connected, the enabler of what many are calling digital transformation. With larger enterprises still relying on mainframes to serve as the foundation of their technology stack, many question how to power leading-edge processes that enable real-time customer experiences and great efficiencies, using wha...
---
Companies plan to invest in DataOps new survey finds

Thursday, June 14, 2018 by Richard Harris



Inspired by the DevOps movement, Nexla, the inter-company Data Operations platform, is proving the DataOps movement is real by just announcing the results of the industry's only annual data operations survey. The survey tracks the adoption and best practices of Data Operations (DataOps). It found that a staggering 73% of companies are investing in D...
---
Key takeaways from CA Technologies Built to Change Summit 2018

Friday, June 8, 2018 by Christian Hargrave



The CA Technologies' 2nd annual Built to Change Summit(BTC) lead to the release of a whole bunch of exciting new technology and research projects pertaining to DevOps, GDPR regulations, Agile project management, and more. The overall theme of the event being to make their development platforms "frictionless" for their users, allowing them to create and...
---
AI computing and HPC just got better with the HGX-2 cloud server

Thursday, May 31, 2018 by Richard Harris



NVIDIA has introduced HGX-2, a unified computing platform for both artificial intelligence and high-performance computing in the cloud. The HGX-2 cloud server platform helps provides unique flexibility to support the future of computing. It allows calculations using FP64 and FP32 for scientific computing and simulations, while also enabling FP16 and Int8 for AI training...
---
Edge computing has a need for speed

Wednesday, May 30, 2018 by Christian Hargrave



Edge computing is projected to grow at a cumulative annual growth rate of 46% over the next four years to over $6 billion by 2022.1 With this growth has come a readjustment in planning strategy on the part of CIOs and other IT managers. "For nearly a decade now, large, computer-intensive enterprises have been looking at IT investment in terms of moving virtually all app...
---
GPU based servers can help solve Big Data energy woes

Tuesday, May 22, 2018 by Richard Harris



Big data keeps getting bigger, and companies may think they are reducing their carbon footprint by moving to the Cloud but this move could actually be making things worse for the environment. With each new data center created for big cloud providers, tens of thousands of new racks need to be installed, which translates into a further strain on energy resources. &n...
---
Open source HarperDB database solution studio launched

Wednesday, May 16, 2018 by Richard Harris



The HarperDB database solution (founded in 2017) can be used for IoT project development, app development and enterprise data warehouses. This week at IoT World, they announced the availability of HarperDB Studio - an open source solution (Github download) to bring the company's database solution to end users, DBAs, and data scientists. HarperDB Studio allows organizati...
---
The blockchain approach to data storage problems

Sunday, May 13, 2018 by Pavel Bains



The human race has truly entered the Information Age. Once the epitome of innovation, the floppy disk's performance is now eclipsed by thumbnail-sized SD cards that boast over 500,000x the capacity of the already-ancient technology. Terabyte-denominated drives are becoming the norm, and prefixes like peta-, exa- and zetta- are being used to quantify the mind-boggling am...
---
Azure and Unravel boost Big Data in the Cloud

Monday, May 7, 2018 by Christian Hargrave



Unravel Data announced that it has integrated with Microsoft Azure to improve performance and reliability for Big Data workloads in the cloud. Unravel's APM platform will be available on the Microsoft Azure Marketplace, enabling Azure customers to analyze, troubleshoot and optimize their Big Data deployments with a full-stack solution. As a result, enterprises will gain...
---
KPMG expands alliance with Appian

Wednesday, May 2, 2018 by Christian Hargrave



Appian and KPMG LLP announced an expansion of their strategic alliance. Together, the companies are focused on making it easier to realize the business value of artificial intelligence (AI) by combining the KPMG Ignite portfolio of AI services with the speed, features, and intelligent automation (IA) capabilities of Appian's low-code platform. KPMG and Appian will expan...
---
Hazelcast Jet 0.6 promises better processing speeds

Wednesday, April 18, 2018 by Richard Harris



Hazelcast has announced the 0.6 release of Hazelcast Jet - an application embeddable, stream and batch processing engine. New functionality in Hazelcast Jet 0.6 includes a simplified high-level Java API, enhanced job management capabilities which enable computation elasticity and Spring integration.In its 0.5 release, Hazelcast Jet launched its Pipeline API. In Hazelcas...
---
The Linux Foundation launches LF Deep Learning Foundation

Friday, March 30, 2018 by Richard Harris



The Linux Foundation has launched the LF Deep Learning Foundation, an umbrella organization that will support and sustain open source innovation in artificial intelligence, machine learning, and deep learning while striving to make these critical new technologies available to developers and data scientists everywhere.Founding members of LF Deep Learning include Amdocs, ...
---
DeveloperWeek 2018 roundup

Thursday, March 22, 2018 by Badri Rajasekar



DeveloperWeek 2018, held recently in the SF Bay Area, is part of the largest series of completely developer-focused events in the world, with conferences also held in New York and Austin. It is a testament to the fact that "software rules the world" that around 8000 developers turned up for various parts of DeveloperWeek, which included a large two-day Hackathon, a fren...
---
Shared data machine learning PaaS kicks off from Cloudera

Tuesday, March 13, 2018 by Richard Harris



Cloudera, Inc. announced Cloudera Altus with SDX, a machine learning and analytics Platform-as-a-Service (PaaS), built with a shared data catalog providing the business context of that data. Altus supports a variety of high-value business use cases that require applying multiple data analysis capabilities and approaches together. SDX makes it possible for those analytic...
---
Actian says to be outperforming Amazon Redshift

Monday, March 12, 2018 by Richard Harris



Actian has announced that Actian Vector analytics database running on Amazon Web Services (AWS) outperforms Amazon Redshift "by as much as 12x" in an industry benchmark conducted by McKnight Consulting Group (MCG) Global Services. In a separate MCG benchmark report, Actian Vector performs "up to nearly 10x faster" than Microsoft SQL Server.In February 2018, MCG conducte...
---
Apple Search Ads support from Appbi

Monday, February 26, 2018 by Richard Harris



Apple Search Ads is Apple's proprietary ad platform that offers iOS mobile app publishers a way to get their app found through app store specific searches. It's reported that 65 - 80 percent of all app installs happen after a search through the app store. So understanding the challenges with being discovered through searches in the app store is a big deal.It's not enti...
---
Expert advice: Tips to help developers cope

Tuesday, February 20, 2018 by Richard Harris



According to a forbes report, being a software developer has it's perks. From a $168,000 a year average media salary, to being able to have your hand in crafting the Instagrams of tomorrow. But the task of creating flawless code and engineering ideas, comes with challenges.It's good to share war stories to help each other navigate the waters, so we recently had the chan...
---
Continuous testing challenges for dev teams in 2018

Friday, January 12, 2018 by Eran Kinsbruner



Today's world revolves around digital technologies. For example, consider how much time you spend on your cell phone in a single day. According to analytics firm Flurry, it's more than five hours. From making calls to utilizing things like social media. banking and healthcare apps, there's an app for just about everything. But what if the apps that help run our lives su...
---
Overcoming IoT security threats to achieve better ROI

Monday, January 8, 2018 by Richard Harris



With B2B IoT segments expected to generate more than $300B annually by 2020, it's no surprise that companies are rushing to build out their IoT businesses and cash in on the modern day gold-rush. However, many manufacturers are struggling to achieve long term profitability for their IoT projects beyond initial hardware sales.The key to ensuring an organization's IoT inv...
---
How human assisted AI may be the future

Tuesday, December 26, 2017 by Richard Harris



Self-driving (autonomous) cars, robotic hotel concierges, and Amazon's intelligent delivery drones - it's hard to minimize the potential impact that artificial intelligence (AI) and machine learning (ML) promise. Business leaders are all aflutter about AI's potential for providing game-changing impact to their industries. AI is also gaining attention for the perceived t...
---
AI and machine learning make app development and marketing smarter

Wednesday, December 13, 2017 by Brian Solis



Build it and they will come. Those were the good ole days. It used to be good enough to design a great app. Add to that an engaging user experience (UX), positive feedback, a high ranking and word of mouth, and your app was ensured continued success. Nowadays however, mobile consumers are simply overwhelmed by choice. Did you know that if you add up all the apps in the ...
---
IoT security gets tighter thanks to SDC Edge

Tuesday, December 5, 2017 by Christian Hargrave



StreamSets Inc. has debuted StreamSets Data Collector Edge (SDC Edge), an end-to-end data ingestion solution for resource and connectivity constrained systems such as Internet of Things (IoT) devices and the network infrastructure and personal devices that inform cybersecurity applications.SDC Edge packs the core functionality of the widely adopted StreamSets Data Colle...
---
Hazelcast Jet 0.5 API unveiled to increases dev productivity

Wednesday, November 29, 2017 by Christian Hargrave



Hazelcast has announced the 0.5 release of Hazelcast Jet - an application embeddable, distributed computing platform for fast processing of big data sets. New functionality in Hazelcast Jet 0.5 includes the Pipeline API for general purpose programming of batch and stream processing, and fault tolerance using snapshotting with the integrated Hazelcast IMDG. The overall f...
---
Inmarsat phone apps: Developers and satellite technology

Monday, October 30, 2017 by Richard Harris



Although you may not know it, we often use space satellites to communicate often in our daily lives. From GPS to weather predictions apps, without satellites the information that we have at our finger tips (or more specifically, our mobile phones) would be cut drastically. It follows that along with the constant innovation of mobile technology, satellite technology comp...
---
Community Data License Agreement announced by Linux Foundation

Wednesday, October 25, 2017 by Christian Hargrave



The Linux Foundation has announced the Community Data License Agreement (CDLA) family of open data agreements. In an era of expansive and often underused data, the CDLA licenses are an effort to define a licensing framework to support collaborative communities built around curating and sharing "open" data. Inspired by the collaborative software development models of ope...
---
Solving the challenges of database DevOps

Monday, October 16, 2017 by Richard Harris



As companies look to the promises of DevOps to improve their applications' quality and delivery, obstacles still exist with relational databases that hinder adoption of this collaborative process. In this interview, Perry Krug, Principal Architect of Strategic Accounts at Couchbase, shares insight into why relational database management systems impede database DevOps, a...
---
The impact of fast data on the modern application stack

Monday, October 9, 2017 by Richard Harris



Lightbend has announced its Fast Data Platform to help operationalize applications built for streaming data use cases. The new distribution aims to support how organizations design, build and run fast data applications, as new use cases like Real-Time Decisioning, Real-Time Personalization, IoT and others evolve the big data requirements from its legacy batch/Hadoop roo...
---
Featured Stories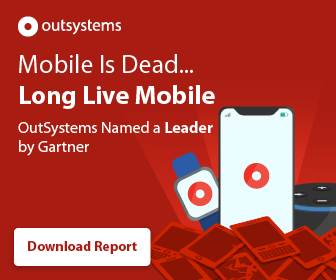 Stay Updated
Sign up for our newsletter for the headlines delivered to you
SuccessFull SignUp