test automation
test automation news search results
Developer news items we found relating to test automation
35 results
---
Digital Automation Intelligence Suite from Eggplant gets updated

Wednesday, November 7, 2018 by Richard Harris



Eggplant has announced the latest enhancements to its Digital Automation Intelligence (DAI) Suite. They say these new capabilities further extend the level of intelligent automation and insight into the customer experience by assisting with the modeling and automation of complex systems, diagnosing problems identified in test and automating usability testing. ...
---
Mobile testing platform Perfecto Mobile is acquired by Perforce

Wednesday, October 10, 2018 by Christian Hargrave



Perforce Software backed by Clearlake Capital Group, L.P., announced it has reached a definitive agreement to acquire Perfecto Mobile. The acquisition augments Perforce's software portfolio with additional capabilities for enterprise DevOps teams to achieve continuous testing at scale across web, mobile and IoT applications. The acquisition is expected to close this...
---
UI version control system has been developed by Applitools

Monday, September 17, 2018 by Christian Hargrave



Applitools announced a new UI Version Control system, empowering developers, test automation engineers, and product managers to view the entire history of their web and mobile application user interfaces (UI) to understand what's changed, when, and by whom. This lets R&D and product teams more intelligently guide app development by providing a visual record of...
---
iOS 12 subscription based app tips for success

Wednesday, August 29, 2018 by Eran Kinsbruner



Last year, Apple held a secret meeting with a select group of iOS app developers in New York to talk about changing the current app delivery model from one-time purchases to subscription-based. From Apple's view, these one-time purchases typically are inexpensive ($1-2), yet grant end-users unlimited access to the app and support, which can prove to be costly from...
---
Automating API testing just got easier

Friday, June 8, 2018 by Richard Harris



SmartBear released a new update to SoapUI Pro, an automated API testing tool. SoapUI Pro 2.4 provides a new native Jenkins plugin for easy integration with the popular CI/CD tool and has enhanced the API Discovery capability to convert API traffic to automated API tests. As organizations move to shift their testing into earlier development phases and adopt Agile prac...
---
SWORD attached smartphone device can detect weapons and explosives

Thursday, June 7, 2018 by Richard Harris



The urgent challenge for security personnel to noninvasively scan people in real time and in public to detect and "see" if they are carrying weapons or explosives without physically searching them could soon be solved with the launch of SWORD by Royal Holdings Technologies Corporation (Royal Holdings). SWORD attaches to a Google Pixel 2 XL smartphone and ...
---
AI test automation capabilities released for Eggplant suite

Tuesday, May 29, 2018 by Christian Hargrave



Eggplant announced the latest enhancements to its Digital Automation Intelligence (DAI) Suite. The advancements support Eggplant's mission "to use AI, machine learning, and analytics to optimize the digital experience, allowing teams to keep up with the pace of DevOps, and improve time to market and customer satisfaction."The latest product releases will enable Eggplant...
---
Mobile continuous testing tools announced by Perfecto

Wednesday, March 21, 2018 by Christian Hargrave



Perfecto has announced two new capabilities for mobile app developers to accelerate velocity as they take on greater responsibility for app quality. Perfecto's Continuous Quality Lab for web, mobile, and IoT testing now supports both Google's Espresso and Apple's XCUITest test frameworks. Developing test automation directly within the code base supports testing every co...
---
New Tosca release enhances SAP testing and automation

Monday, March 12, 2018 by Richard Harris



Tricentis, has announced the 11.1 release of Tricentis Tosca. Tosca 11.1 release adds a number of new features around SAP testing, BI/data warehouse testing, mobile, test data management, and more."Maintaining our position as the industry's most innovative test automation platform requires supporting the most complex applications in our customer's portfolios," said Dr. ...
---
Rethinking your mobile app testing tools

Friday, February 9, 2018 by Richard Harris



Using mobile app testing tools, or software QA tools usually tells developers something they don't want to hear - their software is broken somewhere. Over the years, testing apps and software has become more laborious than is should be, but a necessary evil when targeting multiple platforms and devices in today's dizzying world of mobile hardware.Rainforest is on a miss...
---
Continuous testing challenges for dev teams in 2018

Friday, January 12, 2018 by Eran Kinsbruner



Today's world revolves around digital technologies. For example, consider how much time you spend on your cell phone in a single day. According to analytics firm Flurry, it's more than five hours. From making calls to utilizing things like social media. banking and healthcare apps, there's an app for just about everything. But what if the apps that help run our lives su...
---
Software testing using Artificial Intelligence

Tuesday, January 2, 2018 by Richard Harris



As the complexity of software continues to increase and release delivery cycles shorten, software testers need to provide quality feedback to developers nearly instantaneously. In this age of continuous testing, companies are adopting a new mantra: Test smarter, not harder. There's simply no other choice, given the torrential pace of new software launches. Today, ...
---
How to avoid flaky automated testing results

Tuesday, November 28, 2017 by Richard Harris



Flaky tests are the bane of any tester's existence, forcing them to spend precious time on non-functional issues. This slows down the product lifecycle and lowers an organization's confidence in functional testing, which also decreases the likelihood of development teams writing end-to-end tests.End-to-end tests measure readiness for deployment by ensuring that the appl...
---
How mobile app testing has changed

Friday, August 4, 2017 by Richard Harris



Technologies are rapidly evolving and ways of testing them are changing too. But one thing remains true - product quality must be high. Therefore, it is important to have a clear vision on how you will guarantee that your product is working as planned. Depending on the project, you can build your own testing team, hire professional consultants or do a combination of bot...
---
CA says you are probably missing out on the benefits of continuous testing

Friday, July 21, 2017 by Richard Harris



Results from a CA Technologies global study reveal that while 75 percent of organizations highlight continuous testing as critical or important, only a minority of survey respondents have made exceptional progress acquiring the necessary knowledge and key enablers to drive digital transformation. The 20 percent of survey respondents identified as continuous testing 'Lea...
---
Atlassian JIRA gets a new exploratory testing tool

Thursday, July 13, 2017 by Christian Hargrave



Tricentis has released an exploratory testing tool available as a native add-on for Atlassian JIRA. The Tricentis session-based exploratory testing tool simplifies the planning, documentation, and reporting of exploratory testing directly within the JIRA environment - with full traceability between exploratory test results and the associated JIRA issues. Explorator...
---
5G network speeds getting closer with new 5G LaaS

Saturday, March 4, 2017 by Richard Harris



Spirent and Nokia announced the 5G Lab-as-a-service (LaaS) - a new platform for Nokia's Oulu-based network infrastructure testing labs. The first of its kind, the 5G LaaS features a self-service portal - through which it allows for global accessibility to simultaneous users so Nokia engineers can rapidly spin–up, tear down and reuse 5G hybrid test beds from any loc...
---
Test automation usage on the rise

Wednesday, February 8, 2017 by Michael Haynes



A study conducted by Wipro Limited, a consulting and business process services company, has found an 85% jump in Test Automation across industries to keep pace with the evolving technology landscape. The study, titled 'State of Quality 2016' was conducted over a period of nine months by Wipro's Testing Services practice using analytical tools, with the objective of iden...
---
Mobile automation testing tips

Tuesday, February 7, 2017 by Adam Croxen



As mobile application development matures, the range of features increases, but so does the effort required to test for regressions before shipping updates. A robust automation testing strategy can help in this situation but it is important to look at some key factors when setting up test suite infrastructure. An automated UI test suite can quickly run through all ...
---
Sencha Test 2.0 launches for comprehensive testing of Ext JS apps

Wednesday, February 1, 2017 by Christian Hargrave



Organizations are under increasing pressure to deliver applications to market quickly without compromising quality. With competition only growing more fierce by the day, the necessity for expedients that help produce well written programs is apparent. But lets be honest, there are a lot of hurdles to jump to get the best possible ROI. Perhaps most important of these hur...
---
Tricentis raises $165 million to speed up testing in DevOps

Monday, January 30, 2017 by Christian Hargrave



When it comes to web development, mobile app programming, or even establishing your enterprise software onto the market, there is one thing that all technology developers have in common. We all HATE having to test buggy software. I'm sure that every developer has went through the same traumatic experience at one point or another. That moment of getting so close to an ea...
---
HP Enterprise opens up about StormRunner Load and DevOps in the cloud

Tuesday, January 3, 2017 by Richard Harris



HP Enterprise recently announced the availability of HPE StormRunner Load on the AWS Marketplace. StormRunner Load is one of the first solutions to support SaaS Subscriptions on AWS Marketplace, and will help developers strengthen the quality and delivery of applications via a simple, intuitive and highly scalable platform. In-short, it's a a cl...
---
Undo talks about better debugging tools for your app

Tuesday, December 6, 2016 by Richard Harris



Undo is a software development company that is looking to help arm developers with the power of rewind for their many debugging struggles. They have created tools that allow developers to record, rewind, and replay application scenarios so that debugging is more efficient and effective. Located in Cambridge, United Kingdom, and born out of the founder's shed, Undo ...
---
Development practices that break applications and what you can do

Wednesday, November 30, 2016 by Jim Azar



As most organizational leaders recognize at some level, the increasing dominance of web and mobile applications has completely turned the software world on its ear. The number of critical business functions that are processed via a browser or mobile device is escalating, and inaccurate results, aberrant behaviors, and security flaws can all be absurdly costly. Virt...
---
3 things you need to know to make Agile software development work

Monday, November 21, 2016 by Christina Lynch



Traditionally, software development follows the Waterfall framework whereby a product is produced sequentially over a series of phases of construction. Waterfall's big drawback is how tedious it can be for developers, and how unresponsive it is to change. This is a major issue in today's world where technology is advancing at such a rate that resistance to c...
---
Centralized or Siloed Considering two test automation approaches

Wednesday, October 26, 2016 by Lubos Parobek



Today, software testing is undergoing a major shift. More and more teams are moving from a manual process to a fully automated approach that requires a more technical skill setNo two development environments are exactly alike and there is no cookie cutter approach to software delivery. But there are many standard approaches and methodologies to automated testing. ...
---
From installs to value: three trends in the age of app marketing

Thursday, October 20, 2016 by Brendon Kraham



Mobile apps are ubiquitous. We live in a world where there are over four million apps to choose from and where attention spans are shorter than ever before. As a result, it is becoming increasingly more important for marketers to understand the critical moments of engagement that are happening in the palms of users' hands.Over the past decade, app developers banked on t...
---
Qualitia's test automation software now supports Selenium 3.0

Wednesday, October 19, 2016 by Michael Haynes



Qualitia has unveiled the new 3.12 release of it's script-less test automation software. The highlight of the new release is the support for the latest version of Selenium, version 3.0. With the new release, Selenium 3.0 has been launched as "a tool for user-focused automation of mobile and web apps". They have completely dropped the RC support and has forced...
---
Katalon Studio Arrives With a Complete Test Automation Framework

Monday, September 19, 2016 by Richard Harris



IT services provider KMS Technology announced the release of Katalon Studio, a new automation toolset for web and mobile app testing. Katalon Studio revolutionizes the way software testers use Selenium and Appium with a complete test automation framework that allows testers to quickly setup, create, run, report, and maintain their automated tests. K...
---
How Software Defined Networking Is Changing App Development

Thursday, September 8, 2016 by Richard Harris



Midokura is a global software innovator in network virtualization founded in 2010. The co-founders began their careers building distributed systems for the world's preeminent e-commerce website: Amazon.com. Recognizing that companies around the world faced similar challenges and needed networking infrastructure not found in conventional networking, they applied th...
---
Four DevOps Events in September From Electric Cloud

Thursday, September 1, 2016 by Richard Harris



Electric Cloud just announced four upcoming DevOps industry events taking place in September. These events feature DevOps and IT experts who will share best practices and insights for adopting DevOps in the enterprise. Topic of discussions will include advanced deployment patterns, artifact repositories in the Continuous Delivery pipeline, as well as speakers ...
---
Big Data and Mobility: How Enterprise Resource Planning Is Being Reinvented

Wednesday, August 31, 2016 by Aymen Alaghbri



Although both mobile apps and big data analytics have become pivotal to business operations on a broad scale, one area of software development—enterprise resource planning (ERP)—has not historically been part of the revolution. Today, that is changing, as ERP developers recognize that their systems are perfect candidates for mobile-centric, big data analytics....
---
Orasi Hosts Webinar Series on Agile, DevOps, CI, and Test Automation

Tuesday, August 23, 2016 by Stuart Parkerson



Orasi is hosting a four-part webinar series that offers an in-depth approach on how to introduce DevOps, continuous integration and delivery, and test automation into a software development and testing process. Webinars Three and Four will be held this week with the Third webinar to be held on August 23 focusing on QA collaboration. During the webinar the Orasi tea...
---
Aquilent Expands Agile and DevOps Portfolio of Products

Monday, June 27, 2016 by Stuart Parkerson



Specializing in government processes, Aquilent's DevOps and Agile solutions includes:- DevOps tools selection and management- Project management services- Creative and data strategies- Infrastructure development, administration and automation- Cloud architecture, deployment, and administration- UX design and development- Unit and system test automation- Performance and ...
---
Testing is Like the Rodney Dangerfield of DevOps - It Gets No Respect

Tuesday, June 14, 2016 by Richard Harris



When Joan Wrabetz, CTO of QualiSystems, reached out to discuss why "Test is like the Rodney Dangerfield of DevOps – it gets no respect", I thought, "Ok, I'll listen to that." So here you go:ADM: So, you mentioned to me that "Test is like the Rodney Dangerfield of DevOps – it gets no respect", but you also mention that in a recent Gartner survey, over 50% of respondents ...
---
Featured Stories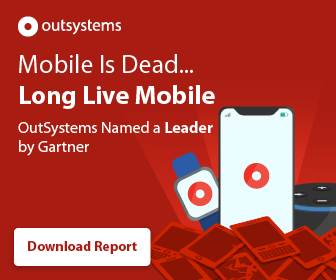 Stay Updated
Sign up for our newsletter for the headlines delivered to you
SuccessFull SignUp