gdpr
gdpr news search results
Developer news items we found relating to gdpr
24 results
---
State of DevOps in 2018

Thursday, August 30, 2018 by Richard Harris



DevOps Research and Assessment announced it has launched their latest report "Accelerate: State of DevOps 2018: Strategies for a New Economy" in collaboration with Google Cloud. Nearly 1,900 technical professionals worldwide participated in this year's study, contributing to research findings that drive excellence in the industry and allow organization...
---
Lack of AI automation is hurting corporate bottom lines

Monday, August 27, 2018 by Richard Harris



Bigtincan announced the findings of its recent study that evaluated if, and how, sales professionals are using sales enablement and advanced technologies like artificial intelligence (AI). Bigtincan surveyed more than 600 U.S. sales executives, working for organizations with 1,000 or more employees across industries including financial services, real estate, insurance, ...
---
Data masking report finds GDPR is pressing the need for solutions

Thursday, August 23, 2018 by Christian Hargrave



Dataguise has been recognized in a new report on data masking by Gartner titled, Market Guide for Data Masking. As data growth continues and data analytics becomes a mission-critical operation throughout the enterprise, Dataguise has been supporting the need to protect sensitive information in the wake of new data privacy regulations such as the General Data Protec...
---
MongoDB World 2018 and everything you need to know

Monday, July 2, 2018 by Richard Harris



At MongoDB World 2018, MongoDB made several major product announcements that the company says is "expanding on their presence in the database market." Nearly every company is focused on using software for a competitive advantage. The company says that with their latest enhancements database platform, "it enables a competitive advantage for thousands of cu...
---
Questioning the future of privacy and the safety of personal identity

Thursday, June 28, 2018 by Richard Harris



While consumers and businesses expand their use of social media and electronic services to record levels, many of America's most knowledgeable security professionals don't believe that individuals will be able to protect their privacy and online identity, even with precautionary measures and new regulations such as GDPR. These findings and more are outlin...
---
IBM expands of cloud capabilities to 18 new locations

Monday, June 18, 2018 by Christian Hargrave



IBM announced a major expansion of its cloud capabilities with plans to launch 18 new availability zones for the IBM Cloud across North America, Europe and Asia-Pacific. "The world's biggest companies work with IBM to migrate them to the cloud because we know their technology and unique business needs as they bridge their past with the future," sa...
---
What American companies can learn from Europe's new GDPR laws

Wednesday, June 13, 2018 by Christian Hargrave



People around the world have recently started to receive tons of emails from companies updating their privacy policies. Naturally, many ask, why this is happening, and the ones with a deeper understanding of the process mutter a four-letter combination - GDPR. While an astounding part of the US Senate appears to be confused about the concept of Net Neutrality, Europe&rs...
---
Key takeaways from CA Technologies Built to Change Summit 2018

Friday, June 8, 2018 by Christian Hargrave



The CA Technologies' 2nd annual Built to Change Summit(BTC) lead to the release of a whole bunch of exciting new technology and research projects pertaining to DevOps, GDPR regulations, Agile project management, and more. The overall theme of the event being to make their development platforms "frictionless" for their users, allowing them to create and...
---
GDPR compliancy costs to exceed $1M for many

Thursday, May 24, 2018 by Richard Harris



GDPR compliancy will cost businesses a pretty penny says the results of Netsparker's GDPR Survey. A survey of more than 300 C-level security executives, conducted online by Propeller Insights on behalf of Netsparker in March 2018, found that companies are taking the new General Data Protection Regulation (GDPR) much more seriously than HIPAA and PCI: 99 percent are acti...
---
What some experts are saying about GDPR

Friday, May 18, 2018 by Christian Hargrave



The GDPR bill is causing an uproar in the industry as the compliance date comes ever nearer. Yet few can say they actually know much about the bill that will come into place on May 25th.GDPR, or the General Data Protection Regulation, is an expansion upon the EU's previous Data Protection Act of 1998, extending the boundary of its territorial mandate from whatever juris...
---
Another mobile ad serving platform updates for GDPR compliancy

Wednesday, May 16, 2018 by Christian Hargrave



The GDPR deadlone is looming and mobile ad networks are scrambling to get their SDK's updated to stay legal. MoPub has just announced that their SDK v5.0 now includes several new improvements and bug fixes for iOS, Android, and Unity. This includes the important updates that are required to obtain consent from users in the European Economic Area (EEA), the United K...
---
Lightstreams wants to fix blockchain's privacy problem

Friday, May 4, 2018 by Richard Harris



Lightstreams has announced the launch of its blockchain protocol that aims to fix the mounting privacy issues holding back mainstream adoption of the technology. At the moment, any information stored on a blockchain is clear to everyone on the network. Instead, Lightstreams' blockchain protocol enables users to grant and revoke access to sensitive information or content...
---
DevOps practices more likely to integrate automated security

Saturday, April 21, 2018 by Christian Hargrave



Sonatype published findings from its 5th annual DevSecOps Community Survey of 2,076 IT professionals. The survey shares practitioner perspectives on evolving DevSecOps practices, shifting investments, and changing perceptions. Survey respondents with mature DevOps practices were 338% more likely to integrate automated security than organizations with no DevOps pra...
---
All aboard the Blockchain train!

Thursday, March 29, 2018 by Richard Harris



I hear the word Blockchain at least once a day now when just 6 months ago it was once a week. There is no doubt Blockchain is here to stay and it's gearing up to be the top adopted technology in recent years. But just like web developers that were left in the dust when native mobile development came to town, many developers, in general, are having a hard time grasping t...
---
Developers offer insight on AI, Open Source, and GDPR in new survey

Thursday, March 22, 2018 by Richard Harris



There is alot of new tech already in motion this year - most of which was birthed into the industry years ago, though it's just now creeping into our daily thoughts as developers. So what do you think about, or should you be thinking about?Cloud provider DigitalOcean has released a new survey on software developer trends and technologies. The survey had almost 6,000 res...
---
Urban Airship launches in app automation engine

Friday, March 16, 2018 by Richard Harris



Fast-following the announcement of AI Marketing Orchestration for cross-channel messaging coordination, Urban Airship has unveiled an in-app automation engine. In-app messaging is a proven lifeline for apps to engage all users, but limitations in triggering and delivery timing meant there was always the possibility for messages to be seen as irrelevant, annoying or inte...
---
72M data points collected on children in spite of COPPA

Wednesday, December 27, 2017 by Richard Harris



New research released shows that adult ad technology is collecting vast amounts of personal data on kids while they're spending time online. Behind the scenes of many kids apps and games, advertising technology built for adults captures more than 72 million data points on a child before they reach the age of 13. The findings were provided by SuperAwesome.SuperAwesome's ...
---
Exostar launches mobile multifactor authentication solution

Friday, December 15, 2017 by Richard Harris



Exostar has announced the general availability of a new option for multifactor authentication. Exostar Mobile ID is a smartphone or tablet app-based authenticator for which it has achieved Level 3 SAFE-BioPharma certification under the FICAM trust framework. The solution turns an individual's mobile device into a secure hardware-based second factor for access control to...
---
Automic intelligent automation platform released

Friday, October 27, 2017 by Richard Harris



Automic, one of CA Enterprises most recent acquisitions, recently announced its first major product release under the CA name, and that Automic has been named the flagship piece of CA's new Intelligent Automation platform. The move demonstrated CA's investment in the automation market, a market said to have a potential to grow to $10B by 2020. This is Automic's first pl...
---
Automated Security as a Service platform by ShiftLeft launches

Monday, October 16, 2017 by Christian Hargrave



ShiftLeft Inc. has introduced an automated Security as a service (SECaaS) for cloud software that creates custom security and threat detection for each application it supports. With ShiftLeft, organizations can now secure their cloud applications as part of their continuous integration pipeline, rather than merely reacting to threats discovered in production. ShiftLeft ...
---
NoSQL databases can now use Hackolade's CLI

Tuesday, August 8, 2017 by Richard Harris



With GDPR quickly approaching, Hackolade has announced its Command Line Interface (CLI) to help companies with the pending GDPR (General Data Protection Regulation) regulatory compliance (scheduled for May 25, 2018), along with overall corporate data governance needs. The CLI is currently available for the following NoSQL databases: MongoDB, Couchbase, DynamoDB, and Azu...
---
Actiance announces ISV Developer Program

Monday, July 24, 2017 by Richard Harris



Actiance has announced its ISV Developer Program. The new partner program will expand Actiance's compliance and archiving platform, providing customers with more powerful solutions to help them stay compliant with regulatory mandates set by FINRA, SEC, IIROC, FCA, GDPR, and MiFID II, and others, as well as gain valuable insights from the communications data they collect...
---
CA says you are probably missing out on the benefits of continuous testing

Friday, July 21, 2017 by Richard Harris



Results from a CA Technologies global study reveal that while 75 percent of organizations highlight continuous testing as critical or important, only a minority of survey respondents have made exceptional progress acquiring the necessary knowledge and key enablers to drive digital transformation. The 20 percent of survey respondents identified as continuous testing 'Lea...
---
InnoVault lets you embed end-to-end data security encryption to apps

Friday, July 21, 2017 by Richard Harris



Tozny, which has built a secure, privacy-preserving and password-free mobile authentication system, has announced the launch of InnoVault, an easy-to-use toolkit allowing developers to embed end-to-end data security encryption capabilities into their websites, apps, or software. As a result, developers can now raise the level of their data security and privacy managemen...
---
Featured Stories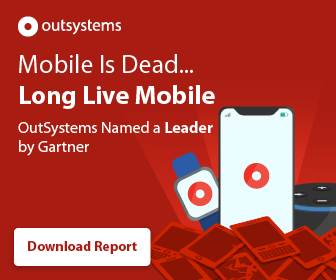 Stay Updated
Sign up for our newsletter for the headlines delivered to you

SuccessFull SignUp

co