Marketing & Promotion
Personalize your marketing for better results says Adobe
Monday, February 25, 2019
Adobe introduces new innovations in Adobe Target that help marketers deliver more impactful, personalized experiences to their customers, and help IT professionals collaborate more effectively with marketing teams on delivering those experiences.
According to Adobe's 2019 Consumer Content Survey, 83 percent of consumers say they've received content from brands that aren't personalized, with more than one-third of consumers saying this happens constantly or frequently. For brands, this is a huge opportunity missed. Especially considering approximately half of those consumers say they're more likely to become loyal to the brand if the experience is personalized.

To successfully deliver personalized experiences, our Adobe Target customers are doubling down on their experience optimization programs and leveraging the power of Adobe Sensei, our AI, and machine learning technology, for faster results. And they're seeing success. Last year, Adobe Target had a hand in generating $165 billion in revenue for customers (a 29 percent increase over 2017) and deliver personalized experiences to 73.4 billion visitors.
We're excited to introduce new innovations in Adobe Target that help marketers deliver more impactful, personalized experiences to their customers, and help IT professionals collaborate more effectively with marketing teams on delivering those experiences.
New AI-Powered Personalized Recommendations
Recommendations are one of the most powerful personalization tools that marketers can use to increase sales and customer engagement. Yet scaling personalized recommendations to a variety of audiences is a consistent challenge. To help marketers overcome this, Adobe Target is developing a new 'Weighted Relevance' algorithmic logic that extends beyond the traditional product use cases, providing greater recommendation customization and precision for marketers.

The new 'Weighted Relevance' rules leverage sophisticated profile-matching and relevancy weighting capabilities to further refine recommendations based on specific search criteria. For example, a job seeker will see positions most related to their skills and experiences on a job opportunities website. Not only will this feature better allow brands to execute their personalization strategy at scale, it will also empower them to make people-centric decisions that drive consistently better actions.
Harness the Power of AI with Enhanced Reporting
Last year, we announced the availability of the new Personalization Insights Reports, which transparently shows the work that the Automated Personalization and Auto-Target algorithms are doing. Now with new enhancements to the Personalization Insights Reports, users will be able to see the actual relative lift the algorithm is delivering based on a specific experience it delivers. For example, a marketer for an airline will be able to see the relative conversion and revenue lift that each offer or recommendations carousel is delivering above the default mobile page or app screen. This informs better optimizations for audience-level and individual experiences with guidance from machine-learning insights.
Major Strides in Exceptional Customer Service with Mobile App Personalization
We're thrilled to see significant, broader adoption of mobile app personalization as companies see improved app retention, engagement and conversion for their most loyal customers through delivering a tailored app experience. For example, a drugstore is using automated personalization to automate the ranked-order of their app's navigational icons based on an individual's primary uses. We're also seeing great strides in location-based personalization services. For example, a major hotel chain is using Adobe Target to trigger personalized screens with recommendations of amenities and upgrades throughout their property.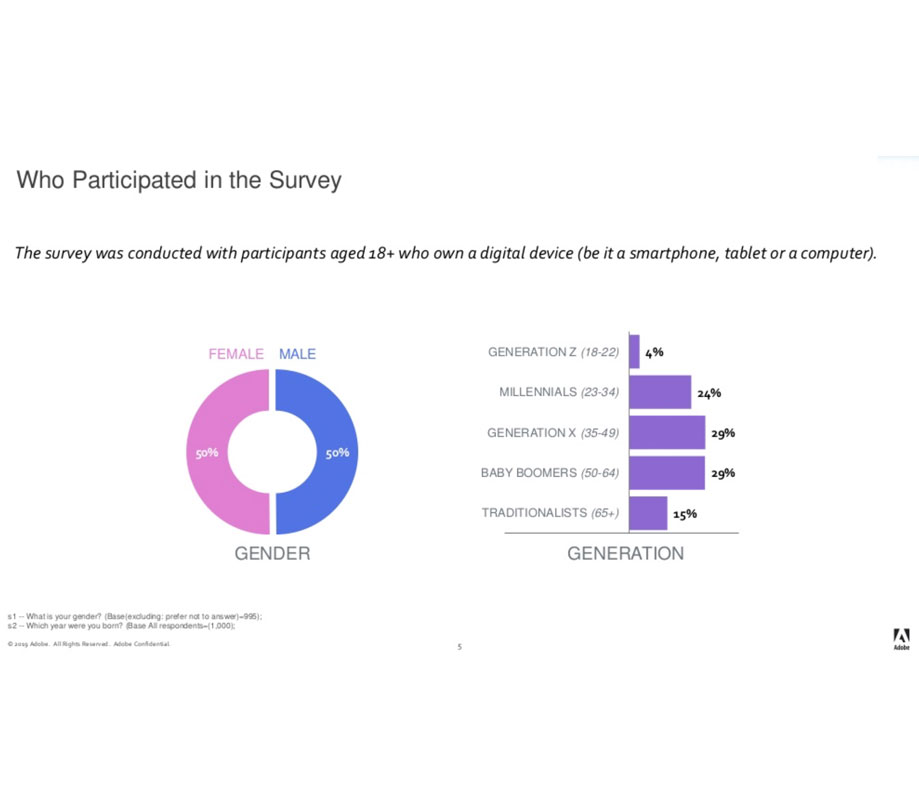 Adobe Target Personalization Maturity Model 2.0
We want all of our customers to achieve maturity in their personalization programs and are excited to release the next version of the Adobe Target Personalization Maturity Model.

With our latest Maturity Model, any marketer – Adobe Target customer or not – can assess the current effectiveness of their personalization efforts or programs. The updated maturity model and self-assessment include enhancements that enable customers to better evaluate their progress and set benchmarks for growth. The end result is a detailed report with clear suggestions on next steps in terms of governance, process and expansion of use cases. We've also updated the language and suggestions within the maturity model to support greater speed and scale.
New Industry-First Solution for Single Page Applications and Modern Web
Our Consumer Content survey also unveiled more than one-third of consumers say slow page loads frustrate them most when it comes to digital content experiences, and more than half would stop viewing the content all together if it takes too long to load. So, it makes sense that companies are turning to single page application frameworks (SPAs) to increase the speed, fluidity and responsiveness of certain areas within a digital experience to enhance customer experiences. We're excited to release a new solution for SPAs within Adobe Target that includes:
AT.js 2.0: AT.js, Adobe Target's javascript library and implementation framework built for SPAs like React and Angular, already provides direct support and extend its ability to optimize experiences for the modern web. Now within AT.js, we're introducing "views," where developers can group together visual elements within a SPA to streamline personalization within the web experience. Adobe Target's "views" also allow for discrete calls at the exact point that an experience needs to be tested or personalized for an individual.

New Visual Experience Composer for SPAs: Now generally available, Adobe Target's Visual Experience Composer (VEC) for SPAs gives marketers an easy, self-service way to create activities and personalize experiences that can be dynamically delivered in SPAs. VEC for SPAs lets marketers directly create A/B tests and targeting activities without developer intervention. For example, Lending Tree uses this feature to increase testing velocity with the simplified set-up to easily make changes on each step of the form. This securely protects against the potential of flicker that is often experienced with solutions that do not have these SPA-specific features and architecture.
---
Become a subscriber of App Developer Magazine for just $5.99 a month and take advantage of all these perks.
MEMBERS GET ACCESS TO
- Exclusive content from leaders in the industry

- Q&A articles from industry leaders

- Tips and tricks from the most successful developers weekly

- Monthly issues, including all 90+ back-issues since 2012

- Event discounts and early-bird signups

- Gain insight from top achievers in the app store

- Learn what tools to use, what SDK's to use, and more



Subscribe here