Monetize
Internet advertising continues to grow believe it or not
Thursday, February 23, 2023
Astute Analytica has released the Internet Advertising market report, they predicted that the global internet advertising market will become even more competitive in 2031, and the findings revealed that North America generated over 42% of the revenue of the global internet advertising market.
Astute Analytica has found that internet advertising remains the largest and most rapidly growing sector in the digital marketing industry, reporting nearly $476.46 billion in revenue in 2022. According to their research, mobile advertising accounts for the largest portion of digital advertising spend, making up nearly half of the total revenue. Moreover, the study highlights that the majority of digital ad expenditure (around 71%) is directed toward five major companies, namely Google, Facebook, Microsoft, Verizon, and Amazon.
Astute Analytica predicts that the global internet advertising market will become even more competitive in 2031, as it is projected to reach almost US$ 4,678.12 billion in revenue. This growth is driven by the continued adoption of ad technology, as well as the advancements in advertisers' strategies, such as targeted audience engagement, optimized media buying, and data-driven performance improvement.
Internet advertising market continues to grow
Despite the dominance of a few big players in the industry, there is still ample room for new entrants to establish themselves and gain market share. The rise of ad technology and the availability of data provide ample opportunities for entrepreneurs and small businesses to thrive in this highly lucrative market.
With the internet advertising market poised for further growth, companies should be aware of the latest trends and advancements in ad technology. By keeping up-to-date with the latest tools and techniques, businesses can maximize their reach, exposure, and overall campaign performance, thereby increasing their return on investment.
Key report insights
The online advertising market is segmented into various categories, including display advertising, search engine marketing, social media advertising, video advertising, and mobile advertising. The display advertising segment accounted for the second largest share of the online advertising market in 2022, accounting for around 32% of the total market. Similarly, search engine marketing held the largest share in 2022, accounting for around 46% of the market. This can be attributed to the widespread use of search engines such as Google, Yahoo, and Bing.
Furthermore, social media advertising is expected to register a substantial growth rate due to its ability to target specific audiences and create awareness about new products and services. Video advertisements are also becoming popular among advertisers due to their ability to quickly engage viewers and convert them into leads and customers. Mobile advertising, on the other hand, is expected to experience a surge in growth due to the increase in smartphone users, which is expected to reach $1,722 billion in 2031.
On the basis of region, the global internet advertising market is dominated by North America with a 42% market share due to the presence of well-established internet businesses. Additionally, the high adoption of new technologies and increasing spending on digital advertising are also driving the growth of the market in this region. Europe is also expected to register a substantial growth rate, owing to the presence of a large number of digital advertising platforms.
The report provides an in-depth analysis of the key players in the global internet advertising market, including Google, Facebook, Amazon, Microsoft, and Twitter. The report also provides a detailed overview of the competitive landscape, including mergers and acquisitions and partnerships between major stakeholders. Furthermore, the strategies adopted by these key players to remain competitive in the market are also discussed in the report.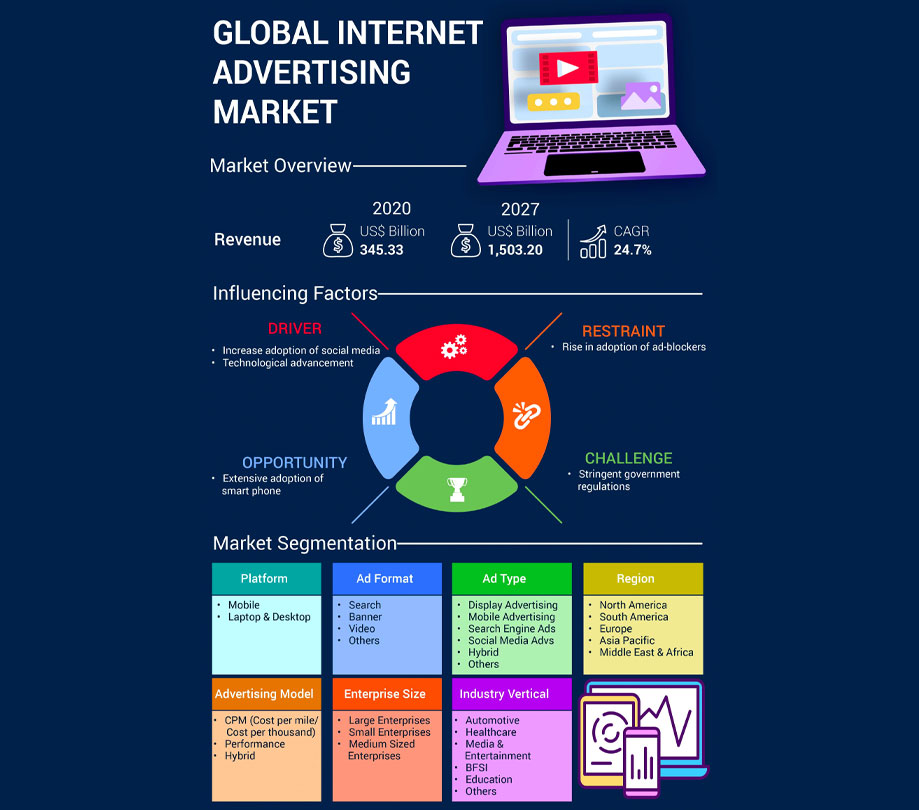 North America to generate over 42% of revenue of the global internet advertising market
North America is the most lucrative market for internet advertising due to several factors. Firstly, North America has the highest number of internet users in the world, making it the largest market for online advertising. Additionally, the region is home to some of the biggest tech companies, such as Google and Facebook, which use internet advertising as a platform to reach their customer base. Moreover, North America is an attractive market for advertisers due to its high spending power and willingness to invest in digital advertising. The region's affluent population has allowed companies in the internet advertising market to invest more in marketing campaigns, leading to a much higher return on investment compared to other regions.
Furthermore, the rise of streaming services such as YouTube and Netflix has enabled companies to target specific audiences, leading to more effective and efficient marketing campaigns. Lastly, the US has a mature television market, which is slowly being replaced by digital media, creating a larger opportunity for internet advertising. All of these factors have combined to make North America the most lucrative market for internet advertising.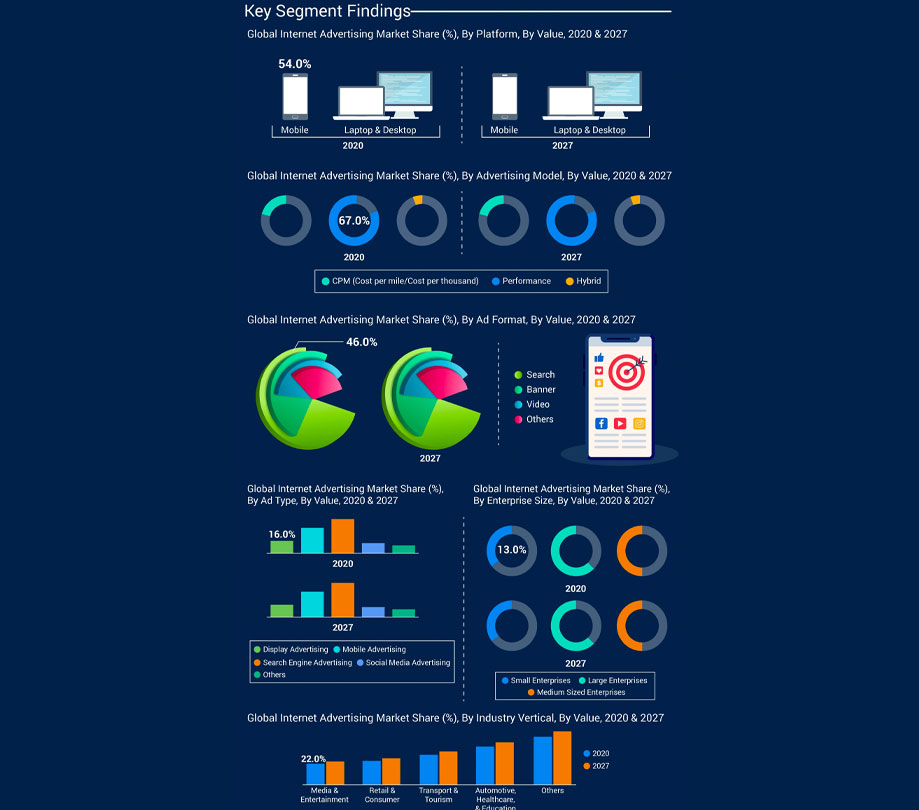 CPM to generate over 33% of revenue of the global internet advertising market
The CPM (Cost Per Thousand) model in digital advertising has gained widespread adoption and generated a significant portion of the industry's revenue in 2022, estimated at over 33%. This method charges advertisers a fixed amount for every 1,000 impressions their ad receives, regardless of clicks or conversions.
This form of online advertising is advantageous for companies and advertisers as it provides wider exposure for their products or service in the internet advertising market. Unlike CPC (cost per click) or CPA (cost per action), CPM requires less maintenance as advertisers only pay when their ads reach a thousand impressions, allowing them to focus on ad quality and creativity rather than click-throughs or conversions.
The average CPM for different ad networks can vary greatly, for instance, Google search ads average around $38.40 per CPM, while Google display network ads average $3.12 per CPM. The cost per mille, however, will depend on various factors such as the ad network, time of year, and ad type.
Given that CPM generates such a significant share of the revenue for the internet advertising market, it is projected to remain popular for years to come as advertisers aim to maximize their reach and exposure while focusing on optimizing their content and creative
Google generates over 33.2% revenue of the global internet advertising market
Google's dominance in the global market is indeed a remarkable feat, and it is clear that the company continues to be a major player in the industry. With its extensive ad network of properties, partner sites, and apps, Google has been able to generate over 33% of the revenue of the internet advertising industry, amounting to 113.49 billion U.S. dollars in 2022. This number represents an impressive growth from Google's total revenue of $283 billion in 2022, and it is clear that Google continues to be a major force in the global online advertising market.
Google's performance in the internet advertising market is mainly due to its ability to target customers in a wide variety of ways, such as location-based services, contextual ads, and search engine optimization. Additionally, the company has made significant efforts to optimize its ad platform for mobile devices, allowing advertisers to reach consumers in new and innovative ways. With its expansive ad network and the resources to develop technology that can further enhance targeting options, Google remains a powerful player in the digital advertising space.
Apart from Google, other major players in the digital advertising market include Facebook, Amazon, and Microsoft. However, Google still holds a significant share of the market, with its 33% contribution in 2022 estimated to be larger than the combined share of the rest of the players. With its advanced ad technology and strong market presence, Google looks set to remain a key player in the internet advertising market.
Some of the top market players are:
Adobe Systems Inc.
Alibaba Group Holdings Limited
Amazon Web Services, Inc.
Baidu, Inc.
Facebook, Inc.
Google LLC
Hulu LLC
International Business Machines Corporation
Microsoft Corporation
Twitter Inc.
Verizon Communication Inc.
Other Prominent Players
---
Become a subscriber of App Developer Magazine for just $5.99 a month and take advantage of all these perks.
MEMBERS GET ACCESS TO
- Exclusive content from leaders in the industry

- Q&A articles from industry leaders

- Tips and tricks from the most successful developers weekly

- Monthly issues, including all 90+ back-issues since 2012

- Event discounts and early-bird signups

- Gain insight from top achievers in the app store

- Learn what tools to use, what SDK's to use, and more



Subscribe here