google
google news search results
Developer news items we found relating to google
35 results
---
A designer's guide to mobile AR and VR

Thursday, August 16, 2018 by Paul Reynolds



When most people think of 3D user experiences, their mind goes straight to headsets - Oculus Rift for VR, for example, and Hololens for AR. But for designers and developers, that mindset changed dramatically last summer when Google and Apple released their mobile AR platforms - ARCore and ARKit, respectively. Almost overnight, these platforms swung the center of gravity...
---
Smart ball game converts data from the ball into usable game events

Wednesday, August 15, 2018 by Richard Harris



WRLDS announced the release of a new augmented reality (AR) and Bluetooth-enabled smart ball and platform. The ball is made of a lightweight, bouncy material and has a built-in chip to control mobile games, giving "tween" players healthy new ways to engage in active, outdoor play by essentially turning the whole world into a game. "We wanted to brid...
---
Fortnite for Android is a trailblazing risk for mobile banking

Tuesday, August 14, 2018 by Sam Bakken



CEO Tim Sweeny of Epic Games, the publisher of the wildly popular Fortnite game, is on a mission to "advance the openness of all platforms" - not to mention side-step Google's 30% take of developer proceeds - by distributing Fortnite for the Android platform via their website rather than the Google Play store. I applaud a maverick challenging the statu...
---
Information security event Black Hat USA celebrates 21 years

Tuesday, August 14, 2018 by Christian Hargrave



Black Hat has highlighted their 2018 event programming and new initiatives that will help make Black Hat USA 2018 its most successful show to date. The event welcomed nearly 19,000 of the most security-savvy professionals across the InfoSec spectrum - spanning academia, world-class researchers, and leaders in the public and private sectors. The event's robust line...
---
A quantum blockchain can stop quantum computing from hacking it

Monday, August 13, 2018 by John Wu



We have yet to see the full promise of Blockchain play out but companies and scientists are already close to launching a technology that could theoretically break it: quantum computers. Such machines can compute data exponentially faster than traditional computers. Earlier this year, Google began testing Bristlecone, a quantum computer chip that its creators think wi...
---
Flaregames partners with MeeWow to publish Tap Empire

Friday, August 10, 2018 by Richard Harris



Mobile gaming publisher Flaregames announced the next imminent global launch in its Q3/Q4 line-up with hyper-casual idle game Tap Empire releasing 11th October on iOS and Android devices. This debut game from San Francisco studio MeeWow Games will be the third title from the Flaregames Accelerator and the second to launch in the next two months, with Super Spell Heroes,...
---
Integrate video into apps easier using new tech from Cloudflare

Thursday, August 9, 2018 by Richard Harris



Cloudflare announced the general availability of Cloudflare Stream, a new way for content owners and app developers to integrate video into any application or website. Prior to Cloudflare Stream, if businesses wanted to move beyond just uploading videos to a consumer service like YouTube, they had to use at least three different services: one to encode video into a s...
---
Android P developer notes

Wednesday, August 8, 2018 by Christian Hargrave



The official Android Pie release has been announced in a Google blog post which promises the rollout of some pretty substantial changes to authentication, navigation UI, task prediction, and more. With the software currently in beta and waiting for its official release, it's important that developers get ready to start planning their next moves in order to strike ...
---
Using GraphQL for building internal apps quickly

Wednesday, August 8, 2018 by Tanmai Gopal



The transition from IT's role in organizations, from a mere horizontal function to one of a strategic advantage, is playing out the world over. However, most change management techniques behind these efforts tend to disproportionately focus on end-user facing software - often at the cost of intra-organization or internal applications (apps). Internal apps prope...
---
A guide to ad retargeting responsibly

Tuesday, August 7, 2018 by Richard Harris



Browse any website with ads, then load up your favorite mobile game and you might see advertisements from the searches you did on the website you were just on, now inside your game! How is this possible? It's called ad retargeting, or behavioral retargeting, and it's gone wild everywhere digital. How does ad retargeting work? There are actually a few ...
---
Amazon prime day 2018 data is out from Liftoff

Monday, August 6, 2018 by Richard Harris



Liftoff released new data around Amazon's fourth annual Prime Day and how the day-and-a-half long sale affected the world of e-commerce. The data reveals a significant change this year, with Prime Day itself offering a dramatically larger lift to other mobile commerce businesses than previous years, but with a steep drop-off late in the week. Amazon Prime Day i...
---
The Android screen notch guide for developers

Monday, August 6, 2018 by Richard Harris



The screen notch on the iPhone X screen was unavoidable with the inclusion of the edge-to-edge OLED screen because the camera and sensors get in the way. So manufactures have to contour the screen around the sensors and camera area, which created the somewhat odd, but always funny "screen notch". Until now iOS developers were the only ones that&...
---
Mobile game advertising partnership between Google and Unity announced

Friday, August 3, 2018 by Richard Harris



Unity Technologies and Google's mobile advertising business, AdMob, have announced a strategic partnership that will be aimed at changing the way advertisers reach gamers on-the-go and help mobile game developers monetize their apps. With more than 50 percent of all new mobile games made on Unity, this partnership gives Google advertisers access to Unity's e...
---
Better programmatic ads and fraud protection come from YouAppi upgrade

Wednesday, August 1, 2018 by Richard Harris



YouAppi, a growth marketing platform for premium mobile brands, just announced upgrades to its 360 Platform, initially launched last year. The 360 Platform hopes to address five critical needs for today's marketers: user acquisition, brand video, rewarded video, re-engagement and social media. Moshe Vaknin, CEO of Youappi had this to say; &ldquo...
---
Low-code platform by LANSA announces big updates

Wednesday, August 1, 2018 by Richard Harris



LANSA has announced a major new release of its software development platform, Visual LANSA. The update plans to improve developers' ability to build scalable mobile, web and desktop applications significantly faster than before, in order to accelerate customers' digital transformation projects. Visual LANSA key improvements include: More enterpri...
---
Google cracks the whip with new policy updates

Wednesday, August 1, 2018 by Richard Harris



Google's Developer Policy Center has recently updated their platform policy for Google Play to include new measures that may affect future apps introduced to their app market. Google has sent out the mass email notification to all of its developers and says in the email that: "We encourage you to review these policy updates carefully in case any of your e...
---
Knative build component extends Kubernetes

Monday, July 30, 2018 by Richard Harris



Developers may no longer have to choose between serverless FaaS and containerized application architectures with the release of a new blog post by Jason McGee, VP and IBM Fellow, IBM Cloud. Traditionally, developers have one of two options. Either they go the cloud Function-as-a-Service(FaaS) route and enjoy rapid development times and scalability, or they go the con...
---
Fortnite to finally release for Android!

Monday, July 30, 2018 by Christian Hargrave



Over one year from its a initial launch data, and nearly half a year from its iOS launch, Fortnite has finally announced the list of Android devices that will also soon support the popular video game. A full list of supported platforms is provided at the bottom of this article, but suffice it so say that a majority of newer Google, Huawei, Sony, Samsung, and Motorola ph...
---
SnapCash goes away after excessive feature misuse

Wednesday, July 25, 2018 by Christian Hargrave



Snap's money transferring functionality, named SnapCash, has been marked for removal from the popular app due to misuse of the feature by users. Many alleging that this announcement is due to the sale of sexually explicit photographs and using the SnapCash feature as the method of payment. Whenever the SnapCash features launched in 2014 in a partnership effort ...
---
AR on the web too!

Wednesday, July 25, 2018 by Erik Murphy-Chutorian



Augmented Reality belongs online. To date, AR has primarily been confined to the app store, but there's a growing group of visionary developers and companies that have figured out that by "AR-ifying" their products for the web, they win in a larger number of more satisfied and enthusiastic users and customers. At the moment, we're seeing an ex...
---
Data Transfer Project wants to make switching platforms easy

Tuesday, July 24, 2018 by Christian Hargrave



The Data Transfer Project was formed in 2017 and was initially designed to create a data transfer protocol that would make data more portable across the web. Recently the organization has released a new white paper named, Data Transfer Project Overview and Fundamentals, on how readers can build a platform that lets individuals port data between app services. The open so...
---
Geo-data analysis and storage optimization enhanced by HarperDB

Wednesday, July 18, 2018 by Christian Hargrave



HarperDB has new features that allow real-time geo-analysis, storage optimization for edge devices and the ability to run massive data analysis. As a result, they say companies tackling complex IoT projects can achieve a more intelligent edge without incurring further storage or hardware costs. HarperDB features include: Geographical Data Analysis: HarperDB'...
---
Best mobile gaming apps will share $300K in prizes from new contest

Wednesday, July 18, 2018 by Richard Harris



AppLovin announced the launch of Lion Studios, a media division of AppLovin that works with mobile developers to publish and promote their apps. To celebrate the launch, AppLovin also announced a contest in which the company will award $300K in prizes for the four best mobile gaming apps submitted. Lion Studios furthers AppLovin's mission by fueling growth of t...
---
Open source IT automation solution from Red Hat gets an update

Wednesday, July 18, 2018 by Christian Hargrave



Red Hat, Inc. announced the general availability of Red Hat Ansible Engine 2.6, the latest release of its agentless open source IT automation solution. Red Hat Ansible Engine 2.6 adds new content for automating across hybrid and multi-cloud environments, along with simplified connections to network APIs and updates for Ansible deployments overseeing Windows environments...
---
Euro Truck Driver 2018 drops for Android

Friday, July 13, 2018 by Richard Harris



Ovilex Soft has announced the release of their new Euro Truck Driver 2018 app. Available for free on the Google Play Store and coming soon to iOS, Euro Truck Driver is a successor to the original version that launched in 2015 and has been downloaded more than 20 million times. In Euro Truck Driver 2018, users experience life as a professional truck driver by choosing...
---
Why Kotlin language use is skyrocketing

Tuesday, July 10, 2018 by Richard Harris



Kotlin, the Java based language that titles itself as "The Statically typed programming language for modern multiplatform applications" is alive and kicking as revealed in a new report from Pusher who says there is "exponential growth in Kotlin adoption." Kotlin originated at JetBrains, the company behind IntelliJ IDEA, in 2010, and has been ...
---
Avoid mobile cybersecurity threats by checking the source

Thursday, July 5, 2018 by Sam Bakken



Earlier this month IT news organizations around the globe reported that Epic Games' popular Fortnite game was being counterfeited and malicious actors were, in fact, lacing the imposter apps with malware. We're only human, and people unwittingly let their guard down in anticipation of something they're passionate about, or when they think they might b...
---
MongoDB World 2018 and everything you need to know

Monday, July 2, 2018 by Richard Harris



At MongoDB World 2018, MongoDB made several major product announcements that the company says is "expanding on their presence in the database market." Nearly every company is focused on using software for a competitive advantage. The company says that with their latest enhancements database platform, "it enables a competitive advantage for thousands of cu...
---
What American companies can learn from Europe's new GDPR laws

Wednesday, June 13, 2018 by Christian Hargrave



People around the world have recently started to receive tons of emails from companies updating their privacy policies. Naturally, many ask, why this is happening, and the ones with a deeper understanding of the process mutter a four-letter combination - GDPR. While an astounding part of the US Senate appears to be confused about the concept of Net Neutrality, Europe&rs...
---
mWallet 2GO is a new mobile wallet system for IoT and more

Friday, June 8, 2018 by Richard Harris



Need a payment solution for your OEM wearable, mobile, or IOT device? NXP Semiconductors N.V. just announced the launch of its new mWallet 2GO, a white label wallet service developed on the NXP Secure Service 2GO Platform. The payment solution is designed to ease development, reduce cost, and accelerate time-to-market for OEMs (Original Equipment Manufacturers...
---
SWORD attached smartphone device can detect weapons and explosives

Thursday, June 7, 2018 by Richard Harris



The urgent challenge for security personnel to noninvasively scan people in real time and in public to detect and "see" if they are carrying weapons or explosives without physically searching them could soon be solved with the launch of SWORD by Royal Holdings Technologies Corporation (Royal Holdings). SWORD attaches to a Google Pixel 2 XL smartphone and ...
---
Node.js developer survey reveals unique environment insights

Tuesday, June 5, 2018 by Richard Harris



The Node.js Foundation announced the availability of its Node.js User Survey Report. Key findings of the survey reveal the benefits of Node.js expand over time, resulting most often in improved developer productivity and satisfaction and reduced development costs. Containers and cloud-native computing are on the rise with 58% of overall users noting they using Kubernete...
---
AI voice app study to be done on remote patient monitoring

Tuesday, June 5, 2018 by Richard Harris



Orbita, Inc. has announced a collaboration with AARP to study remote patient monitoring and reduce social isolation. As participants in the 2018 Pulse@MassChallenge accelerator, the organizations will study new digital approaches for leveraging natural language processing to new enable hands-free, digital experiences for the 50-plus population. The work will guide ongoi...
---
Mobile Threat Landscape reports steady decrease in blacklisted apps

Friday, June 1, 2018 by Christian Hargrave



RiskIQ has released its Mobile Threat Landscape Q1 2018 Report, which analyzed 120 mobile app stores and more than two billion daily scanned resources. The findings showed that taking advantage of the popularity and volatility of the cryptocurrency landscape is paying off for threat actors via the mobile attack vector and that malicious apps leveraged by nation-state ac...
---
Millennial targeted news app SQUID hits 1M downloads

Thursday, May 31, 2018 by Richard Harris



SQUID App - the first news app built for millennials, was developed by Njuice AB, a media company based in Stockholm, Sweden, has just crossed 1,000,000 downloads and the company is growing its user-base by double-digit numbers every month.The goal of the app is to make relevant news readily available, offering a wide range of topics that let users select and create the...
---
Featured Stories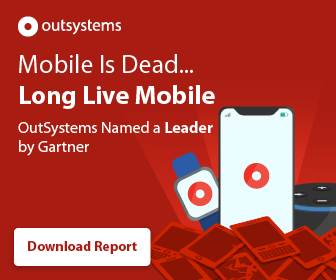 Stay Updated
Sign up for our newsletter for the headlines delivered to you

SuccessFull SignUp

co