Monetize
Why you are losing app customers
Wednesday, November 6, 2019
A new report from AppsFlyer, reveals marketers are missing opportunities to convert users to paying customers. The study of 12,000 apps by AppsFlyer shows app marketers are losing app customers because of measurement blindspots.
A new report from AppsFlyer reveals marketers are missing opportunities to convert users to paying customers. On average, the share of paying users is lower than 10% based on app install-to-purchase ratio (a mere 3-5% in gaming apps and double that rate in non-gaming apps).
App marketers losing app customers due to measurement blindspots
In a space dominated by free-to-install apps, where the actual value is tied to post-install in-app activity and share of paying users, the study by AppsFlyer examined over 12,000 apps with a user base of over 2.3 billion users. Findings determine the importance of granular in-app event measurement and provide insights to improve campaign effectiveness and increase the percentage of app installs that lead to a purchase.
The rate of paying users is lower when marketers don't measure, and therefore optimize for enough in-app events. On average, the report found that marketers are measuring only 4-7 events per app, depending on the vertical, but performance based on the share of paying users is much higher, hitting its peak at 16-20 events, or 26-30 in the gaming space.
"Although performance app marketers have shifted their efforts from focusing on driving installs to post-install measurement, most are still measuring only a fraction of the in-app activity they could be. Converting more users to paying users and maximizing their revenue potential requires measuring events that span the full conversion cycle and all significant milestones in the consumer journey, allowing marketers to identify gaps and optimize accordingly. The insights that can be drawn from this data are vast and can help maximize user lifetime value by informing smarter acquisition and re-engagement decisions," said Shani Rosenfelder, Head of Mobile Insights at AppsFlyer.
In-app events ignored
In-app events contain specific information about actions taken using an app. For example, purchasing a product, booking a flight, or – in a gaming context - completing a game tutorial, or passing level 10.
In fact, almost 60% of apps measure revenue events, but the second and third most popular events — Login and Registration — trail far behind, as they are measured by only 30% of apps. Among Gaming apps, the average number of apps measuring for Level Achieved is 42%, while only 19% of apps measure Tutorial Completion, significantly lower than the 70-80% that measure revenue. Since app performance is significantly higher in apps that measure events throughout the customer cycle, closing this gap can certainly lead to better results.
Revenue is best optimized with granular measurement
Across nearly all verticals, performance is significantly higher in apps that measure granular in-app events, rich with information about the action taken, rather than standard events that only contain information about whether the action was taken.
For example, granular in-app events measured for purchases that include data on the content purchased, specific content ID, the currency used, the value of the purchase, customer user ID, final purchase and more, give more insights into conversions within an app. Overall, the report found, granular event measurement helps marketers make smarter decisions and ultimately drive higher user retention rates. Since retention is highly correlated with revenue, it is critical that marketers optimize to encourage ongoing usage of their apps and increase the likelihood of purchases and the lifetime value of their users.
"With all of the information marketers have at their fingertips, it is critical they invest in an infrastructure that allows for more granular measurement, as well as in advanced tools, tech and people that are equipped to draw the most actionable insights from the data without compromising productivity," said Shani Rosenfelder, Head of Mobile Insights at AppsFlyer.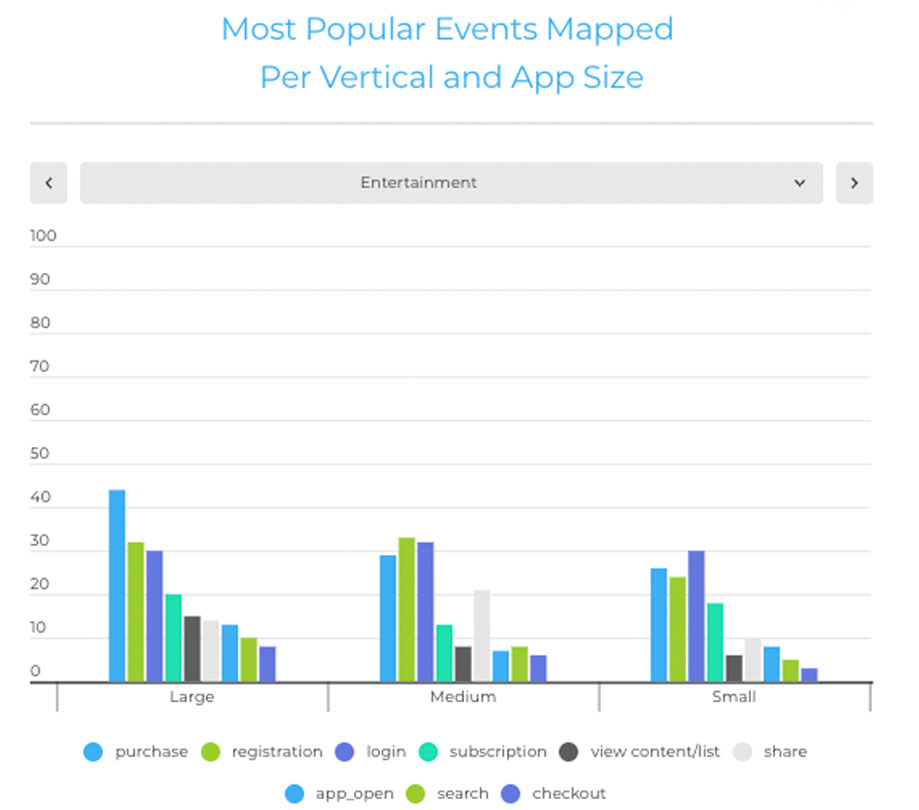 ---
Become a subscriber of App Developer Magazine for just $5.99 a month and take advantage of all these perks.
MEMBERS GET ACCESS TO
- Exclusive content from leaders in the industry

- Q&A articles from industry leaders

- Tips and tricks from the most successful developers weekly

- Monthly issues, including all 90+ back-issues since 2012

- Event discounts and early-bird signups

- Gain insight from top achievers in the app store

- Learn what tools to use, what SDK's to use, and more



Subscribe here