Artificial Intelligence
UNESCO wants to make AI less artificial and more intelligent
Monday, March 11, 2019
Participants at Global UNESCO Conference on Artificial Intelligence, urge the need to ensure human-centred governance of artificial intelligence (AI).
As UNESCO's (United Nations Educational, Scientific and Cultural Organization) Director-General Audrey Azoulay opened this year's global Conference, she said, "The issues raised by artificial intelligence are not technological. They concern our own humanity, raising scientific, political, philosophical and ethical questions."
Ms Azoulay declared that "the time is more than ripe to define the ethical principles that must serve as a foundation and framework of this disruption; to ensure that AI serves collective choices, based on humanist values."
Referring to UNESCO's work on AI, the Director-General announced that "We will now be able to work on the basis of a first report of the Commission on the Ethics of Scientific Knowledge and Technology, COMEST. This new report, dedicated to artificial intelligence, will certainly provide major scientific support to Member States' reflection and initiatives."*
Angel Gurría, Secretary-General of the Organization for Economic Cooperation and Development (OECD) spoke of the need for cooperation to ensure that AI becomes a driver of inclusive and sustainable growth. "We have to get this right, because while AI is driving optimism, it is also fuelling anxieties and ethical concerns."
Mr. Gurría spoke of the need to work with UNESCO in a concerted effort to "make AI less artificial and more intelligent."
Throughout the day, academics, representatives of intergovernmental organizations, government ministers, the private sector, members of the technical community, the media, academia, and civil society called for the development of ethical principles to govern AI on the basis of transparency and accountability. They stressed the need for open data that is respectful of privacy. They stressed the importance of data, which goes beyond information traditionally collected by public services, as it informs the predictions and decisions that already allow AI to contribute to the treatment of diseases, the management of water resources and agricultural planning, for example.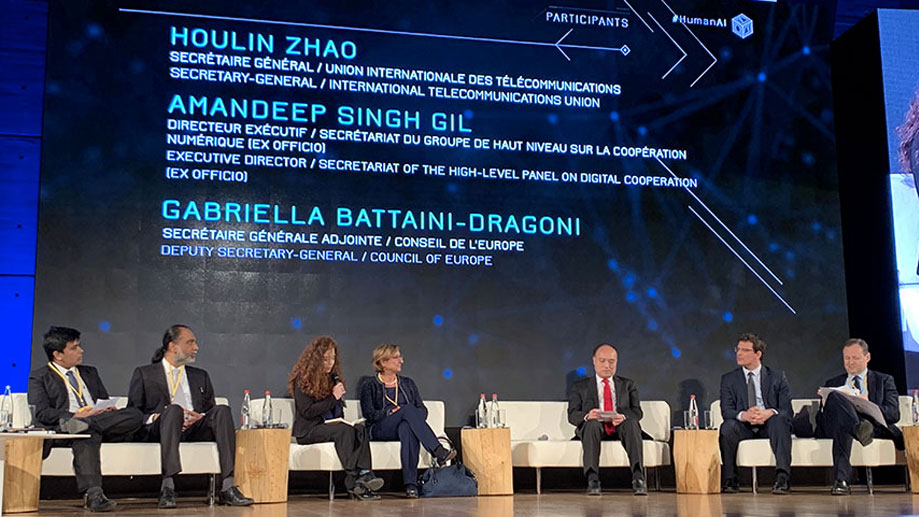 But data is not neutral, and several participants pointed out that making technology serve humanity required data that is truly representative and inclusive, which poses a problem considering that half the world's population remains unconnected to the internet.
Cédric Villani, the winner of the Fields Medal in Mathematics and member of the French parliament, spoke of the need to preserve human sovereignty in the face of algorithms, and geopolitical sovereignty in the face of the present competition to develop AI. Speaking of the challenge of developing AI to serve human goals, Mr. Villani cautioned, "The danger is ourselves if we fail to rise to the challenge."
Bunmi Banjo, Managing Director of Kuvora Inc warned against falling into the "efficiency trap" without considering what is just and fair, as decisions taken today will affect humanity for decades to come.
But speakers pointed to the slowness of international standard-setting instruments that have historically followed technological innovation rather than anticipating them, which is what is now required where AI is concerned.
While all speakers highlighted the need to develop principles for AI, Fabrizio Hochschild Drummond, Assistant Secretary-General for Strategic Coordination, Executive office of the Secretary-General of the United Nations, warned, "the current preference for non-binding international agreements, part of the shift from cooperation to competition, is making non-binding treaties much more attractive. But we cannot rely on everyone to be good. If we let the invisible hand of the market operate freely, we will get useful applications, but our privacy will be eroded and inequalities will grow, contributing to the polarization of our societies," he argued.
---
Become a subscriber of App Developer Magazine for just $5.99 a month and take advantage of all these perks.
MEMBERS GET ACCESS TO
- Exclusive content from leaders in the industry

- Q&A articles from industry leaders

- Tips and tricks from the most successful developers weekly

- Monthly issues, including all 90+ back-issues since 2012

- Event discounts and early-bird signups

- Gain insight from top achievers in the app store

- Learn what tools to use, what SDK's to use, and more



Subscribe here