Game Development
The most popular gaming platform, and why cloud gaming sucks
Friday, March 22, 2019
What is the most popular gaming platform? Why are gamers frustrated about online gaming? Do men play more games than women? A new report out from Limelight Networks offers insights into many questions every game developer should raise an eyebrow to.
Gamers spend an average of 7 hours, 7 mins each week playing (up 19% from last year), and cloud is the next frontier for video games it seems, with major tech players like Microsoft and Google teasing their cloud gaming launches at GDC 19. But getting gamers on board with these new services will require developers to create interactive games that don't frustrate them - and according to a new report, online gaming still has a long way to go.
Limelight Networks' State of Online Gaming report digs into worldwide gamers' habits and preferences for online gaming - including their frustrations and concerns. Here are some of the report highlights.
The biggest pain point for gamers playing online is the downloading process:
Nearly 85% of global gamers find the process of downloading video games frustrating, and they would much rather just download the entire game.
34% note the length of time it takes to download is the primary issue
Frustrations with download speed are highest for younger gamers 18-25 (44%)

In addition to performance, online games leave platforms open to cyber threats - and security issues are enough to turn gamers away for good:
More than half (54%) of worldwide gamers wouldn't continue to play games on a website that has previously suffered security issues
Millennial gamers (age 26-35) have the lowest security concerns (42%)
Female gamers have higher security concerns (56%)

Mobile phones remain the primary platform for gaming
Although a variety of devices are used for gaming, mobile phones remain the most popular device globally. This is consistent with the 2018 results where mobile phones were also the most used gaming device. Germany is the only country where mobile phones are not the most commonly used device, with computers leading the way. Gaming consoles have the highest usage in the U.K., and computers and tablets are used in India more than any other country.


But the data doesn't just point to mobile across the board. It found that people over 60 years old still prefer gaming on their computer. It's the younger generation of mobile users that tilt the overall score to the mobile platform being the most used for gaming.
And to further strengthen Christy Wong-Taylor's points crafted in a recent exclusive article about women gamers being an untapped resource on ADM, it's women who play more games on mobile than men. Christy cited that women gamers make up 65% of all active gamers on mobile.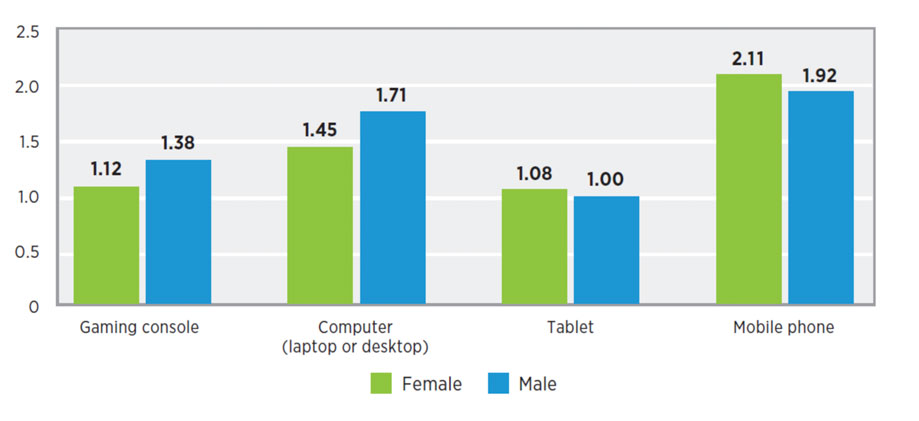 Other insights from the report include:
Casual single player games are the most popular kind of game
Watching other people play games online is popular mostly by younger gamers
Gaming is interfering with gamers daily activities
1/3 of gamers play while at work
1/3 of all gamers want to become professional gamers

And there is a multitude of other points made in the massive report. The most important takeaways for developers though can be found at the end of the report which includes their recommendations for game developers. Things, like optimizing your game for downloads, and tightening up security, should be in the top of your list.
---
Become a subscriber of App Developer Magazine for just $5.99 a month and take advantage of all these perks.
MEMBERS GET ACCESS TO
- Exclusive content from leaders in the industry

- Q&A articles from industry leaders

- Tips and tricks from the most successful developers weekly

- Monthly issues, including all 90+ back-issues since 2012

- Event discounts and early-bird signups

- Gain insight from top achievers in the app store

- Learn what tools to use, what SDK's to use, and more



Subscribe here