Developer Jobs
Tech layoffs are increasing at a staggering rate
Tuesday, April 4, 2023
BanklessTimes has released the findings from their recent investigation into the mass layoff affair amongst major tech companies. The key findings revealed that 528 tech companies have announced layoffs in 2023 and the rate has reached a staggering 727% YoY, as of March 2023.
BanklessTimes has recently revealed its findings after analyzing data to reveal the major tech companies laying off staff in March 2023. March isn't yet over, and already two of the world's largest tech firms have announced significant layoffs. Meta is to let go 10,000 of its employees, while Amazon is not far behind with 9,000 worker redundancies.
Tech layoffs reach a staggering 727% YoY increase in March 2023
"Meta and Amazon are not the only household name brands to find themselves struggling in recent months. In January, Alphabet, the parent company of search engine Google, announced its biggest series of post-pandemic layoffs, cutting 12,000 jobs, representing 6% of the tech giant's total workforce.
So far in 2023, we have already seen 528 tech companies announce layoffs, and sadly in the current climate of economic uncertainty and cost pressure, it seems inevitable that redundancies in the industry will continue well into the next few months, and that the pinch is being felt across the globe."
Key findings:
So far 528 tech companies have announced layoffs in 2023.
Between 2021-2022 there was a 175% YoY increase in redundancies.
Yet this year the YoY increase skyrocketed to 727%.
Whilst not all tech companies experiences layoffs are located in the US, the 3 with the most are.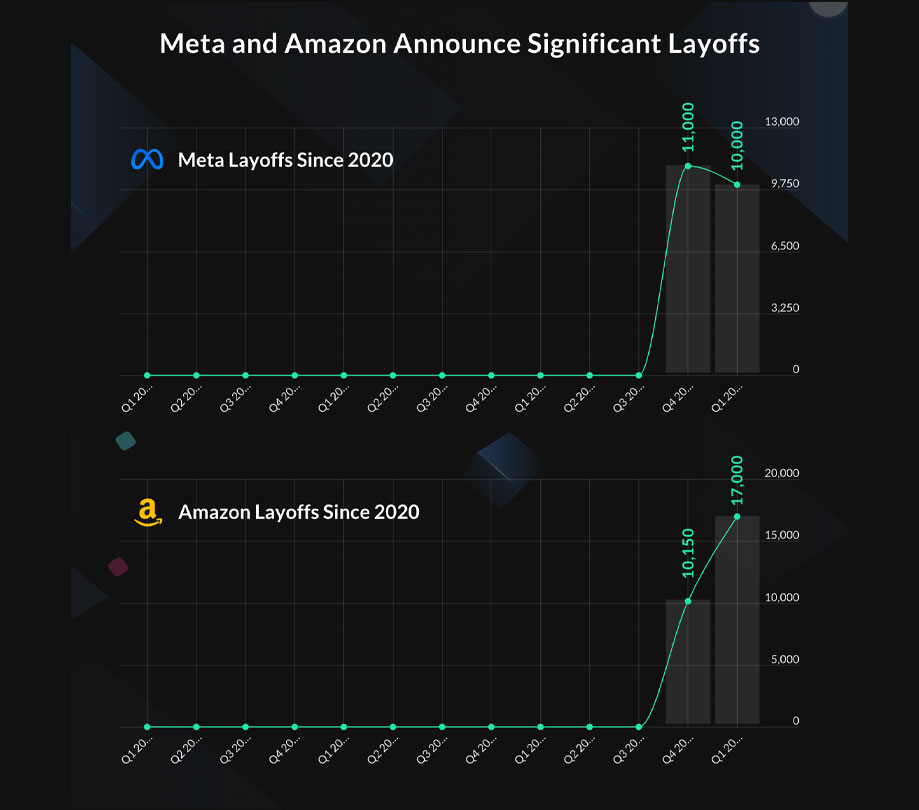 We closely examined the layoffs at the power-house tech companies; Meta, Amazon, and Apple:
So far this month Meta has let go of 10,000 employees.
Similarly, Amazon made 9000 employees redundant in March.
In comparison to Q4, Meta laid off 1000 fewer employees in Q1.
Whilst Amazon had a total of 17,000 redundancies in Q1 - 7000 more than in Q4.
The markets have responded positively - with Meta shares increasing by 6%.
Yet for Amazon, it was a different story - with a 1% drop in shares since the news broke.
Mark Zuckerburg himself has admitted that he hired too fast during the pandemic period.
Amazon also overindulged in hiring during this period with 427,300 workers hired in just 10 months.
In comparison, Apple paced itself with only a 20% staff growth during this period.
Apple additionally had a hiring freeze in October - with all jobs remaining safe thus far.

"When we think of redundancies we often think of corporate insolvencies, but what I think is unusual here is that Amazon, Meta, and Google are all highly successful companies still turning enormous profits. This must be a worrying time for anyone employed in the tech industry because even those in flourishing businesses cannot necessarily count on job security," commented Jonathan Merry, CEO of BanklessTimes.
---
Become a subscriber of App Developer Magazine for just $5.99 a month and take advantage of all these perks.
MEMBERS GET ACCESS TO
- Exclusive content from leaders in the industry

- Q&A articles from industry leaders

- Tips and tricks from the most successful developers weekly

- Monthly issues, including all 90+ back-issues since 2012

- Event discounts and early-bird signups

- Gain insight from top achievers in the app store

- Learn what tools to use, what SDK's to use, and more



Subscribe here