Programming
New performance monitoring capabilities from Sentry
Friday, October 21, 2022
Sentry recently announced that they have added additional functionality to its developer-first performance monitoring platform to address developer actionability gaps. The new capabilities enhanced Dynamic Sampling, Performance Issues, Real User Application Profiling, and Session Replay.
At DEX, the Developer Experience conference hosted by Sentry, the company announced a series of new capabilities to enhance its developer-centric Performance Monitoring, including Dynamic Sampling, Performance Issues, Real User Application Profiling, and Session Replay. The announcement follows a commitment to address the growing gap for developers, who are using tooling that is not built for their workflow or their problems, despite increasing pressure to solve software issues quickly. With these new investments, Sentry is paving the way for a new approach to application monitoring that is intentionally developer-first, providing more control, transparency, and actionable data to monitor the overall health of applications.
New performance monitoring capabilities:
More control with Dynamic Sampling: Dynamic Sampling puts control into the hands of developers to dial up or down the visibility into their application's performance based on real-time business changes. This reduces noise, providing a more representative sample that allows teams to zero in on the events that matter most and more tightly control their monitoring costs.

Quicker time to resolution with Performance Issues: Issues are no longer just bound to errors. Issues are evolving to support multiple kinds of issue types and this launch is the first step towards making that vision a reality. Performance Issues now surface as the most critical performance problems in applications, and just like Error Issues, they capture and group unique problems together and provide actionable context so developers can solve them faster.

More awareness through Real User Application Profiling: Profiling provides an additional layer of awareness by identifying the exact functions and lines that are consuming resources on a user's device. This helps developers find and solve latency issues faster. Profiling is now available for Android and iOS, with plans to expand to backend languages and frameworks.

Dive deeper with Session Replay: Session Replay bridges the gap between code and user experience by providing developers with a visual replay to surface the cause of an error or latency issue. With the ability to rewind and replay every step of the user journey, before and after they encountered an issue, developers can get to the root cause, faster, decreasing the time to resolution.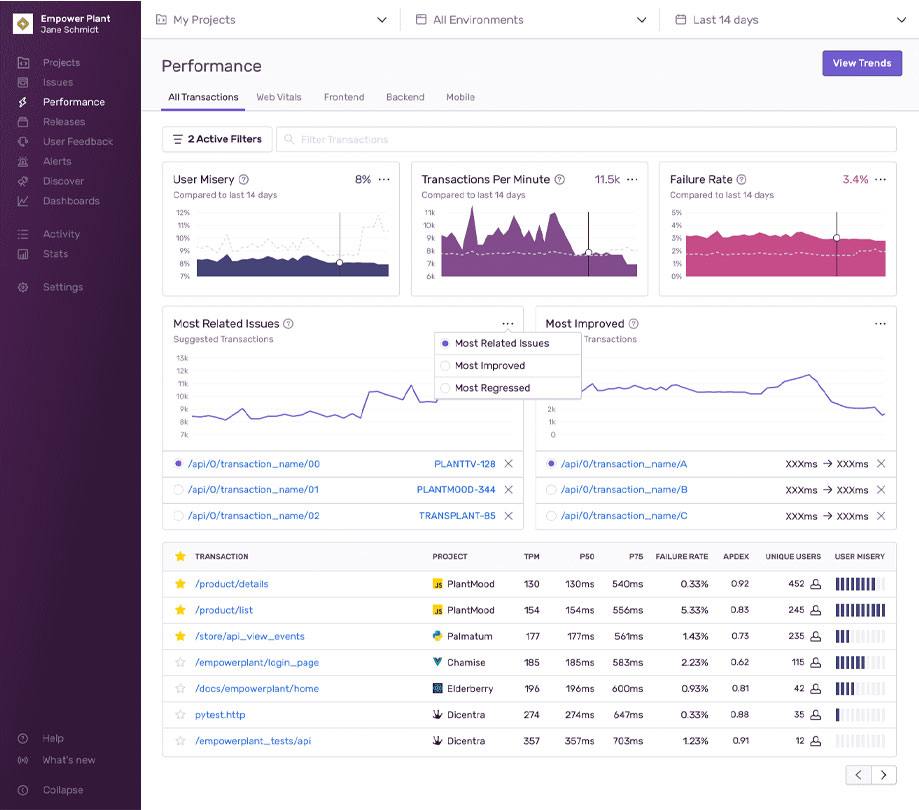 Sentry performance monitoring
"We have evolved an old space with a much-needed revamp that expands the concept of monitoring an application to be immediately valuable for developers, by focusing on actionability and real outcomes, instead of just more charts. In a world that is increasingly end-user driven, the developers building these web and mobile apps need the visibility and code-level control to protect the user experience," said Milin Desai, CEO of Sentry.
Sentry is defining what application monitoring can offer for a growing number of web, mobile, and IoT developers, across 100+ languages and frameworks, in virtually any environment or platform. Delivering software flawlessly, seeing and resolving issues quickly, and controlling spending have become table stakes for development teams. The typical approach to measuring application performance involves both automated and manually-operated tools that were not built for developers, resulting in inefficient tools causing users to piece together information to solve critical issues.
---
Become a subscriber of App Developer Magazine for just $5.99 a month and take advantage of all these perks.
MEMBERS GET ACCESS TO
- Exclusive content from leaders in the industry

- Q&A articles from industry leaders

- Tips and tricks from the most successful developers weekly

- Monthly issues, including all 90+ back-issues since 2012

- Event discounts and early-bird signups

- Gain insight from top achievers in the app store

- Learn what tools to use, what SDK's to use, and more



Subscribe here