Blockchain
JSON RPC Hedera integration brings EVM tools and wallets
Monday, August 21, 2023
5,698
JSON-RPC providers are now on Hedera after the integration that is accelerating developer adoption with new EVM tools and wallets. The adoption of JSON-RPC showcases the Hedera network's thriving, diverse, and interconnected blockchain landscape.
JSON-RPC is now openly accessible and ready for in-production application use on the Hedera network, the open-source, leaderless proof-of-stake public network. By incorporating JSON-RPC support, Hedera fosters increased interoperability and greater EVM equivalence, streamlining the Web3 development experience for developers and infrastructure providers. As an open-source solution, JSON-RPC encourages innovation and collaboration across the EVM ecosystem, while promoting the growth and advancement of the Hedera network.
This integration not only strengthens the Hedera network's position in the blockchain ecosystem but also facilitates the seamless deployment of multi-chain applications built on other EVM-compatible networks. Consequently, Web3 developers can effortlessly tap into the Hedera network's robust infrastructure, benefiting from its high throughput, energy efficiency, and ultra-low, predictable fees. The adoption of JSON-RPC showcases Hedera network's thriving, diverse, and interconnected blockchain landscape.
JSON-RPC providers are now on Hedera: Accelerating developer adoption with EVM tooling and wallets
The open-source JSON-RPC codebase equips both commercial infrastructure providers and individual developers with the capability to operate public or private JSON-RPC relays, starting with the public community service Hashio, which is funded by the Hedera Governing Council and hosted by Swirlds Labs, and commercial providers Validation Cloud and Arkhia. Web3 developers building on the Hedera network can now tap into familiar EVM libraries, tools, and environments, expediting the design, testing, and deployment of Web3 applications. This encompasses an array of resources, including but not limited to web3js, Ethers, HardHat, Truffle, and Foundry.
"JSON-RPC marks a significant achievement on the Hedera network's journey towards EVM equivalence. We foresee this advancement propelling rapid adoption by both new and migrating developers in the Web3 space. As the Hedera mainnet recently crossed the 17 billion transaction milestone, our aim is to amplify the network effects already evident in the Hedera network today by ensuring the best developer experience. To accomplish this, the Hedera Governing Council continues to prioritize streamlining the adoption process. We see JSON-RPC as one tool of many in our toolkit. We've found that once developers and retail users experience the Hedera network's distinct advantages, they remain actively engaged within its thriving ecosystem," said Ed Marquez, Head of Developer Relations at Hedera and Swirlds Labs.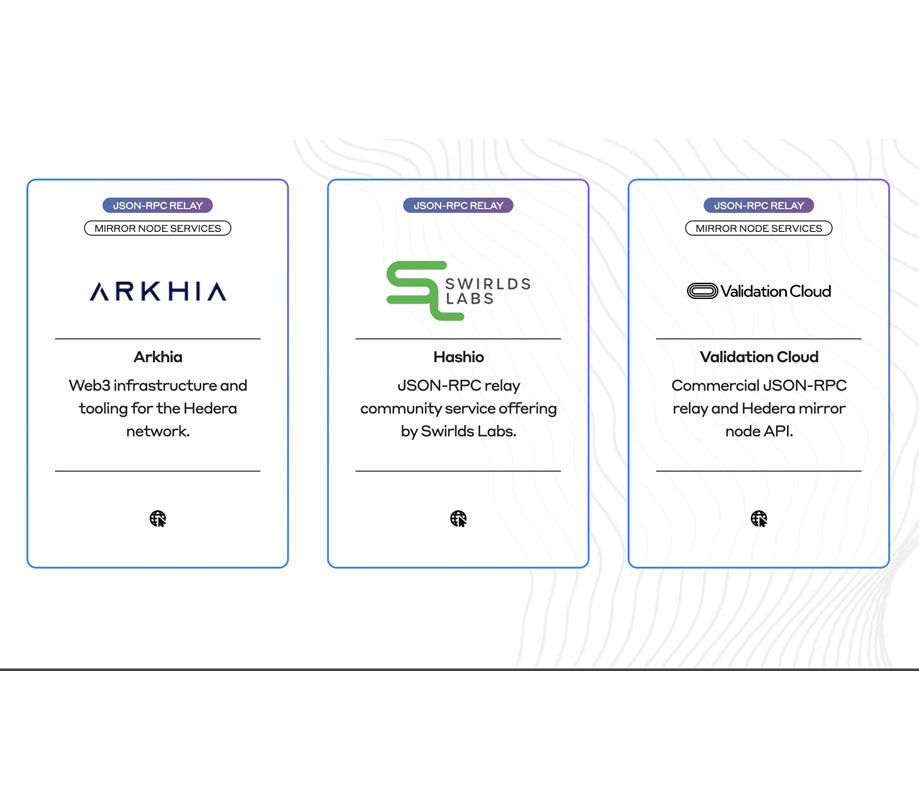 JSON-RPC
Once foundational components of the ecosystem are laid, JSON-RPC is set to enable broader individual user adoption by offering support for MetaMask and other JSON-RPC-compatible EVM wallets. Users transitioning to the Hedera network from alternative EVM chains can effortlessly manage their digital assets and engage with Hedera-powered and multi-chain EVM applications across various domains, including DeFi, NFT, gaming, and beyond.
The Hedera network's Web3 ecosystem caters to a substantial base of tens of thousands of monthly active ecosystem users utilizing feature-rich Hedera network native wallets like HashPack and Blade, providing connectivity to a myriad of applications and ecosystems. By expanding access to the Hedera network via multi-chain Web3 wallets, users can experience the network's blazing-fast transactions, exceptionally low fees, and comprehensive application ecosystem with minimal friction and enhanced familiarity.
The availability of JSON-RPC is in line with the Hedera Governing Council's open-source mission of driving ecosystem contributions, innovation, and security on the network while making it easier for builders to integrate. This includes open-sourcing everything from tooling, to cross-chain functionality and network source code. Hedera network services code, as well as developer tools, are all open source. The Hedera Governing Council is committed to open, transparent code and governance, and consists of up to 39 highly diversified organizations governing the Hedera network.
---
Become a subscriber of App Developer Magazine for just $5.99 a month and take advantage of all these perks.
MEMBERS GET ACCESS TO
- Exclusive content from leaders in the industry

- Q&A articles from industry leaders

- Tips and tricks from the most successful developers weekly

- Monthly issues, including all 90+ back-issues since 2012

- Event discounts and early-bird signups

- Gain insight from top achievers in the app store

- Learn what tools to use, what SDK's to use, and more



Subscribe here