VR
How Will Pokemon Go Change the Way Developers Build Apps
Tuesday, August 23, 2016
---
Guest Submission by TJ VanToll, developer advocate for Progress
It seems like everyone is playing Pokémon Go, the Pokémon collecting application that took the world's mobile devices by storm. While the gaming phenomenon is all the rage among individual users who have got to catch 'em all, the app's innovative combo of GPS and augmented reality (AR) technologies will have a long-term impact on mobile and business strategies as companies digitally transform their businesses. Whether you're team Mystic, Instinct or Valor, we can all agree that Pokémon Go is a never-before-played experience that will change how apps are created.
Gamifying Apps
Pokémon Go offers a universally appealing
AR-based
interface that serves up nostalgia for the 90s kids and brings a newfound craze for seemingly everyone. Its combo of AR and GPS effectively leveled up mobile engagement. The game took off like a rocket, especially compared to some other of the most popular mobile games, as reported by Google Trends: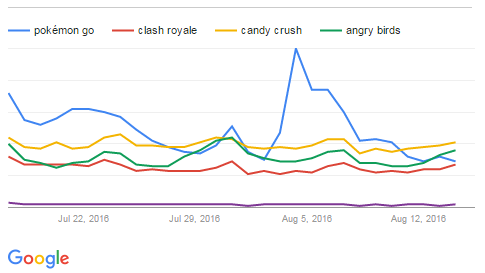 The AR of Pokémon Go is cool technology that we can geek out on, and some industries are already starting to incorporate similar features – like the technology being integrated into museum exhibits around world. But what is really crucial to the app's success is the
gamification
aspect – providing an immersive, engaging experience for users. Now that Pokémon Go has paved the way, albeit as a gaming app, businesses should seriously consider gamifying their app (or parts of it), leveraging an exciting interface to drive usage.
"Collecting" in Other Industries
The gameplay of finding and catching Pokémon is comparable to the idea of "collecting" types of actions in non-game applications. This premise has already taken hold in some industries. One of the more obvious ones is the fitness industry. With Fitocracy, for example, users collect points when they log workouts and can challenge other users for points; whoever collects the most points wins.
However, the industry could take this further to more completely incorporate the gamification aspects of Pokémon Go. For example, a fitness app could utilize a Pokémon Go type interface that encourages certain behaviors that you may not necessarily have decided to do otherwise, like running on a treadmill for 15 minutes or doing a certain number of exercise reps, luring people to gyms to work out and collect a reward. The next iteration of fitness apps could even send users to various locations outside of gyms, incorporating GPS technology, and instruct them to complete exercises led by a virtual trainer.
And while collecting things as an
incentive
is something we've seen before (e.g., buy nine coffees, get the tenth free!), this is something that has the potential to be applied widely in other industries. For example, a company's field reps could collect points along their service routes, incorporating a gamified rewards system into their routine. Perhaps a restaurant, pharmacy or grocery chain allows customers to collect digital coupons by visiting multiple locations.
There have also been whispers about a partnership between Pokémon Go and McDonald's that would introduce hidden in-app features. Someone discovered the code "Sponsored.McDonalds" within Pokémon Go's code, leading to speculation that the game will begin to unveil sponsored locations at major restaurants and other stores. Looking ahead, people might be collecting a burger along with a Bulbasaur.
The Business Translation
Gamers have been practically begging for a Pokémon game they could play on their phones since the dawn of mobile. It was only a matter of time before Nintendo delivered, and it's only a matter of time before more companies follow suit with apps worthy of digital businesses. An app doesn't have to succeed at the same level as Pokémon Go to provide value (though businesses could leverage the Pokémon API to build some interesting integrations for their industries). If customers are inspired by the new app's implementation and drawn to new types of interactions, that's a victory.
Many business apps already incorporate GPS – take FourSquare, which uses GPS to allow users to "check in" to locations and then become "mayor." But plain old GPS isn't as compelling without the AR aspect that Pokémon Go has. Pokémon Go doesn't provide a true virtual reality experience, but its AR is a pretty fantastic melding of our world and the game's. While true virtual reality is still a ways out due to the barrier of entry, AR is within reach because nearly everyone has a smart phone. People are drawn to digital apps – game based or otherwise – that pull them into a virtual world.
Digital Transformation, Inspired by Nintendo
The promise of virtual and augmented reality has been teased for years, and Nintendo successfully launched an application that enabled us to go on adventures in our world while interacting within another. With this
digital transformation
, Nintendo set the bar for what application development should be. Embracing the digitization of the modern era, Nintendo looked to the future to imagine the type of gaming app that would captivate the world, and they delivered.
Other companies should strive to do the same when creating or upgrading their business app so that customers will want to use it. Transformation is about stepping outside of comfort zones, and boundaries should be expanded along the way. Businesses must re-evaluate their approach to app development and explore new technologies and gamification to meet customers' demands for an engaging and enjoyable experience. Those that continue to innovate and evolve the way
applications are built will excel while those who do not will be left behind.
TJ VanToll is a developer advocate for Progress, a jQuery team member and the author of jQuery UI in Action. TJ has over a decade of web development experience - specializing in performance and the mobile web - and speaks about his research at conferences around the world.
---
Become a subscriber of App Developer Magazine for just $5.99 a month and take advantage of all these perks.
MEMBERS GET ACCESS TO
- Exclusive content from leaders in the industry

- Q&A articles from industry leaders

- Tips and tricks from the most successful developers weekly

- Monthly issues, including all 90+ back-issues since 2012

- Event discounts and early-bird signups

- Gain insight from top achievers in the app store

- Learn what tools to use, what SDK's to use, and more



Subscribe here