Six Steps to Increased App User Engagement
21,658
---
Driving and increasing app user engagement is a challenge for every app developer, but there's a fine line between bombarding users with ads and messages and providing them what they need, when they want it.
Mobile device proliferation in the past several years puts the smartphone at the center of the technology universe. For many, smartphones are the go-to device for problem solving − from checking tomorrow's weather, searching for a store's open hours, or comparing prices and reading product reviews.
The smart phone's importance also has triggered a shift in usage: we now use mobile applications in ways we never considered with our desktop computers. Studies show users spend more time in mobile apps than they do in all of desktop and mobile web combined. This shift means significant changes in how customers acquire and consume content, as well as how they interact with companies and vendors.
Leveraging this change in user behavior is crucial in developing a killer mobile app. The "secret sauce" is all about making the app smarter, ensuring the first-time user experience is effortless, and ultimately, enabling continued ongoing usage. Working closely with app developers, we have identified the following six aspects to ensure user engagement.
1. Relevancy
Today, the average user actively employs about two dozen apps each month. This number has remained relatively flat during the last two years, implying that there is a ceiling of the number of apps in which users will engage.
How does one qualify among those most-used apps? Look at its attributes. The most important attribute is that the app makes the user's life easier – helping him compare prices at different stores, or helping her navigate the way to a new shoe store at the mall.
2. Respecting the needs of the user
While 60 percent of application users surveyed by ComScore are interested in receiving retailer promotions on their devices, it is important to respect the needs of all users. When promotions lack relevance, the information is unwanted and is treated as spam, ultimately hurting rather than helping the brand.
By using location data together with preference to target customers who are receptive to the information, the problem of spam is eliminated. After all, if the user is heading to The Gap and sees a 20% off promotion on his phone, it's a great incentive to purchase.
3. App Discovery
While developing an application can be a big project, the larger challenge often is making users aware of it and getting them to try the app. There are several key strategies that alone or in combination lead users to an app, including traditional channels to increase app awareness, in-store promotions and offers that reward customers for downloading the app, and features that make the app relevant for a user's needs.
4. On-boarding
After discovering and downloading the app, it's crucial that app onboarding be easy and intuitive. The first-time user experience is one of the most important aspects of an app. While the immediate ROI of a mobile exclusive promotion might have led the user to your app, a positive on-boarding experience may be the key that gets them to stay.
Often, the user doesn't need to understand every feature of your app when they open up the app the first time. Introduce only the most relevant features, and either let the user discover the rest on their own, or introduce them at a later stage. If the user's location is needed, explain why and how it will benefit the user. This greatly increases the users' tendency to share this data.
5. Maintaining Engagement
Once your users are settled in (perhaps they have employed key functionality or just redeemed your mobile exclusive promotion) keep the engagement going. By finding the tactic preferred by your user – or the most appropriate for your brand – the app can maintain the customer's focus and lead to higher conversion rates.
Some tactics include relevant and unobtrusive in-app messaging, omni-channel integration and gamification. A gamified reward program can go a long way.
6. Re-engaging Users
Even after following all the steps above, users may lose interest. Continuously re-engage with users through discounts toward purchases or other incentives that keep them coming back to the app and the brand.
Applications are driving traffic and engagement like never before. With mobile devices acting as our number-one problem-solver, apps have to be designed to meet customers' needs. Successfully driving user engagement means leveraging contextual data (such as location) for smarter apps that make the customer experience effortless and the customer's journey seamless from start to finish.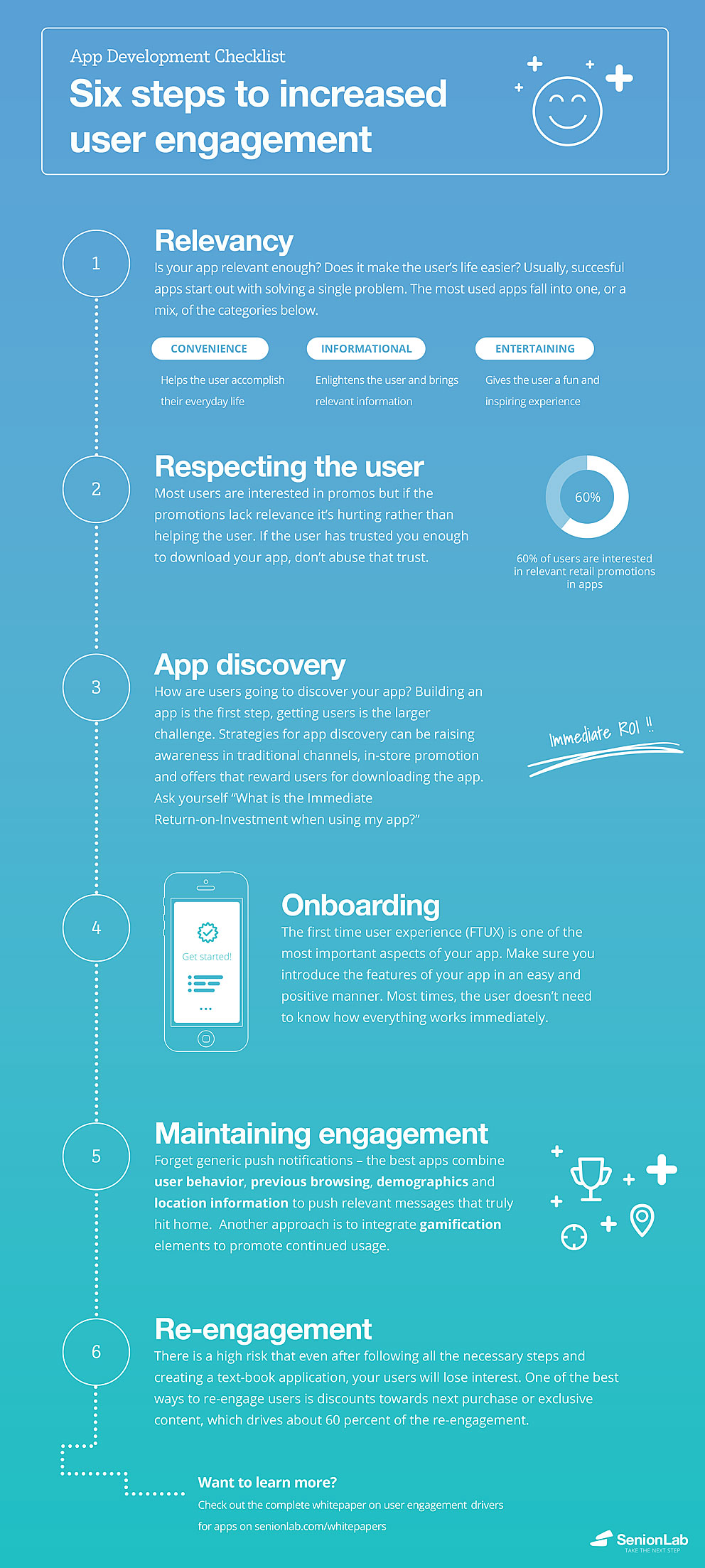 Read more:
https://senionlab.com
---
This content is made possible by a guest author, or sponsor; it is not written by and does not necessarily reflect the views of App Developer Magazine's editorial staff.
---
---
Become a subscriber of App Developer Magazine for just $5.99 a month and take advantage of all these perks.
MEMBERS GET ACCESS TO
- Exclusive content from leaders in the industry

- Q&A articles from industry leaders

- Tips and tricks from the most successful developers weekly

- Monthly issues, including all 90+ back-issues since 2012

- Event discounts and early-bird signups

- Gain insight from top achievers in the app store

- Learn what tools to use, what SDK's to use, and more



Subscribe here