The Storm8 Mobile Game Network is Now Storm8 Studios as it Announces 1 Billion Downloads at GDC
12,676
---
Mobile game network Storm8 has reached the 1 billion milestone with its GDC announcement that its games have now been downloaded more than 1 billion times.
Storm8's 1 billion downloads have led to more than 76 billion game sessions, with players logging 2 billion hours of gameplay in the Storm8 network. More details on the milestone can be found in Storm8's 1 billion downloads
infographic.
Storm8 is also unveiling a new brand identity, uniting all its game brands under the newly created "Storm8 Studios" banner. The Storm8 Studios mobile network features 45 games spanning multiple genres across Apple's App Store, Google Play and the Amazon Appstore.
In addition to the Storm8 booth in the GDC Career Center, the company is sponsoring a Storm8 and Restaurant Story 2-branded food truck parked at 651 Howard Street (at Third Street) on Thursday, March 5, from 11:30 a.m.-1:30 p.m.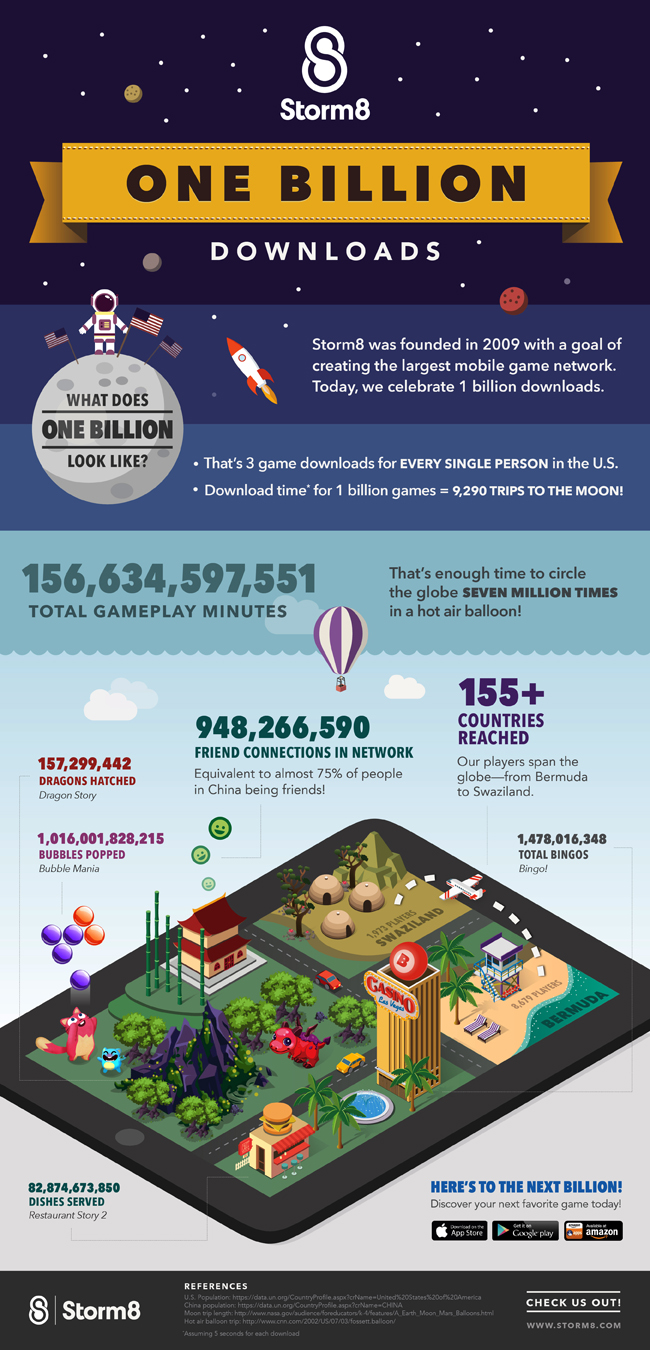 Read more:
http://www.storm8.com/1billion/
Sets the standards for war strategy games. Receive intel from the Security Advisor as he guides you into Battle against other players, destroying targets, and leads you to global domination.
Learn the best ways to organize your app development projects, and keep code straight, clients happy, and breathe a easier through launches.

The secrets from developers who struck is rich in the app stores. Learn how to turn your ideas into profit-making success stories too.
Write and run code every step of the way, using Android Studio to create apps that integrate with other apps, download and display pictures from the web, play sounds, and more. Each chapter and app has been designed and tested to provide the knowledge and experience you need to get started in Android development.
How to create a profitable, sustainable business developing and marketing mobile apps.