app store
app store magazine search results
App Developer Magazine issues we found relating to app store
---
Inside this issue we have the Top Global Apps report from Distimo you won't want to miss! NTIA's code of conduct for app developers and how it's going to affect your app development efforts, why push notifications should be a part of most apps, what to consider with COPPA compliancy when developing apps, everything you need to know about app store optimization, and loads more!
---
Get advice on how to target your push alerts, use social media to promote your app for free, API monetization, learn about CES 2014, get the top things for entrepreneurs to know about mobile app development, where profits are hiding in the app store, and loads more!
---
app store news search results
Developer news items we found relating to app store
35 results
---
iOS 12 development tips from a highly rated instructor

Thursday, October 11, 2018 by Angela Yu



While this year's iOS update was not accompanied by visual overhauls, the latest version of the most advanced mobile operating system is designed to make everyday tasks on iPhone and iPad faster and more responsive. If you are a developer, you're in luck. Some of the latest features deliver faster ways to get things done by providing the ability for any a...
---
Areas threatened by Hurricane Michael get a free GPS tracking app

Tuesday, October 9, 2018 by Christian Hargrave



Chirp GPS, the mobile GPS tracking company has released an update to their family, friends, and fleet tracking app today to help people prepare for the imminent threat that Hurricane Michael poses to Florida and surrounding states, as the storm grows closer and strengthens into a devastating category three Hurricane. The new update allows Chirp GPS to activate the ap...
---
Low code app platform FileMaker Go hits 4 million downloads

Tuesday, September 25, 2018 by Richard Harris



FileMaker, Inc. has said that its FileMaker Go app for iPad and iPhone has reached 4 million downloads from the iTunes App Store. This milestone is a testament to the enduring success and popularity of FileMaker - and they say it underscores the company's commitment to helping organizations of all sizes work better, solve problems and innovate. &nb...
---
30,000 blacklisted apps hosted on the Google Play Store report finds

Friday, September 21, 2018 by Richard Harris



RiskIQ has released its Mobile Threat Landscape Q2 2018 Report, which analyzed 120 mobile app stores and more than two billion daily scanned resources. The findings show a spike in blacklisted apps headlined by Trojans and Adware, as well as a fascinating shift in tactics by mobile threat actors. For the second year in a row, RiskIQ observed a sharp increase in black...
---
Barbie Dreamhouse Adventures app launches by Mattel

Tuesday, September 18, 2018 by Christian Hargrave



Barbie is giving an inside look into her famous Dreamhouse with the launch of Barbie Dreamhouse Adventures, a brand new app based on the animated Netflix series by the same title that's now available on Android devices. The popular iOS version, which debuted on the App Store last month, has already hit the #1 spot for Top iPad Kids App in 100+ countries. Just i...
---
Pretzel Land arrives for iOS and Android

Tuesday, September 18, 2018 by Christian Hargrave



The new mobile game Pretzel Land, published by Wild River, the gaming label of Bavarian company Eurovideo Medien GmbH, has been given an official release date. From Tuesday, 18th September, the funny simulation with Bavarian atmosphere is available to download for iOS and Android. Fans of Bavarian culture can get in the mood for the Munich Oktoberfest a few days before ...
---
To make a progressive web app or not

Thursday, September 6, 2018 by Richard Harris



Mobile users are spending 80 to 94 percent of their mobile use time in apps, so you'd think the mobile web would be a thing of the past right? But the average mobile user also visits 100 different websites each month, and only half of all mobile users don't download any new apps during that same period. In order to achieve the speed and ease of use p...
---
iOS 12 subscription based app tips for success

Wednesday, August 29, 2018 by Eran Kinsbruner



Last year, Apple held a secret meeting with a select group of iOS app developers in New York to talk about changing the current app delivery model from one-time purchases to subscription-based. From Apple's view, these one-time purchases typically are inexpensive ($1-2), yet grant end-users unlimited access to the app and support, which can prove to be costly from...
---
Five tips for taking mobile payments from inside your app

Friday, August 24, 2018 by Carol Oles



Back in 2008 when the Apple App Store began, there were a mere 800 apps available for download. Fast forward ten years and there are over two million apps on the Apple App Store and approximately 8 million in the Google Play store. Thousands of mobile apps are being published to Google Play and Apple App Store daily, but are the ones geared toward e-commerce or requirin...
---
GPS tracking app for kids going back to school

Thursday, August 23, 2018 by Richard Harris



The freedom of Summer has come to an end for millions of students starting School in 2018. While the kids fret about what a new year brings, parents rejoice, but worry at the same time because despite their best preparation to ready kids to start the year - it's just part of being a parent to be concerned about everything, especially knowing the location of their ...
---
Mobile game spending is dominated by women says Liftoff

Wednesday, August 22, 2018 by Christian Hargrave



Liftoff released a data report exploring the booming world of mobile gaming. Since last year, Liftoff has detected a golden age of mobile game marketing with acquisition costs at all stages of the funnel decreasing and post-install conversion rates increasing. And as multi-platform gaming sensations like Fortnite bring high-quality play experiences to smartphones, more ...
---
Smart ball game converts data from the ball into usable game events

Wednesday, August 15, 2018 by Richard Harris



WRLDS announced the release of a new augmented reality (AR) and Bluetooth-enabled smart ball and platform. The ball is made of a lightweight, bouncy material and has a built-in chip to control mobile games, giving "tween" players healthy new ways to engage in active, outdoor play by essentially turning the whole world into a game. "We wanted to brid...
---
Fortnite for Android is a trailblazing risk for mobile banking

Tuesday, August 14, 2018 by Sam Bakken



CEO Tim Sweeny of Epic Games, the publisher of the wildly popular Fortnite game, is on a mission to "advance the openness of all platforms" - not to mention side-step Google's 30% take of developer proceeds - by distributing Fortnite for the Android platform via their website rather than the Google Play store. I applaud a maverick challenging the statu...
---
The Twilio API for WhatsApp is now available

Tuesday, August 7, 2018 by Christian Hargrave



Twilio has announced the Twilio API for WhatsApp that lets Twilio customers message with their users via WhatsApp for the first time. Twilio removes the operational overhead of managing and scaling WhatsApp for developers, making it a fast and reliable way for businesses to start communicating with the more than 1.5 billion users of WhatsApp. With one API, develope...
---
Intercom launches app store to the public with more than 100 apps

Thursday, August 2, 2018 by Richard Harris



Intercom just joined the growing list of providers with their own app store by launching the Intercom App Store. With over 100 apps already in the catalog that are using their developer platform, early publishers include Coda, Hubspot, and Shopify. The app store was a bit "behind closed doors" within the Intercom product dashboard but it just got a huge shove ...
---
New AR shark game is probably funner than Shark Week was this year

Wednesday, August 1, 2018 by Christian Hargrave



A new AR-networked game focused on protecting the ruler of the seas from pollution has been released by Krikey and Conservation International to put a fin-tastic twist on Shark Week. The AR app launched a shark game to put the impact of ocean pollution right in the hands of mobile gamers and Shark Week fans. The game takes place wherever you are, turning your surroun...
---
AR on the web too!

Wednesday, July 25, 2018 by Erik Murphy-Chutorian



Augmented Reality belongs online. To date, AR has primarily been confined to the app store, but there's a growing group of visionary developers and companies that have figured out that by "AR-ifying" their products for the web, they win in a larger number of more satisfied and enthusiastic users and customers. At the moment, we're seeing an ex...
---
Best mobile gaming apps will share $300K in prizes from new contest

Wednesday, July 18, 2018 by Richard Harris



AppLovin announced the launch of Lion Studios, a media division of AppLovin that works with mobile developers to publish and promote their apps. To celebrate the launch, AppLovin also announced a contest in which the company will award $300K in prizes for the four best mobile gaming apps submitted. Lion Studios furthers AppLovin's mission by fueling growth of t...
---
10 years of apps but over 95 percent of them are invisible to users

Wednesday, July 18, 2018 by Richard Harris



I've been developing software since before the Apple App store existed, so I have a before and after picture of what the app store has done for me in terms of being a developer, and what it's done for consumers alike. If I were to sum up the last ten years of the App store experience as a developer, put simply in a Haiku-like format - "Apps have changed ...
---
Avoid mobile cybersecurity threats by checking the source

Thursday, July 5, 2018 by Sam Bakken



Earlier this month IT news organizations around the globe reported that Epic Games' popular Fortnite game was being counterfeited and malicious actors were, in fact, lacing the imposter apps with malware. We're only human, and people unwittingly let their guard down in anticipation of something they're passionate about, or when they think they might b...
---
Building native mobile apps with Creo

Thursday, June 21, 2018 by Richard Harris



A new mobile app development platform for MacOS has been released by Creolabs named Creo. Creo combines the Design and Development process into a single application. Traditional mobile app creation process is split between the design process and the development process, the platform merges the two separated steps into a single tool which helps reduce development time. ...
---
The iOS app store sales data app AppSalesTrends gets an update

Tuesday, June 5, 2018 by Christian Hargrave



Finnish indie developer, Esa Helttula announces AppSalesTrends 2.30, the update to his iOS and Mac App Store sales tracking application for macOS. The app allows iOS and macOS developers to download and analyze tracking information about their apps. Users can track an unlimited number of apps and bundles, view daily sales reports, sales graphs, and much more. Version 2....
---
Mobile Threat Landscape reports steady decrease in blacklisted apps

Friday, June 1, 2018 by Christian Hargrave



RiskIQ has released its Mobile Threat Landscape Q1 2018 Report, which analyzed 120 mobile app stores and more than two billion daily scanned resources. The findings showed that taking advantage of the popularity and volatility of the cryptocurrency landscape is paying off for threat actors via the mobile attack vector and that malicious apps leveraged by nation-state ac...
---
Millennial targeted news app SQUID hits 1M downloads

Thursday, May 31, 2018 by Richard Harris



SQUID App - the first news app built for millennials, was developed by Njuice AB, a media company based in Stockholm, Sweden, has just crossed 1,000,000 downloads and the company is growing its user-base by double-digit numbers every month.The goal of the app is to make relevant news readily available, offering a wide range of topics that let users select and create the...
---
How Nintendo proves some people hate the app stores

Tuesday, May 29, 2018 by Richard Harris



When Nintendo announced that it's bringing back the NES Classic console on June 29th my first thought was...why? It's a proven platform there's no doubt, but you can walk into any used video game store across the land and pickup the actual vintage console for around $100 bucks. Or just cruise Ebay and you'll find the console, controllers, 25 cartridge games, the zapper ...
---
Alternative Google Play app stores to consider

Tuesday, May 15, 2018 by Alex Makarevich



Android is open source, and because of that -app developers can build and deploy an APK file anywhere! There are obvious advantages to deploying into the known Android app stores such as Google Play, and Amazon - mostly in the potential number of impressions and installs your app can receive, because Google play comes as the default app store on most Android devices. Pl...
---
July is the deadline for all iOS apps that don't support iOS 11

Monday, May 7, 2018 by Richard Harris



Apple reminds us that iOS 11 is now in the hands of hundreds of millions of people around the world, and starting July 2018, all new iOS apps and updates submitted to the App Store must be built with the iOS 11 SDK, plus support iPhone X. Also, all new iOS apps and updates for iPhone, including universal apps, must support the Super Retina display of iPhone X.iOS 11 SDK...
---
Why developers should add mobile print to apps

Friday, May 4, 2018 by Patrick Chen



Printing has been a major part of history for thousands of years, dating back to ancient Mesopotamia, and despite the rise of digital technologies, it's not going anywhere - in fact, the demand for printing continues to grow, for four major reasons:Despite digital advancements, printing is still the standard. Printed materials such as contracts, government forms and har...
---
CARU refers Musical.ly to FTC

Monday, April 30, 2018 by Christian Hargrave



The Children's Advertising Review Unit has referred The Musical.ly Inc., operator of the Musical.ly mobile application, to the Federal Trade Commission (FTC), after the company said it would not comply with CARU's recommendations regarding children's privacy.CARU is an investigative unit of the advertising industry's system of self-regulation. CARU monitors websites and...
---
USC Games announces first student games expo

Wednesday, April 18, 2018 by Richard Harris



USC Games announced that its inaugural USC Games Expo will take place on May 9th, presented by Los Angeles-based mobile games company Jam City, a developer of mobile games like Cookie Jam, Panda Pop and Harry Potter: Hogwarts Mystery. The event will provide a hands-on look at the future of interactive entertainment, showcasing games and innovations created by the next g...
---
Mobile website or mobile app, the changing tides

Tuesday, April 17, 2018 by Richard Harris



Programming with native mobile languages has been the keystone way of producing a rock-solid mobile app since the beginning of the mobile app stores, and there's good reason. After-all, programming as close to the hardware layer as possible is usually your safest bet, and using the language the manufacture fully supports will get that job done with less headaches.But in...
---
Mim hits 1M downloads in 24 hours

Wednesday, April 11, 2018 by Richard Harris



Mīm (pronounced "Mime") has announced a record-breaking achievement just 24 hours after releasing in the App Store. Mīm, which hosts contests for user-submitted funny videos, launched their first challenge yesterday, gaining over one million users. In fact, the app received so much traction that it caused complications on their servers. Mīm gives users the ability to sh...
---
A Blockchain messaging platform that's unstoppable

Tuesday, April 3, 2018 by Richard Harris



Today's instant messaging is about to get a violent shove forward by way of encryption, and Blockchain. Almost all messaging platforms rely on client to server communication, where a unique ID is given to a thread, and stored in a centralized database somewhere. But it's always been volatile to censorship, network blocking, or any other form of controlled policing....
---
ALAX blockchain technology coming to over 40M users

Tuesday, March 27, 2018 by Christian Hargrave



ALAX, the blockchain-based app and games distribution platform set to hold its TGE on April 17th 2018, has today announced the signing of a Letter of Intent (LOI) with Gionee, one of China's largest mobile phone manufacturers.The intended partnership will see the ALAX platform preinstalled on Gionee's new smartphones, with older models moving to the ALAX platform in lin...
---
The future of Progressive Web Apps

Wednesday, March 21, 2018 by Richard Harris



Back in 2012, Max Lynch, CEO and co-founder of Ionic, developed his company's open source framework for cross-platform apps with the foresight that the web would be the future of how apps were built. Six years later, Progressive Web Apps (PWAs) are gaining traction as brands like Starbucks, Twitter and Pinterest have reported significant uptick in engagement upon replac...
---
Featured Stories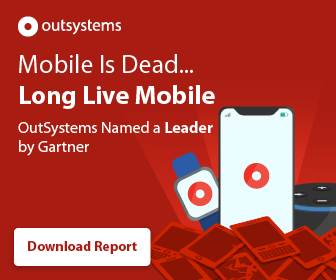 Stay Updated
Sign up for our newsletter for the headlines delivered to you
SuccessFull SignUp