Twitter Launches Three New Beta Ad Options
5,818
---
Twitter has announced three new beta products that will debut over the coming months. The announcement comes on the heels of the one year anniversary of Twitter's mobile app promotion options including the acquisition of Tapcommerce and the introduction of Fabric, the company's suite of tools for mobile developers.
These new beta advertising products include:
- Video App Card: Showcase an app within a video ad.
- Optimized action bidding: This new bidding type allows mobile app install advertisers to optimize their bids according to install, while still paying by app click.
- Cost per install bidding: Advertisers can bid, optimize and pay by install.
The company has created the infographic included here, profiling its efforts to add new advertising opportunities.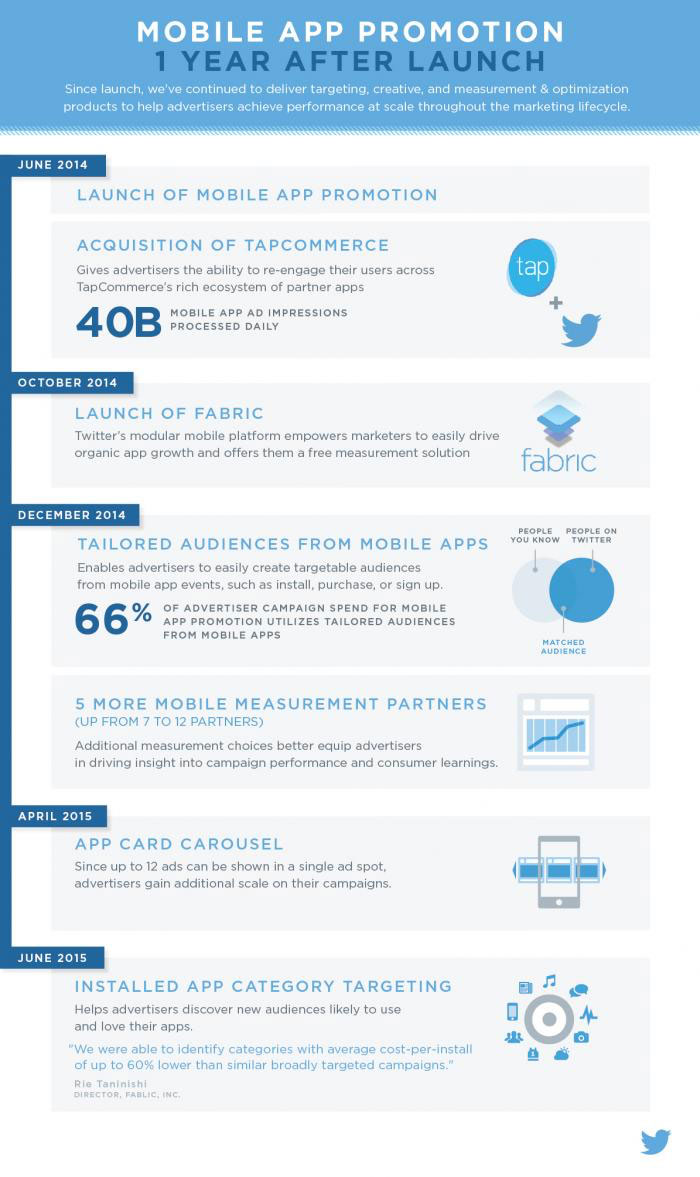 Read more:
https://blog.twitter.com/2015/celebrating-1-year-o...
Are you paying more taxes than you have to as a developer or freelancer? The IRS is certainly not going to tell you about a deduction you failed to take, and your accountant is not likely to take the time to ask you about every deduction you're entitled to. As former IRS Commissioner Mark Everson admitted, "If you don't claim it, you don't get it.
Get hands-on experience in performing simple to complex mobile forensics techniques Retrieve and analyze data stored not only on mobile devices but also through the cloud and other connected mediums A practical guide to leveraging the power of mobile forensics on popular mobile platforms with lots of tips, tricks, and caveats.
The Chirp GPS app is a top-ranked location sharing app available for Apple and Android that is super easy to use, and most of all, it's reliable.
Write and run code every step of the way, using Android Studio to create apps that integrate with other apps, download and display pictures from the web, play sounds, and more. Each chapter and app has been designed and tested to provide the knowledge and experience you need to get started in Android development.