Programming
The top programming languages used by US unicorn companies
Thursday, July 18, 2019
Coding bootcamp Coding Dojo has published the results of a research project into the most in-demand, and top programming languages and developer technologies used at the top 25 U.S. unicorn startups.
Coding Dojo has released research into the programming and software development technologies used at the top privately-held startups in the US valued at over $1 billion, otherwise known as "unicorn" companies. This research includes lists of the most common programming languages, frameworks and database technologies across all 25 unicorns and a breakdown of which companies are using which languages.
Coding Dojo's research is meant to help experienced developers or new students to determine the best programming languages and technologies to learn based on the companies they want to work for. The report also illuminates software development trends among some of the hottest technology companies in America.
"We're always staying on the pulse of the software development industry so that we can better prepare our students for the rapidly-changing technology job market," said Richard Wang, CEO at Coding Dojo. "This analysis has turned up some interesting results, like the popularity of Kotlin and Go, but more importantly it gives developers a roadmap for what skills and languages they need to learn to get hired at their dream company. Whether you choose to attend one of our ten campuses around the country or online, Coding Dojo can prepare you to get a job at some of the most innovative companies in the world."
Top programming languages and developer technologies used at the top 10 US Unicorns: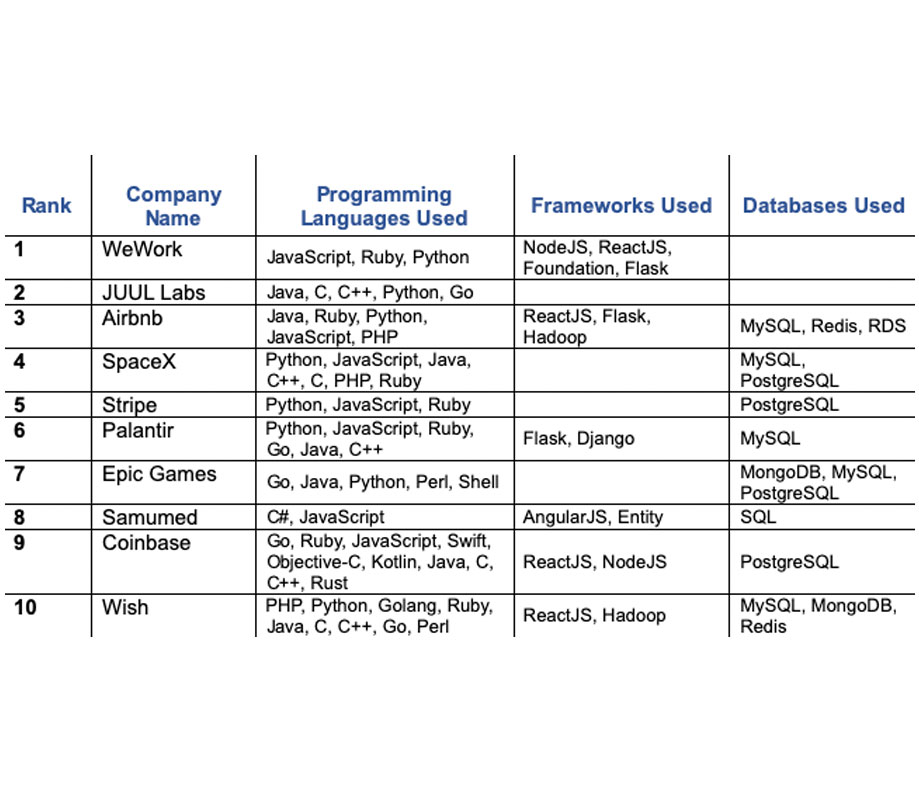 Other Key Findings:
Kotlin was surprisingly popular, used at eight of the 25 unicorns. Kotlin is not common overall; it has not appeared in any past Coding Dojo analysis of top programming languages and is #40 in TIOBE Index's ranking of top programming languages overall.

Kotlin is a streamlined alternative to Java used mainly for Android development (Google added support for Kotlin on Android in 2017, the third supported language after C++ and Java). Future Android developers interested in working in the startup space would do well to learn it.

Go was also more popular among unicorns than among technology companies in general, used at 11 unicorns but only #15 in the TIOBE Index.

Go (also called Golang) was developed by Google employees in 2009 and is used in Docker, Kubernetes, and Ethereum. It has been growing steadily in popularity in the last few years.

Overall the most used language was Python, used at 80% of the top unicorns
The most used framework was ReactJS, used at 36% of top unicorns and the most used databases were MySQL and Redis, tied at 36% each.
The unicorns using the most programming languages were Coinbase and DoorDash at 10 each.
Most unicorns used between three and six languages, showing that well-rounded developers will be in higher demand than specialists.
18 of the top 25 unicorns were based in California, one in Massachusetts (Intarcia), three in New York (WeWork, Compass and Peloton), one in Illinois (Outcome Health), one in Florida (Magic Leap) and one in North Carolina (Epic Games).
"While most of these programming languages and technologies will be familiar to any working developer, individuals looking to work at these unicorn companies would do well to learn them," said Coding Dojo Director of West Coast Campus Operations Donovan An. "At Coding Dojo we revise our curriculum regularly to ensure we're teaching students the most in-demand technologies in the market today, and this research will absolutely factor into those decisions."
So who is using what?
The most common programming languages across the top 25 unicorn companies are:
Python: Used by 20 unicorns
Java: Used by 19 unicorns
JavaScript: Used by 16 unicorns
Ruby: Used by 12 unicorns
Go: Used by 11 unicorns
C++: Used by 8 unicorns
Kotlin: Used by 8 unicorns
C: Used by 7 unicorns
PHP: Used by 7 unicorns
Object C: Used by 7 unicorns
---
Become a subscriber of App Developer Magazine for just $5.99 a month and take advantage of all these perks.
MEMBERS GET ACCESS TO
- Exclusive content from leaders in the industry

- Q&A articles from industry leaders

- Tips and tricks from the most successful developers weekly

- Monthly issues, including all 90+ back-issues since 2012

- Event discounts and early-bird signups

- Gain insight from top achievers in the app store

- Learn what tools to use, what SDK's to use, and more



Subscribe here