Programming
State of Mobile Experience report from Embrace
Monday, July 31, 2023
9,071
Embrace has released its State of Mobile Experience report that reveals the top challenges that mobile engineers and app users are facing. Some of the top challenges include performance issues, app crashes, frozen apps, unresponsive buttons or links, and slow imagery and videos.
Embrace released the State of Mobile Experience report detailing mobile end users' and builders' perspectives on performance issues and app experiences. The three-part study combines input from mobile engineers at industry-leading companies and app users and rich data from Embrace's mobile experience engineering platform. The insights reveal how app performance issues have far-reaching consequences for mobile teams.
Nothing is more frustrating than when an app crashes, takes forever to start up or freezes at an inopportune moment. But do poor experiences mean the same thing for app users versus the engineers who build the products they're consuming? Embrace's research shows that while these issues are a top concern for app users, mobile engineers report their top challenge is monitoring app performance.
State of Mobile Experience Report from Embrace reveals the challenges mobile engineers and app users are facing
"Mobile users' high expectations for speed, stability, and ease of use are going up and to the right. Without the right toolkit, mobile engineering teams are blind as they try to deliver great app experiences. And if you miss the mark, the result can be abysmal app reviews and uninstalls," said Andrew Tunall, Head of Product at Embrace.
App Users' frustrations
Speed is crucial: 1 in 5 users won't wait more than 5 seconds to log in to an account, complete a purchase, or play multimedia.
Issues are too common: 48% of users say they experience an app issue daily. Reported issues include slow startup, slow images, freezing, crashes, and unresponsive buttons.
Crashes frustrate users the most: Users feel the most frustrated when an app crashes suddenly, and the app freezes, inability to fill out forms, and unresponsive links or buttons also add to their frustrations. Slow app startup, slow image load, and slow video load are comparatively less vexing for users.
Users are not afraid to uninstall: 60% of users said they would uninstall an app that has crashed a few times.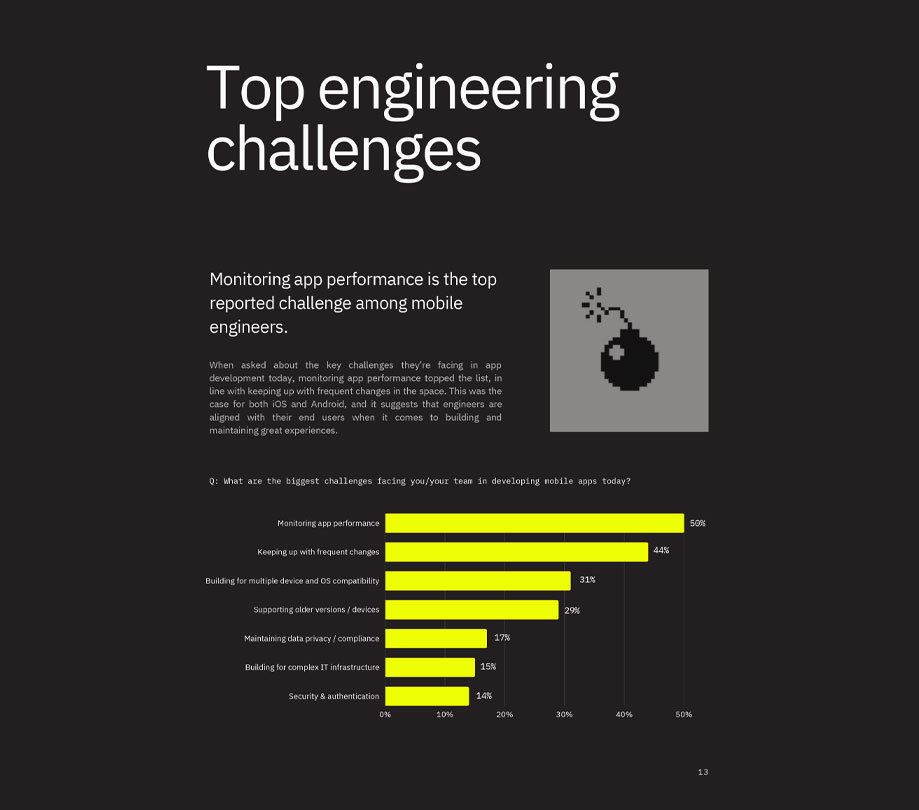 Top development challenges for mobile engineers
User monitoring isn't easy: When asked about the key challenges engineers are facing in app development today, monitoring app performance topped the list.
They're worried about specific app performance issues: Mobile engineers are most concerned about remedying crashes and slow app startup. However, users don't rank slow app startup as one of their top frustrations.
Issues have consequences: Engineers' biggest concerns are the loss of brand trust stemming from frustrating app experiences and bad reviews on app stores. App deletions also rank highly on the list of concerns.
Teams must keep up with rapidly changing tech: Engineers overwhelmingly think AI and machine learning will most dramatically impact mobile app development in the next 5 years.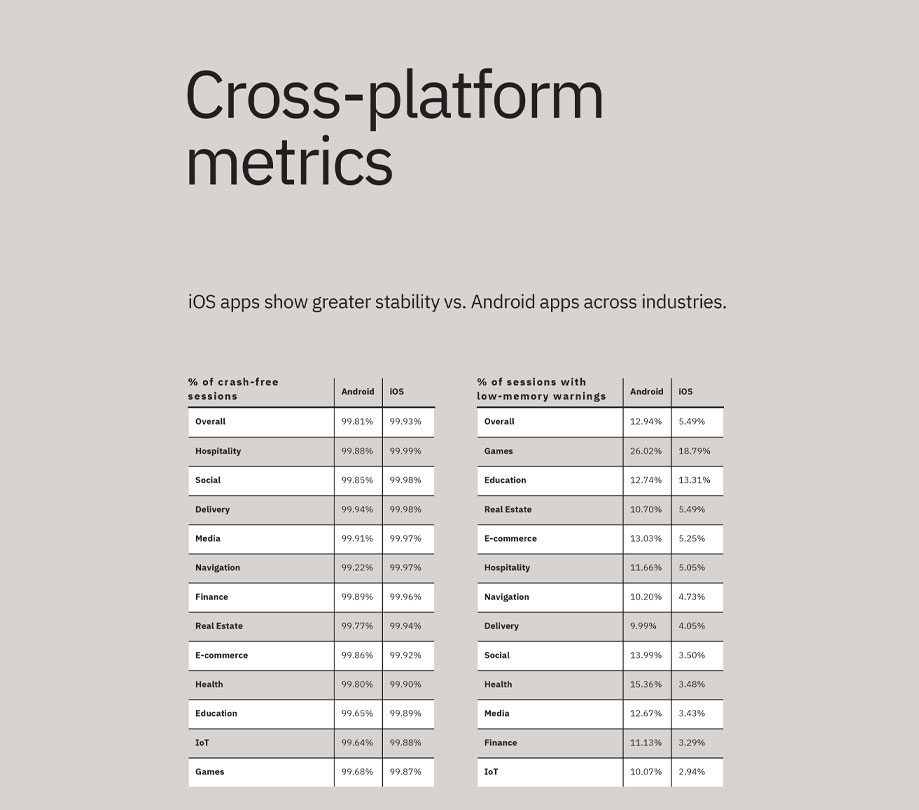 Benchmarking mobile app excellence - Embrace data
iOS apps show greater stability vs. Android apps across industries: iOS performed better with regard to crash-free sessions and low memory warnings. (Unity, Flutter, and React Native are considered separately by iOS and Android.)
Some categories seem to deliver better user experiences: On iOS, Education and Real Estate apps had the highest percentage of user-termination-free sessions. Hospitality and Delivery verticals rank highest on Android. Gaming apps rank the lowest in measures of good app user experience across iOS and Android.

Priorities differ between builders and end-users. For more critical issues like crashes, both agree that these are the most frustrating and critical to address. Slow startup, while a high priority for engineers, is less frustrating for users. Bridging this disconnect and others uncovered in the report might better serve end users.
Developer-focused analyst firm Redmonk noted the value in aligning developers' perspectives with real users' experiences and led a conversation with Embrace's product team about the takeaways from the report.
"Mobile engineers are deeply concerned about app performance. There's a clear need for tools that foster a better understanding of users and improved app performance. This sort of visibility empowers mobile teams to reduce friction and focus on creating great mobile experiences. By acknowledging the gap between app users' perspectives and the developer's own, organizations can set the stage to build better apps and stay competitive," said Kate Holterhoff, Analyst at Redmonk.
Understanding real users' app experiences is a clear priority, both now and in the future. Mobile experience engineering provides granular detail into every user session, allowing teams to quickly remedy issues and maximize their attention on the building.
The State of Mobile Experience: Top Challenges Facing App Users and Mobile Engineers by Embrace is available for complimentary download.
---
Become a subscriber of App Developer Magazine for just $5.99 a month and take advantage of all these perks.
MEMBERS GET ACCESS TO
- Exclusive content from leaders in the industry

- Q&A articles from industry leaders

- Tips and tricks from the most successful developers weekly

- Monthly issues, including all 90+ back-issues since 2012

- Event discounts and early-bird signups

- Gain insight from top achievers in the app store

- Learn what tools to use, what SDK's to use, and more



Subscribe here