Apps
Most Elegant App survey results
Thursday, May 25, 2023
Elegant Media recently revealed the results from its Most Elegant App survey about mobile usage in Victoria and found that Facebook, Instagram, and PTV were the most hated apps, that Netflix is on the fall, and what 3 desired apps the respondents are wishing for.
Elegant Media Reveals Fascinating Results about mobile usage in Victoria from their recent App Survey
Elegant Media, a leading Australian app development company, is thrilled to announce the remarkable findings from the highly anticipated "Most Elegant App Survey in Victoria." The survey, conducted by Elegant Media's dedicated research team through face-to-face interviews and online forms, aimed to uncover Victorians' preferences, likes, dislikes, and aspirations regarding mobile applications.
Key highlights from The Most Elegant App survey include:
The survey, which captured the opinions of hundreds of respondents across Victoria, sheds light on the app landscape, unveiling valuable insights into what apps Victorians truly love, those they loathe, and the apps they wish existed. The results provide a unique perspective on consumer preferences when it comes to mobile apps.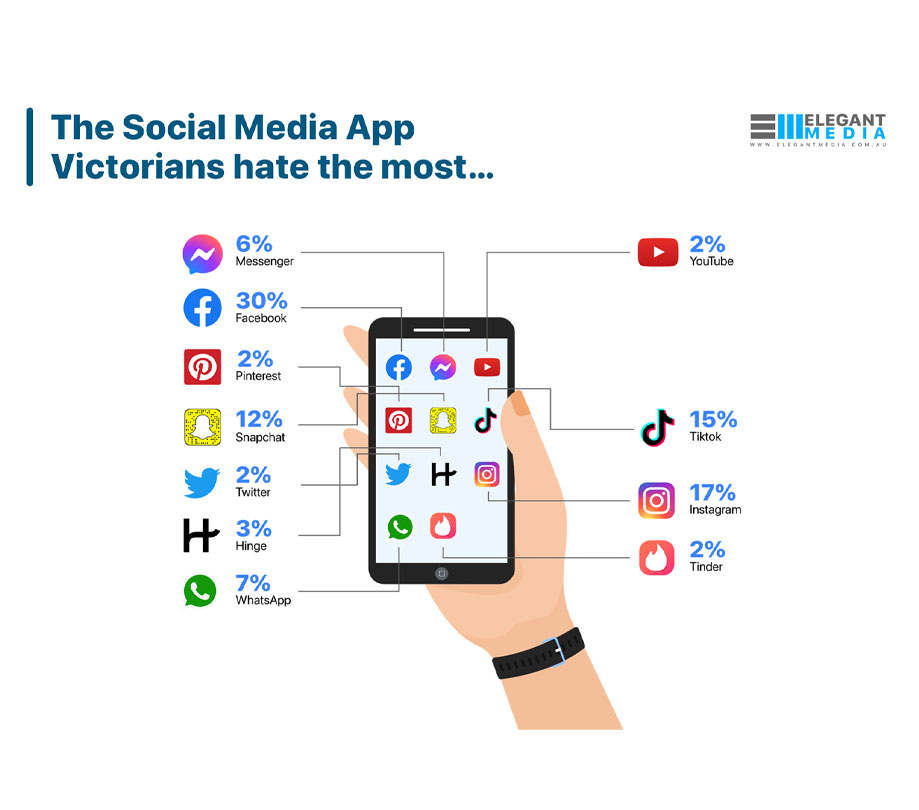 Most Hated Apps:
The survey revealed the apps Victorians dislike the most, with the following three receiving the highest number of negative responses:
Facebook, Instagram, and PTV.
Most Desired Apps:
Victorians expressed their wishes for new apps that would enhance their daily lives. The top three desired apps are:
a. A messenger-like app for Instagram.
b. An app that conducts regular health checkups
C. An app that does everything
The Fall of Netflix:
Victorians expressed that Netflix was their top three favorite apps during the lockdown but is not even a top fifteen favorite these days.
Android vs iOS Whatsapp gap:
It turns out that most Victorians who use iPhones are not a fan of WhatsApp, while Android users absolutely love the App. And many other such intriguing survey results are included in the fully published survey.
Anushka Bandara, the CEO of Elegant Media, expressed his excitement about the survey results, stating, "The Most Elegant App Survey in Victoria has provided valuable insights into the preferences and expectations of Victorian app users. We believe this data will empower developers and marketers to create apps that resonate with their target audience, ultimately leading to enhanced user experiences and greater customer satisfaction."
---
Become a subscriber of App Developer Magazine for just $5.99 a month and take advantage of all these perks.
MEMBERS GET ACCESS TO
- Exclusive content from leaders in the industry

- Q&A articles from industry leaders

- Tips and tricks from the most successful developers weekly

- Monthly issues, including all 90+ back-issues since 2012

- Event discounts and early-bird signups

- Gain insight from top achievers in the app store

- Learn what tools to use, what SDK's to use, and more



Subscribe here