Game Development
Chatting With the Creator of Trivia Crack About App Success and the Smile Test
Thursday, August 25, 2016
62,554
---
We recently sat down with Etermax, the creator of Trivia Crack to get the inside track on their success as a mobile team. Trivia Crack Kingdoms, the sequel to its flagship mobile game, has surged in popularity as the game surpassed seven million downloads across all platforms worldwide. Here's what Maximo Cavazzani, CEO and founder of Etermax had to say.
ADM: Who are the key members of your group?
Cavazzani : Maximo Cavazzani (CEO & Founder), Simon Selva (Chief Operations Officer), Mariano Fragulia (Chief Product Officer), Gonzalo García (Chief Technology Officer).
ADM:How long have you been developing apps?
Cavazzani: I started developing apps when I was very young, but I officially created the first one when I was 20.
ADM: Do you program the apps or do you hire development companies?
Cavazzani: We program and develop all of our apps within Etermax.
ADM:How large is your team?
Cavazzani: We will soon reach 200 employees. In the last year, we have almost doubled our team!
ADM: Age range of team?
Cavazzani: We are a quite young team. Our youngest member is 20, and the oldest 45. The average age is 27.
ADM: Are you full time or part time?
Cavazzani: We work full time from 9 AM to 6 PM, except on Fridays when we leave at 4 PM.
ADM: What languages or SDK's do you typically use for development?
Cavazzani: We develop our APIs using mainly Java and some Ruby on Rails, although there are no limits as to what technologies may be researched, tested and put to practice. Both Android and iOS teams code using the native tools and SDKs available and as such use Java, Objective-C and Swift, the latter being a major player in our most recent and future developments.
Your apps
ADM: How many apps do you have published?
Cavazzani: We have published 7 apps so far (Aworded Crack, Word Crack, Bingo Crack, Trivia Crack, FC Barcelona Trivia Fans, Real Madrid Trivia Fans and Trivia Crack Kingdoms), but we're working on 4 other games. One of them will actually be launched very soon.
ADM: And your most popular app?
Cavazzani: Our crown jewel is Trivia Crack, the international hit game that took the world by storm. The game reached an audience of 200 million global users with peaks of 800 thousand daily downloads, which positioned it as the 5th most played game in the world and led it to top the charts in over 36 countries.
Trivia Crack earned a place in the top spots of both Google and Apple's app stores, becoming one of the most downloaded apps of the year, reaching the No. 1 spot on Apple's ranking and making it into both Google Play's and the App Store's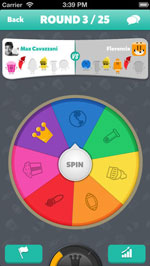 "Best of 2014" lists. In 2015, for the second consecutive year, Apple included Trivia Crack in the App Store's "Best of 2015" list. It kept its place on the U.S. App Store's No. 1 app for a record-breaking 60 consecutive days, while at the same time leading the top downloaded game charts in Spain, Italy, France, the Netherlands and over 34 other countries.
Trivia Crack received awards such as "Best App" at the Latin American Kids' Choice Awards, was named "App of the Year" by Amazon U.S. and was voted "Best App" by the public in France's Les Apps Awards. It was also nominated in the "Digital Addiction of the Year" category at the MTV Millennial Awards as well as in the "Best Mobile Game App" category at the Global Mobile Awards of the Mobile World Congress in Barcelona.
One of a kind, it was the first game to be declared of national cultural interest by the Ministry of Culture of Argentina.
Revenue
ADM: Which market is more profitable for you (iOS, Android)?
Cavazzani: Android has historically been more profitable, since it has more market penetration.
ADM: What is your most successful way of earning revenue with your apps (in-app, free/paid, etc)?
Cavazzani: For us, the most successful way to generate revenue is via Advertising. Interstitial video and Native are our major placements. We have a huge amount of brands advertising through our games and reaching high performance metrics.
We recently had a success case published talking about how in-game ads deliver great performance for us. Besides that, we have other advertising options such as our channels for brands in Trivia Crack Kingdoms.
ADM: Which mobile ad networks do you prefer?
Cavazzani: We normally work with Admob, Facebook Audience, Vungle, Unity, MdotM, Inmobi and Lifestreet.
ADM: Can you share some general revenue numbers on a monthly or yearly basis?
Cavazzani: We do not give billing information, but I can affirm you that we are very profitable, but this business is very difficult to measure.
Development
ADM: What is your development process (from idea to release)?
Cavazzani: The creative process for a game usually starts with meetings of interdisciplinary teams: iOS, Android and back-end on the technical side, but also Product Owners, Game Analysts, Content and Design, among others. I like to get involved with projects from the starting line and even make new contributions.
After the goal has been set, we start to churn out ideas and from a selection of these a new game or feature will emerge.
Because we understand that these ideas are hypothesis, it is very important to test them out and find which are useful and functional, and which we have to get rid of. When we confirm a hypothesis, we get closer to the kind of game our users enjoy.
We are always open to change and we constantly implement new features and functionalities to all of our games in order to bring the best proposals to our users. This is why we work in a collaborative way and foster the participation of everyone within their area of expertise.
ADM: Which development platform do you use most, any favorites?
Cavazzani: We use mostly Android and iOS, given that we specialize in mobile games and those are the heavy hitters in the market. We don't develop console games.
ADM: What is some of the biggest challenges in mobile development for you?
Cavazzani: When I thought about creating a trivia game, I envisioned something everyone could enjoy, a social and family game. I saw that some similar games existed, but that they lacked attractive content, that's when I put a spin on it and we designed the Question Factory. Thinking that everything has been invented couldn't be further from reality, I believe that in 50 years more things will be invented than in the past 5000.
In an ever-changing field such as the videogame industry, maintaining an app at the top of the stores is a great challenge. It is a massive industry where the top dogs take it all. It is very similar to the music business, where someone gets a hit, becomes famous and has to live from that success, and this has positive and negative sides; as it creates a platform but also generates expectations.
In Etermax we invest ourselves to improving games so they always have new features. The idea is to try to use today's success to build tomorrow's. Aworded Crack was the most used game in the world and today Trivia Crack is ten times bigger. It is just a question of seeing what your goals are, and mine are very ambitious.
Marketing
ADM:How do you market your apps?
Cavazzani: We do user acquisition through Facebook, Google Adwords and other AdNetworks.
ADM: Do you do your own marketing?
Cavazzani: Yes, we have our in-house marketing team. Not only that, but we also have a press team that works closely with the media in different countries.
ADM: What do you feel is the single most important factor in app development?
Cavazzani: I think the single hardest thing to achieve is to do everything well: create the product itself, commercialize it, and implement the necessary technologies to maintain it. if I create the best game in the world, but it reaches a million users and it collapses, it is useless. In terms of monetization, if an app works great but you don't get any revenue from users, it is useless. One can't always increase the net worth of a company a hundredfold.
Secrets
ADM: Do you have any great developer tips from things you've learned in regards to any of the above?
Cavazzani: After 10 year being an entrepreneur, I learned several lessons that I think speak to both the engineer and the artist within me:
Make the purpose clear
Your app has to do one thing, and do it well. Period. From the get-go, It must be apparently clear to the user what the game is about and why it will be fun to play and easy to use.
Use it everyday
When creating your app, look for the little things that people need every day or have to do every day that will help you maintain people's long-term loyalty. Here, the name of the game is retention.
Pass the Smile Test
You want your app to make people smile when you tell them what it is. That may seem silly, but it is incredibly useful advice, whether you are speaking to potential players, investors, or fellow developers.
Generate buzz
We are in 2016. People talk face-to-face much less than they did even five years ago. You can't change this, but if you take advantage of social tools and work to generate word-of-mouth around your product, it won't matter that you don't have any money for marketing or PR.
Obsess
Details, details, details. Use your app all the time. Use it obsessively. Check other similar apps and compare them to yours, and then use yours again. Strive for perfection. It's a tough crowd out there; only the very best products will survive in 2016, and the same will be true one hundred years from now, too.
Embrace aesthetics
No matter how good your app is, in the end, everything comes down to perception. The look of the icons, colors, and buttons are of paramount importance. If you don't have a good eye for design, find someone who does. People like pretty things -- always remember that!
Don't let it crash!
Applications have to be able to withstand the test of a restless finger; this means you have to be able to touch every app on the screen at the same time, and your app still should not crash. Usually stability is the last thing that is considered during the development process, but it really should be amongst the first things you focus on.
Always Innovate
Finally, success comes from either being the first or being the best. If you're going to create an app that has already been done, and it isn't better than the previous ones, there is no point in creating it at all. Remember, people will choose your app because you offer something different -- and the substance of that creation is all that really matters.
ADM: What is your latest favorite app?
Cavazzani: The apps that I use the most lately are Prisma, Google Photos, TripCase, Slack, Reigns
ADM: What device do you use personally?
Cavazzani: iPhone and Apple Watch. Just like everyone else, I use my smartphone more and my computer less. The advance of devices and the proliferation of the cloud makes the use of phones and tablets more convenient every day.
Read more:
https://etermax.com
---
Become a subscriber of App Developer Magazine for just $5.99 a month and take advantage of all these perks.
MEMBERS GET ACCESS TO
- Exclusive content from leaders in the industry

- Q&A articles from industry leaders

- Tips and tricks from the most successful developers weekly

- Monthly issues, including all 90+ back-issues since 2012

- Event discounts and early-bird signups

- Gain insight from top achievers in the app store

- Learn what tools to use, what SDK's to use, and more



Subscribe here