Apps
5 trends that will shape the future of mobile apps
Thursday, January 14, 2021
App marketers looking to acquire new users are facing a dangerous enemy: friction. In this guest op-ed, Jon Hudson, Vice President of Customer Success at Digital Turbine, discusses how mental and physical friction can negatively impact UA campaigns, and 5 trends that will shape the future of mobile apps.
COVID has rewritten the rules of user acquisition campaigns for app developers. It has favored specific categories of apps, driving massive boosts in mobile usage and install volume. App marketers had to pivot in a heartbeat, optimizing their marketing mix and responding to volatility with few guideposts available to them. The volatility won't go away in 2021, and app marketers can't dust off their app campaigns and pick up where they left off back in the first quarter of this year. As they head into the coming year, we see five trends that they'll need to factor in to ensure their UA campaigns succeed.
#1: App Discovery on Steroids
App discovery will absolutely explode in 2021 driven by a perfect storm of pent up demand for 5G devices, the new phone owner's proclivity to trick up their phones with new apps, and the wow factor of the 5G devices themselves, which will send consumers on a hunt for a whole new class of apps.
After much hype that was followed by delays, sales of 5G devices will actually take off in 2021, with some analysts predicting that up to 100 million units will be shipped worldwide. Many people put off purchasing new devices this year, and are ready to upgrade to the newest, coolest devices.
How do new devices affect app discovery? Research shows new device owners are keen to install new apps, a phenomenon we refer to as an "app-alanche." Within the first three months of device acquisition, consumers install about 10 apps -- 3x more than those who've had their phones for a year or more. On top of that, with 5G's faster speed and support for higher resolution images and videos consumers will be on the hunt for new apps that allow them to take advantage of these enhancements.
#2: On-Demand Stays in Big Demand
The sweet taste of dinner and groceries -- easily ordered and delivered directly to our doors -- will be hard to get out of our mouths. On-demand apps skyrocketed due to COVID-19, a time when socially-distance shopping, contactless payment and frictionless ordering were, well, what the doctors ordered. The lockdowns forced consumers to form new shopping habits, and those behaviors won't change once COVID goes away. After all, if consumers can order everything they need from an app, why deal with all the friction of getting into a car, fighting traffic and waiting to pay at a register? On-demand apps -- groceries, pharmaceuticals, restaurants -- will continue to be in big demand long after the return of in-person concerts and Spring Break weekends.
#3: Organic Gains on Free-Time Gains
App discovery and usage spiked during the lockdown, but don't pin that behavior on COVID -- people were already picking up their phones whenever they had a minute to spare. The pandemic simply accelerated it.
Both organic and paid app installs definitely spiked during the pandemic; worldwide consumers installed some 4 billion apps in the first half of 2020. No doubt they were filling up all the free time they gained by not commuting to work or school or attending in-person activities. Organic and paid installations were up 21% and 15% respectively, proving that when people have more free time, their go-to way to fill it is the apps on their device.
But let's be clear, this isn't the result of COVID. Rather, it is a continuation of a behavior we've seen over the past three years -- more often than not, people pick up their phones with no particular app in mind. Why? They're looking for a momentary distraction. To be sure, the pandemic increased the amount of free time consumers had to kill, it didn't give rise to "appnostic" behavior, which, it's worth noting, has a profound effect on UA opportunities. Going forward, app marketers will need to hone their ability to reach and engage users in those lean back moments.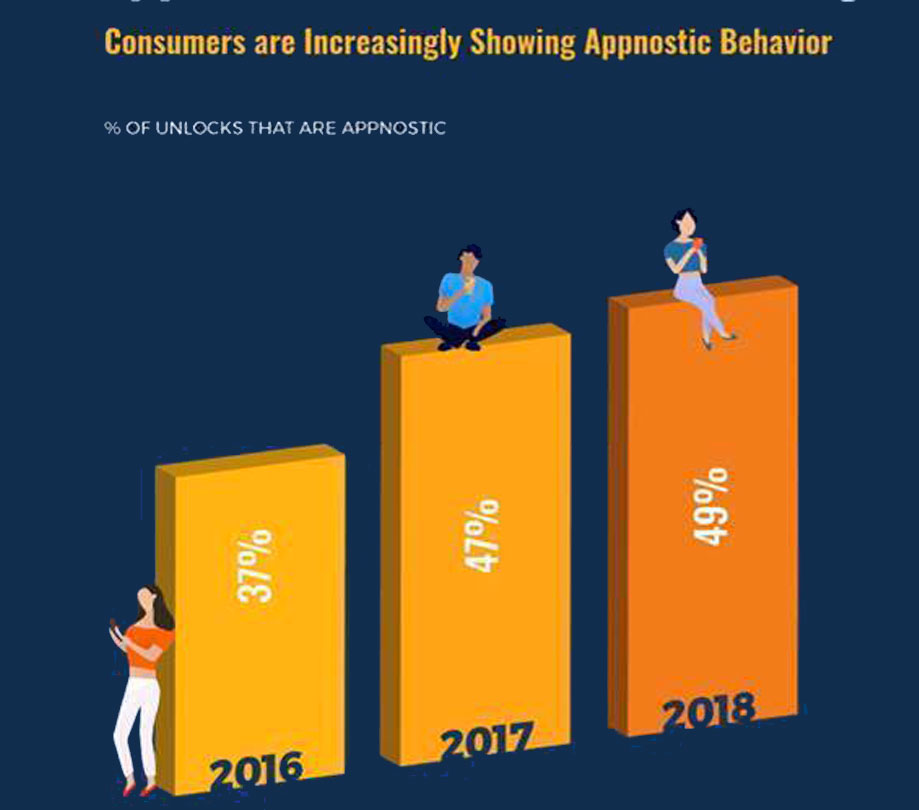 #4: The Install-Inclined Will Continue to Decline
While the number of app installations may climb, the number of people who bother to install new apps will continue to decline, making it more challenging for marketers to scale their bases. This is a trend that comScore uncovered and has been following for several years now. In 2017, the research company reported that 51% smartphone owners said they didn't install apps. Two years later a whopping 67% of respondents said the same thing.
While COVID-19 is a bit of a boon for app marketers, the time will come when the pandemic ends and marketers will need to find other ways to gain users. Undoubtedly, marketers will focus their UA campaigns closer to the source of the greatest number of app installs: new device ownerships.
#5: Freedom From Friction
The past year has changed the consumer's expectations for their phones, which they now view as ever-increasing devices for convenience, entertainment and utility. UA campaigns that don't fit in with their expectation of friction-free experiences will flounder. In 2021, smart app marketers can build on the consumer's new view of their phones by incorporating things like playable ads and instant ads in their UA campaigns (both of which will perform better on 5G devices). These tactics allow users to test drive an app or explore a brand without interrupting their current experiences, and ultimately, may make them more open to engaging with ads knowing that doing so won't generate a ton of friction in their lives.
---
This content is made possible by a guest author, or sponsor; it is not written by and does not necessarily reflect the views of App Developer Magazine's editorial staff.
---
---
Become a subscriber of App Developer Magazine for just $5.99 a month and take advantage of all these perks.
MEMBERS GET ACCESS TO
- Exclusive content from leaders in the industry

- Q&A articles from industry leaders

- Tips and tricks from the most successful developers weekly

- Monthly issues, including all 90+ back-issues since 2012

- Event discounts and early-bird signups

- Gain insight from top achievers in the app store

- Learn what tools to use, what SDK's to use, and more



Subscribe here