wrnch debuts latest AR tech at Augmented World Expo 2017
10,190
Computer vision and AR deep learning startup debuts BodySLAM at Augmented World Expo.
Computer vision start up, wrnch, uses deep learning to turn your smartphone into a motion capture device and find people in the pixels.
Motion capture is the process of digitizing human form and movement. Professional motion capture systems have revolutionized movies, video games, VR, sports analytics and clinical medicine. Up until now, motion capture was expensive, limited to the indoors, not movable and required special equipment and suits.
Wrnch's BodySLAM is their latest human pose estimation engine to run on a smart phone, which can analyze regular RGB video and returns the 3D motion data for all the humans. Thanks to
computer vision and deep learning
, BodySLAM allows anyone with a smartphone to capture human motion. The resulting applications are endless ranging from VFX quality camera AR to full body VR to personalized sports analytics.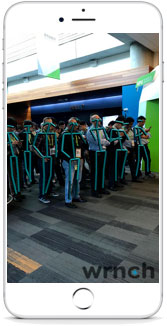 Key features:
- Real-time interactivity
- 21 body parts tracked per person
- Unlimited number of people in crowded conditions
BodySLAM runs on mobile and PC computing platforms and is fully integrated into world class game engines
including UE4 and Unity
.
Wrnch is a Montreal-based computer vision start-up, founded by serial AI entrepreneur Dr. Paul Kruszewski and funded by Sharktank Billionaire Mark Cuban.
After months of closed beta, wrnch is officially the BodySLAM engine at Augmented World Expo on June 1st, 2017.
Are you paying more taxes than you have to as a developer or freelancer? The IRS is certainly not going to tell you about a deduction you failed to take, and your accountant is not likely to take the time to ask you about every deduction you're entitled to. As former IRS Commissioner Mark Everson admitted, "If you don't claim it, you don't get it.
Get hands-on experience in performing simple to complex mobile forensics techniques Retrieve and analyze data stored not only on mobile devices but also through the cloud and other connected mediums A practical guide to leveraging the power of mobile forensics on popular mobile platforms with lots of tips, tricks, and caveats.
The Chirp GPS app is a top-ranked location sharing app available for Apple and Android that is super easy to use, and most of all, it's reliable.
Write and run code every step of the way, using Android Studio to create apps that integrate with other apps, download and display pictures from the web, play sounds, and more. Each chapter and app has been designed and tested to provide the knowledge and experience you need to get started in Android development.