The Top Twenty Emerging Cities for Tech Jobs
4,293
---
Homes.com recently released the New Tech City Index 2016 report which ranks cities with the best option for technology employment and living expenses based on metrics including industry wages, employment levels, and average house price.
The report used a number of factors to calculate the rankings. This included analyzing data from the US Bureau of Labor Statistics, including the average wage of all job types in 365 cities across the country, the average total employed in each area, and the average number of jobs per 1,000 for each job type.
Six jobs were selected as a snapshot of the tech industry: Computer and Information Systems Manager; Computer Programmer; Software Developer; App Hardware Engineer; Network Support Specialist; and Web Developer. The median wage from all of these positions was calculated for each city and ranked appropriately. Homes.com then did the same with the average number of these jobs for every 1,000 jobs in each city as well as the overall average total employment. They then combined the rankings in each category to get overall ranking for each city.
In order to specifically highlight new and emerging tech cities, Homes.com excluded data from large, established tech areas such as San Jose, San Francisco, Washington, New York and Seattle.
To give insight into how the tech industry can affect the housing market, Homes.com also analyzed average house price over the past five months and house price change over the past five years. When looking at average house price for the index, they favorably ranked cities with currently low average house prices.
Here are the top 20 cities based on the rankings.
1 - Denver, CO
2 - Framingham, MA
3 - Oakland, CA
4 - Atlanta, GA
5 - Boston, MA
6 - Austin, TX
7 - Santa Ana, CA
8 - Baltimore, MD
9 - Durham, NC
10 - Boulder, CO
11 - Columbus, OH
12 - Trenton, NJ
13 - Newark, NJ
14 - Bridgeport, CT
15 - Minneapolis, MN
16 - Huntsville, AL
17 - Charlotte, NC
18 - Raleigh, NC
19 - Bethesda, MD
20 - Wilmington, DE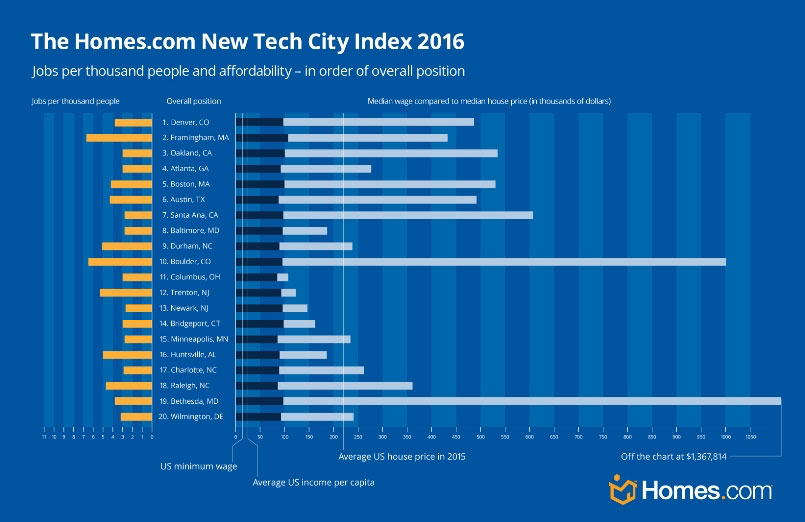 Read more:
http://www.homes.com/real-estate/local-market-repo...
Become a subscriber of App Developer Magazine for just $5.99 a month and take advantage of all these perks.
MEMBERS GET ACCESS TO
- Exclusive content from leaders in the industry

- Q&A articles from industry leaders

- Tips and tricks from the most successful developers weekly

- Monthly issues, including all 90+ back-issues since 2012

- Event discounts and early-bird signups

- Gain insight from top achievers in the app store

- Learn what tools to use, what SDK's to use, and more



Subscribe now