Artificial Intelligence
The future of crop intelligence is here with Mark 3 from Arable
Wednesday, December 7, 2022
Arable announced that the future of digital agriculture is here. They launched the Mark 3 and Arable Vision crop intelligence solutions, that use modeling and machine learning to deliver actionable insights so farmers can improve crop quality and yields, reduce environmental footprints, and more.
Arable has announced the next generation of its award-winning crop intelligence solution. Powered by the all-new Arable Mark 3 in-field sensing device, the solution now includes contextualized crop imagery via Arable Vision. These innovations break new ground in how data can be used to optimize and advance agriculture around the world.
"Agriculture is one of the most important industries in the world, and right now it is desperately in need of solutions that deliver sustainability and productivity in the face of growing challenges. At Arable we believe that better data drives better decisions, and with the Mark 3, we are setting a new standard not just in complete, trustworthy data, but also in actionable insights and doing it all in one simple solution. Today's announcement comes at a time when the agriculture industry is facing unprecedented obstacles," said Jim Ethington, CEO of Arable.
Feeding a rapidly growing population amid a changing climate, scarcity in water, lack of new fertile land, and heightened consumer demands for sustainable products is putting extreme strain on the food supply. Never has the need been greater for innovative solutions that improve crop quality and yields, financial outcomes for the farmer, and the environmental footprint of agriculture.
One simple system delivers a big global impact
In a single intuitive system, Arable combines accurate in-field weather, forecasts, and plant and soil data with advanced modeling and machine learning to deliver actionable insights. Armed with a holistic, real-time view of the entire crop system, growers, advisors, and researchers are able to make more informed decisions and achieve better outcomes in critical applications, including irrigation, crop protection, fertilization, labor efficiency, breeding, and sustainability. Hundreds of forward-thinking agribusinesses, farming operations, and food and beverage companies in over 30 countries rely on Arable to help them plan more effectively, accelerate R&D efforts, reduce their environmental impact and maximize economic value throughout the supply chain.
"The Arable system gives us access to critical decision-making data when we need it and plays a pivotal role in producing high-quality wine sustainably, something that is extremely important to us and our vision for a brighter future. We're beyond excited as we continue to explore the new capabilities of Mark 3 and Arable Vision," states Will Drayton, director of technical viticulture, sustainability, and research at Treasury Americas, a division of Treasury Wine Estates.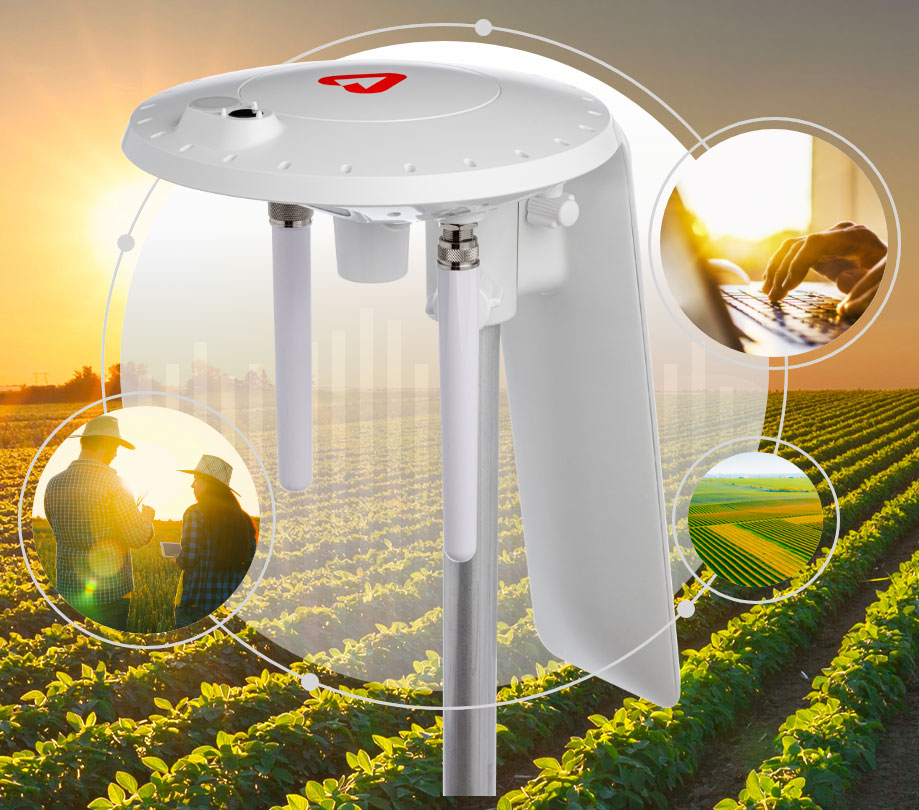 Arable Mark 3: smarter, tougher, and more powerful in every sense
At the heart of Arable's next-generation crop intelligence platform is the Mark 3, an in-field sensing and communication device that uniquely measures the weather, plant, soil, and irrigation flow of all in one simple, reliable system. Arable, in partnership with award-winning Bould Design, famous for the Nest thermostat designed the Mark 3 with major advances in user experience, plant and environmental sensing, connectivity, and ruggedness.
Enhanced Crop Sensing Capabilities for Optimized Irrigation, Fertilization, and More: The Mark 3 uses the latest in sensor technology to deliver real-time insights into how a crop is responding to its environment and identify plant stress before it becomes visible to the human eye. Its advanced 22 narrow-band spectrometer enables users to diagnose plant stress from causes such as nutrient deficiencies, water stress, and disease. Also, the new thermal sensor reads canopy temperature to within one degree Celsius, which, when combined with other crop and weather data provided by Mark 3, makes it possible to know when the crop is stressed due to a lack of water.

World-Class Ease of Use: Since its inception, Arable has been setting the standard in agricultural intelligence with fully integrated, holistic sensing and communication devices that can be set up in minutes, require no maintenance, and start delivering value immediately. The Mark 3 builds on the award-winning Mark 2 with new features that include a built-in 5MP camera, an integrated solar array, and an optional ultrasonic wind anemometer. By combining the Mark 3 with a user-friendly software suite and an easy-to-integrate API, Arable redefines how crop intelligence can be used to advance agriculture.

Farm-Tough Durability through State-of-the-Art Engineering: Every aspect of the Mark 3 has been re-architected and rigorously tested to ensure operation in the harshest growing conditions in the world. Everything from cutting-edge materials and sensors to each screw placement has been optimized to be fit for the farm. The device has no moving parts, no openings to clean, and fewer parts to break down, ensuring reliable, consistent, and maintenance-free operation.

Expanded Connectivity for Continuous Monitoring: To enable reliable data transmission from remote growing regions, the Mark 3 comes equipped with a high-powered antenna that is able to connect at a range 7X greater than that of a typical cell phone. Additionally, with 5X the battery capacity and 2X the charging power of the Mark 2, the Mark 3 can operate for up to two months without sunlight, making it optimal for regions that experience long periods of low solar activity.

Built for Today and Future-Ready: The Mark 3 leverages the latest in communication technologies and IoT computing to provide a powerful experience for customers. These capabilities also provide the foundation for future innovations and features without requiring the purchase of new hardware, which has the dual benefit of investment protection and reduced environmental impact. Planned feature expansions include wireless connectivity via long-range Bluetooth 5.2, new communication options to enable connectivity in the most remote locations, and edge machine learning to enable data and image analysis in real-time.

Arable vision
New Field Insights from the Palm of Your Hand Using the Mark 3's new integrated 5MP camera, Arable Vision provides a daily high-resolution image of the crop and puts that image in the context of what was happening in the field environment before, during, and after the image was taken. Users are able to tag, share and add notes to the images, further strengthening team-wide collaboration and facilitating quick problem resolution. A real-time view of the crop allows for fewer trips to the field, rapid identification of issues that compromise yield and quality, optimized timing of fieldwork, as well as continuous phenotyping. The result is reduced risk, cost savings, and maximized use of resources.
In addition, having a continuous visual record of the crop through the season provides the ability to better assess what drove outcomes at the end of the season. These records can be used to support other needs for verification in insurance, carbon programs, traceability, and the food supply chain.
"With the addition of Mark 3 and Arable Vision, we are proud to accelerate the future of digital agriculture with the most advanced crop intelligence solution in the world. These latest innovations put more power in the hands of our customers to create smarter and more efficient operations, be proactive in the face of risk and uncertainty, meet sustainability goals and build a resilient food system," said Jim Ethington, CEO of Arable.
Arable is now accepting pre-orders for the Mark 3 device, with availability beginning in early 2023.
---
Become a subscriber of App Developer Magazine for just $5.99 a month and take advantage of all these perks.
MEMBERS GET ACCESS TO
- Exclusive content from leaders in the industry

- Q&A articles from industry leaders

- Tips and tricks from the most successful developers weekly

- Monthly issues, including all 90+ back-issues since 2012

- Event discounts and early-bird signups

- Gain insight from top achievers in the app store

- Learn what tools to use, what SDK's to use, and more



Subscribe here