Marketing & Promotion
The best month to acquire users is in September finds new report
Wednesday, June 21, 2017
9,263
Mobile app marketing company, Liftoff, releases report showing that user acquisition is cheaper as mobile commerce grows in popularity.
Liftoff, a mobile app marketing and retargeting company, has released a new report providing surprising insight into behaviors and trends in the rapidly growing world of mobile shopping. The data reveals the best month to acquire users is in September, ahead of the holiday shopping frenzy, and also examines geographical differences in mobile user engagement between North America, Europe, the Middle East and Africa (EMEA), Asia-Pacific (APAC), and Latin America (LATAM). Most importantly, the findings suggest that rapidly dropping mobile user acquisition costs may be the direct result of brick-and-mortar's demise.
The study analyzed 26.9 billion ad impressions across 4.8 million app installs between April 2016 and April 2017, to uncover the following:
September is still the new Black (Friday).
Last year, Liftoff's shopping apps report uncovered that September was the
strongest month to acquire users
(who complete a first purchase) ahead of the holiday season. This year's report shows consistency in this data point as this finding still holds true. What's more, at $62.65, September is 28.2 percent less expensive for user acquisition compared to last year.
It's getting less expensive to acquire new mobile shoppers year over year, which suggests that an interesting flywheel effect may be at play here: as users continue to grow more comfortable with their phones, it's growing less expensive for marketers to acquire mobile users. This then contributes to the growth of mobile commerce, which in turn encourages mobile users to make more purchases on their phones and ultimately contributes to the continuing downfall of the already-shaky brick-and-mortar climate.
Consumers demand convenience and speed. Rather than going to a physical retailer, users can browse and purchase with the tap of a finger, from anywhere. As users get more and more comfortable on their mobile devices, it's likely that the cost to acquire users who go on to make a purchase will only continue to decrease.
With brick and mortar's weakening position, the data in this report is essential to brands on mobile. If mobile retailers want to win this expanding frontier and get ahead of Black Friday and critical shopping holidays,
boosting user acquisition efforts
in September then focusing on re-engagement in November and December is still the most cost-effective approach.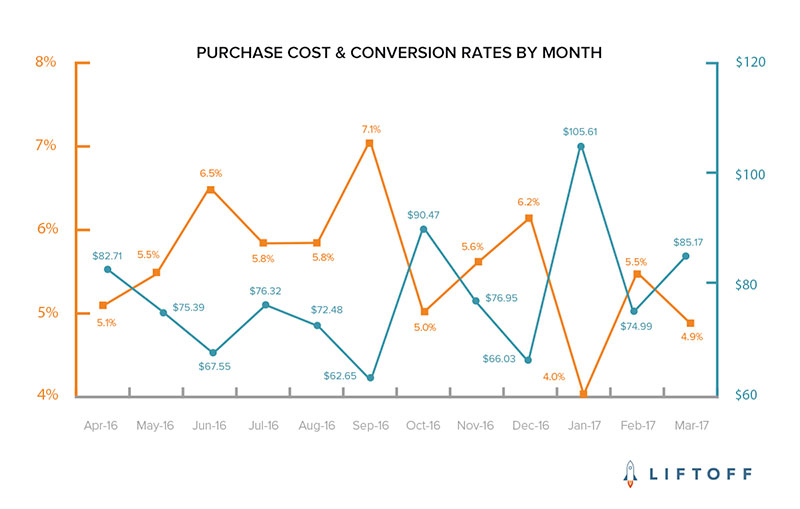 North America is the place to find engaged buyers.
In North America, the market is mature as consumers rely on mobile shopping to
enhance the commerce experience
. But the competition is fierce as the install-to-registration rate is only four percent, indicating that app marketers need to be significantly smarter when approaching this audience.
In fact, North American users are the least likely to register across the geos examined. However, they are more than two times more likely to move forward with a purchase. With a saturated app market, North American mobile users may simply be overwhelmed by the sea of apps to register for - but once they commit, they are steadfast: North American users convert to an in-app purchase at a rate of 17.7 percent.
So while it may be challenging to convince North American consumers to create an account in a shopping app, the effort is well worth it.
Marketers should not discount APAC consumers, as they are not just window shoppers.
APAC users should not be discredited as they are making strides in their online shopping habits. The install-to-registration rate in the region is 12.4 percent, nearly three times higher than North America and right on pace with EMEA at 10.7 percent. Install-to-purchase rates are markedly higher than any other region, except the United States, at 8.6 percent.
Similarly, Latin American mobile users are more likely to register in a shopping app than in North America (and EMEA and APAC) with an install-to-registration rate of 13.78 percent. However, of the four regions analyzed, Latin American mobile users are the least likely to move forward with a purchase.
And the difference is huge: according to the data, Latin America is 95.5 percent less likely to complete a mobile purchase than North American consumers. The fact that users in LATAM register, but don't continue through purchase, could be due to a less mature mobile commerce market or simply less comfort around the relatively new mobile shopping space.
Methodology
The Liftoff 2017 shopping apps report is based on an analysis of Liftoff internal shopping app data from April 1, 2016 through April 1, 2017 - which spans 26.9 billion ad impressions across 4,851,538 app installs. When compiling the report, Liftoff tracked the cost and conversion rates of installs (interest), registrations (consideration), and first purchase (conversion). Data was organized by platform (iOS and Android), user demographics (gender), and region (North America, LATAM, EMEA and APAC).
---
Become a subscriber of App Developer Magazine for just $5.99 a month and take advantage of all these perks.
MEMBERS GET ACCESS TO
- Exclusive content from leaders in the industry

- Q&A articles from industry leaders

- Tips and tricks from the most successful developers weekly

- Monthly issues, including all 90+ back-issues since 2012

- Event discounts and early-bird signups

- Gain insight from top achievers in the app store

- Learn what tools to use, what SDK's to use, and more



Subscribe here