Study Shows IoT and Connectivity Are Driving the Third Industrial Revolution
19,235
---
Flexera Software and the IDC have released a new survey report, The Third Industrial Revolution: Intelligent Devices, Software, and the Internet of Things. The report provides insights into how the third industrial revolution is being fueled by device manufacturers and is transforming products, business models and revenues streams with intelligent and Internet-connected technology.
The report shows device manufacturers are transforming their product and services lines through software-driven intelligent devices, Internet of Things devices and software licensing/entitlement management capabilities that enable monetization of products and services.
As a background, the report describes the first industrial revolution having ushered in a global transformation as the means of production transitioned from human labor to machine driven automation. The second industrial revolution accelerated change through the growth of the railroads, iron and steel production, manufacturing automation, the use of steam power, oil, electricity, and electrical communications.
The third industrial revolution is the proliferation of computers and software digitizing the previously analog economy bringing unprecedented levels of automation, productivity and innovation.
The report states that, "With the introduction of embedded software and app-driven hardware into manufactured devices, and the ability, through software licensing, to monetize those device functions and features – devices have become intelligent solutions and capable of generating completely new types of revenue streams. Connecting those intelligent devices to the Internet (the "Internet of Things") is accelerating the third industrial revolution by enabling services, solutions and big data offerings around every day industrial and consumer goods."
Among the report's findings:
- The Number of Internet of Things Makers Will More Than Double within Two Years: Only 30 percent of respondent device makers currently develop Internet of Things devices. But 34 percent more plan on doing so over the next two years.
- Software-enabled Intelligent Devices Continue Strong Growth: Today 50 percent of respondents say they develop intelligent devices. Another 21 percent plan on making their devices intelligent over the next two years.
- New Product/Services Categories Are Being Created: 79 percent of respondents say they are or plan on delivering remote monitoring and maintenance to their product/service mix; 66 percent will add Business Intelligence capabilities; 37 percent will improve their supply chains with new services, such as automatic replenishment of used goods (i.e. replenishment of empty water coolers).
- Software Licensing/Entitlement Management is Key to Monetizing the Internet of Things: 60 percent of device makers use software licensing and entitlement management systems to monetize their intelligent and Internet-connected devices, allowing them to develop new offerings that bundle hardware, services and/or consulting.
- Proportion of Revenues from Hardware Declining, Proportion from Services Rising: The number of device makers who say that 50 percent or more of revenues comes from hardware will decline by 5 percent over the next two years while the number of device makers who say that 50 percent or more of revenues comes from services will increase by 6 percent over the next two years.
The data contained in the report is based on three application usage and value surveys, one targeted at independent software vendors (ISVs), one targeted at intelligent device manufacturers, and one at end-user organizations that consume enterprise software. More than 583 respondents participated, including executives and IT professionals from 264 software vendors, 172 hardware device manufacturers and 147 enterprise organizations.
Of the 583 respondents to the survey, 53 percent reported their division headquarters as being located in the United States. 6 percent were from India, 4 percent from the United Kingdom, 4 percent from Australia & New Zealand, 3 percent from Germany and 1 percent from France.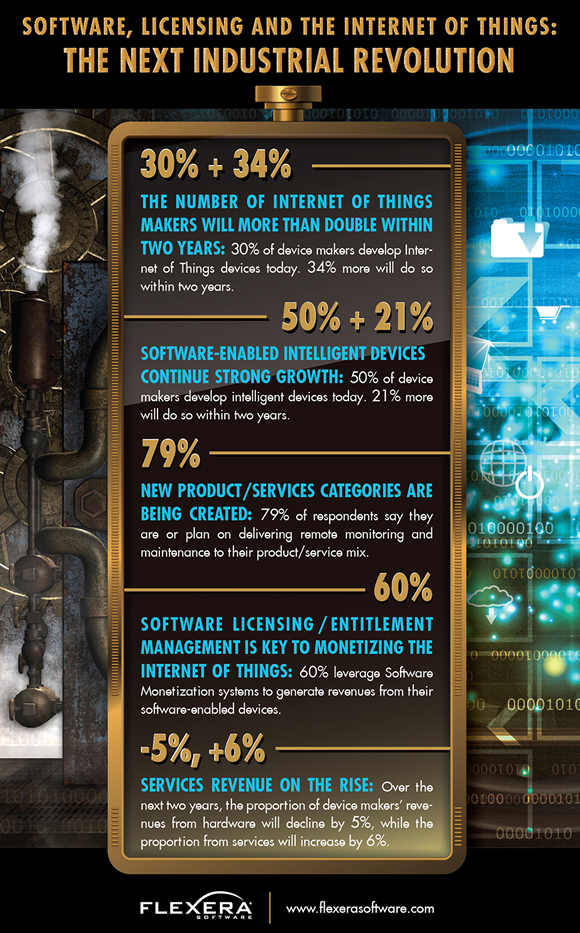 Read more:
http://learn.flexerasoftware.com/SWM-WP-IDM-AUM-Th...
---
Become a subscriber of App Developer Magazine for just $5.99 a month and take advantage of all these perks.
MEMBERS GET ACCESS TO
- Exclusive content from leaders in the industry

- Q&A articles from industry leaders

- Tips and tricks from the most successful developers weekly

- Monthly issues, including all 90+ back-issues since 2012

- Event discounts and early-bird signups

- Gain insight from top achievers in the app store

- Learn what tools to use, what SDK's to use, and more



Subscribe here