Game Development
Indie game dev platform The Mirror lands $2.3M in funding
Thursday, December 22, 2022
The Mirror, the all-in-one gaming and development platform that empowers indie game developers and 3D creators to build virtual worlds and multiplayer games has raised a $2.3M Pre-Seed round led by Founders Fund, with participation from many other early-stage investment firms.
The Mirror has raised a $2.3M Pre-Seed Round led by Founders Fund. Participants in the round include early-stage investment firms Konvoy Ventures, Abstract Ventures, Florida Funders, and Palm Tree Crew. Founded in Miami, Florida, in 2022 by Jared McCluskey (CEO and CTO), The Mirror simplifies the complexities of game development into a single platform, providing indie game developers and 3D creators with out-of-the-box multiplayer networking, real-time collaboration, a physics sandbox, and community-based user-generated content, allowing for easy and simple monetization with marketplace sales of 3D models, textures, scripts, and much more.
The Mirror's team believes in open-source software and chose to build its platform on top of the Godot game engine. The Mirror actively gives back to the open-source engine with code contributions on GitHub and aims to help the community thrive. Interoperability is key to building an all-in-one game development platform, and this can only be fully achieved with open-source software.
Indie game dev platform The Mirror lands $2.3M in funding Pre-Seed round
The Mirror empowers all developer skill levels, from no-code to advanced with visual scripting and real-time coding. Game developers, ranging from experts to those with no coding experience, can build games and experiences that they can distribute on the platform's marketplace and avoid headaches that might be experienced through independent channels. Additionally, it provides a marketplace for 3D creators to go beyond showcasing their creations on 2D platforms as they can invite their audience to experience their works in games and worlds in The Mirror.
Since launching, The Mirror has expanded its team to 15 people, based across the US, Europe, and South America, developed its product rapidly, and achieved a closed alpha in three months and a closed beta in six months. The new funding will go towards expanding its core team of engineers by hiring talent globally, as well as growing the brand's presence within the gaming industry.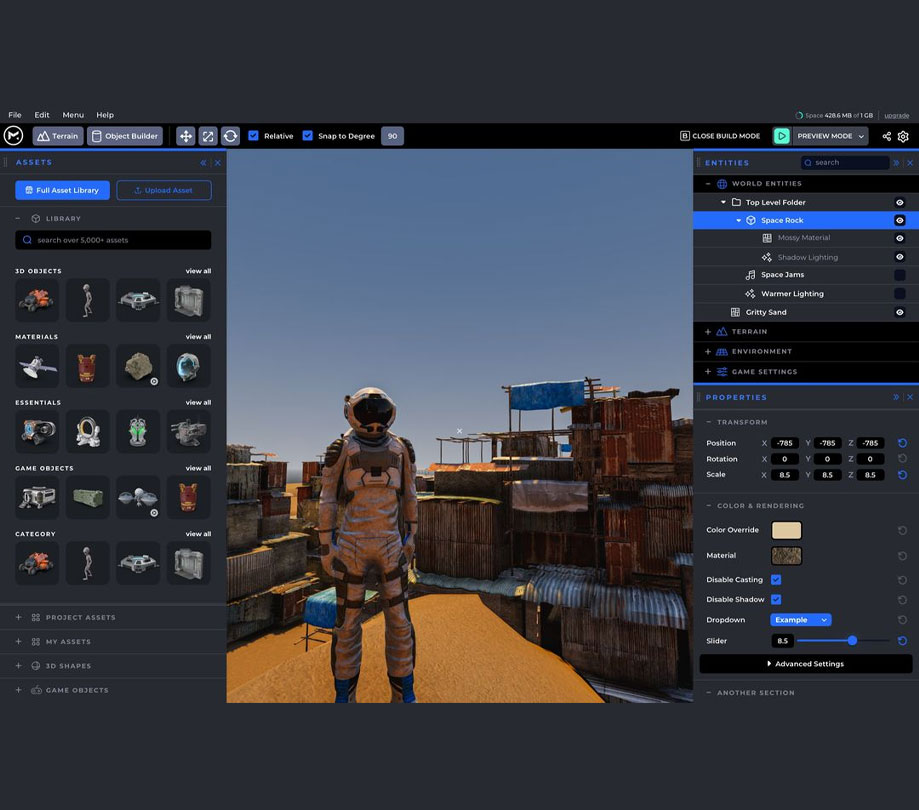 All-in-one game and game development platform
"The Mirror enables developers of any skill level to build the next generation of games and applications, in real-time, with friends and colleagues. Most software has moved to real-time collaboration and cloud-based solutions, but game development has been left behind and we're excited to bring it to the next level with open-source software. I'm incredibly grateful to our investors for believing in us and we're excited to show what we've been building. The future is in The Mirror," commented Jared McCluskey, Founder/CEO of The Mirror.
"I met Jared when he joined OpenStore as an early engineer and we're excited to back him and the team. The Mirror has a fundamentally different approach of using open-source software to bring real-time collaborative game development to a fragmented industry," added Keith Rabois, Partner at Founders Fund.
"When we heard Jared's pitch for building a virtual world platform on top of Godot, we were incredibly excited to invest in The Mirror to see them pursue a multi-billion dollar opportunity that could be leveraged by hundreds of millions of gamers and creators. We believe the Godot engine is one of the most underrated projects in the gaming industry, due to it being open-source, lacking scale, and not having enough players using it. We are thrilled to invest in The Mirror team and be in their corner," said Josh Chapman, Managing Partner at Konvoy Ventures.
"We're excited to back Jared and the team at The Mirror with their novel approach to open-source game development, interoperability, and infrastructure in a vertically-integrated platform, enabling creators to build the next generation of applications," said Ramtin Naimi, General Partner at Abstract Ventures.
"As users spend more time online and build their presences digitally, they're creating new worlds in a digitally-native form of ownership to build the next generation of experiences and applications. The Mirror is creating an interoperable virtual world for communities and world builders to build upon their digital identity without any constraints of the physical world and we're excited to back them," added Brett Shear Managing Partner at, Palm Tree Crew.
"The Mirror is evolving web3 into the next interaction of the internet building an immersive digital environment to empower creators and developers with a 'megaverse engine', and we couldn't be more excited to support their mission. Jared is a web3 community builder and with the limitless experiences and creativity the company is offering to users, we believe The Mirror will be at the forefront of the metaverse." said Tom Wallace, Managing Partner at Florida Funders.
---
Become a subscriber of App Developer Magazine for just $5.99 a month and take advantage of all these perks.
MEMBERS GET ACCESS TO
- Exclusive content from leaders in the industry

- Q&A articles from industry leaders

- Tips and tricks from the most successful developers weekly

- Monthly issues, including all 90+ back-issues since 2012

- Event discounts and early-bird signups

- Gain insight from top achievers in the app store

- Learn what tools to use, what SDK's to use, and more



Subscribe here