Cloud Services
Google Cloud Next 19 announcements
Thursday, April 11, 2019
4,533
Google Cloud Next '19 is happening and here is a comprehensive list of most of the things streaming out of the sold-out event this year in San Francisco.
Next '19 is underway, and here's a summary of the important news announced from the event.
Google CEO Sundar Pichai kicked off talking about Cloud's momentum and announced their new multi and hybrid cloud offering called Anthos. Anthos lets customers write once and run anywhere—in the cloud, in their data center, or even in other clouds.
In addition, the new CEO for Google Cloud, Thomas Kurian, outlined the strategy. From a product perspective, he shared how they are driving digital transformation for global enterprises through their global scale infrastructure to store, manage and process data. He also talked about how their digital transformation platform provides capabilities to develop and modernize applications, gather and analyze data to find insights, leverage Google AI and machine learning advancements, and collaborate with others. On top of this platform, their partners are able to deliver solutions unique to specific industries in order to solve complex business problems. Thomas also discussed their go-to-market strategy, including aggressively expanding their go-to-market teams and new initiatives ranging from enterprise-friendly pricing and subscription models to streamlined contractual terms and training and enablement programs.
This strategy is driving incredible customer adoption, and they announced new customers across key industries including:
Healthcare: McKesson, BrightInsight, Virta Health, Phillips and American Cancer Society
Financial Services: JP Morgan Chase and ANZ Bank
Telecommunications, Media & Entertainment: National Geographic, Sprint, USA Viacom, DISH, Netmarble, Windtre, Wix, WPP and Optus
Retail: Unilever, Procter & Gamble (P&G), IKEA, Tyson Foods and Nestle
Manufacturing & Industrial: Bose, UPS, Renault, Samsung and Enel
Public Sector & Education: Regione del Veneto, GSA, Department for Transport, Australia Post, Georgetown and UNC Chapel Hill
They believe that a winning strategy is not just about what products offered, but also the ecosystem of partners that surrounds us. They also announced more than 30 launch partners for Anthos, including a number of top datacenter hardware partners. And they are also making many of the leading open source database and analytics companies fully managed services on GCP.
Introducing Anthos: An entirely new platform for managing applications in today's multi-cloud world
They announced the GA of CSP, Google Cloud's open, hybrid platform that lets customers run an app anywhere—with simplicity, flexibility, and security at their fingertips.

They also introduced the rebranding of CSP to Anthos. Anthos allows customers to manage all Kubernetes workloads running on third-party clouds, giving them the freedom to deploy, run and manage applications on the cloud of their choice. And because it's software based, there is no costly hardware to buy and install.

Embracing open standards, Anthos lets customers run their applications, unmodified in existing on-prem investments, in Google Cloud.

To ensure customers can take advantage of everything that Anthos has to offer out of the gate, they also announced an expanded ecosystem of 30+ hardware, software and systems integration partners, including Cisco, Dell EMC, HPE, VMware, Intel, Dell, Lenovo, ATOS and Deloitte.
Building a better cloud together: News from Google partners at Next '19
Over the past year, Google says they have made significant investments in how they support their partner ecosystem. As they launch into Next '19 this week, they are continuing and accelerating these investments.

This week, they are excited to announce a myriad of updates to their partner ecosystem, including:
Wide ranging support from 30+ partners for Anthos
A commitment to a robust open source partner community
New specializations to help the reseller partners differentiate
New partner integrations focused on improving collaboration for end users
Updates to their approach to MSPs
And their 2018 partner award winners
Announcing Cloud Run, the newest member of Google's serverless compute stack
They have also announced the beta availability of Cloud Run, a new serverless offering that lets developers focus on writing high-value code without worrying about the underlying infrastructure.

Cloud Run is also available on GKE and is based on Knative, allowing customers to run some workloads on-premises or across multiple clouds.
Bringing the best of open source to Google Cloud customers
They took their commitment to open source to the next level by announcing strategic partnerships with leading open-source-centric companies in the area of data management and analytics, including Confluent, MongoDB, Elastic, Neo4j, Redis Labs, InfluxData and Datastax.

They will be offering managed services operated by these partners that are tightly integrated into Google Cloud Platform (GCP) to provide a seamless user experience across management, billing and support.
Introducing new regions in Seoul and Salt Lake City
Google announced two new additions to their growing global network: new Google Cloud regions coming to Seoul, South Korea and Salt Lake City, Utah, USA.

Customers can expect to utilize the Seoul region in early 2020, followed by Salt Lake City in H1 2020. These two new regions will join Osaka, which will be available to customers in a few weeks, and Jakarta, expected to launch in the first half of 2020.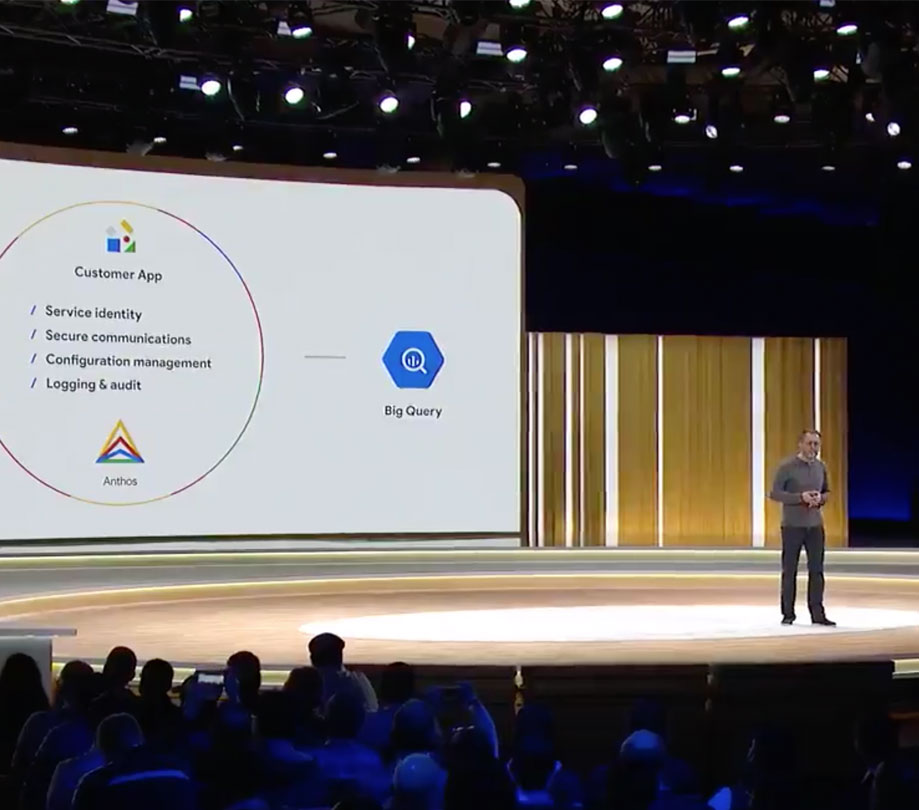 Discussions broke out on day two, where they talked about how they are developing a range of industry-specific solutions with partners using Google's leading maps, AI and machine learning, location, digital assistant and voice technologies. They brought on three new customers to show this in action—McKesson in Healthcare, Viacom in media and Procter and Gamble in retail—and also announced expanded partnerships with Accenture and Deloitte to support this strategy.
Simplifying identity and access management of your employees, partners, and customers
Identity and access management (IAM) is a cornerstone of the modern enterprise, helping users manage and secure employee, partner, customer, and other identities, as well as access to critical business apps and data.
They announced new ways to help adoption of the BeyondCorp security model and improve IT, developer and end-user efficiency.
The ultimate account security is now in your pocket
Starting now, phones running Android 7+ can be used as a security key to protect both personal Google accounts as well as work Google Cloud accounts.
With this news, anyone with an Android 7+ phone automatically gets a free security key in their pocket that can act as their primary 2FA method for work (G Suite, Cloud Identity and GCP) and personal Google accounts.
Increasing trust in Google Cloud: visibility, control and automation
At Google Cloud, every data center they bring online, network cable laid, and service deployed is designed through the prism of security. And they are explicit in their commitment to their Cloud customers: you own your data they say, and they aim to put you in control.
So they announced a variety of security tools to further bolster trust in Google Cloud: to gain increased visibility into environments, to detect threats, to speed response and remediation, to mitigate data exfiltration risks, to ensure a secure software supply chain and to strengthen policy compliance.
Enterprise databases, managed for you
They announced that Cloud SQL is expanding its portfolio to include SQL Server as a fully managed relational database service. This will also enable customers to run Microsoft SQL Server on GCP for the first time.
What's cooler than being cool? Ice cold archive storage
Google is launching a new class of Archive cold storage (coming soon) that will give customers the option to store archive content at extremely low cost, and still protect it against regional failures.
From data ingestion to insight prediction: Google Cloud smart analytics accelerates your business transformation
Today it was also announced, they have some radically simple ways to move data into the cloud—and to clean, categorize and understand that data. Product updates include Cloud Data Fusion (beta), BigQuery DTS SaaS application connectors (available now), legacy data warehouses migration service to BigQuery (available now), Cloud Dataflow SQL (public alpha, coming soon), Dataflow FlexRS (beta).
They also announced enhancements to their data warehouse migration service to automate migrating data to BigQuery from Teradata and Amazon Redshift, as well as data loading from Amazon S3. This service will significantly reduce migration times.
They introduced BigQuery BI Engine and connected sheets to accelerating faster time-to-insights and fostering data collaboration at scale.
They have expanded the ways they are bringing machine learning to BigQuery so that businesses can seamlessly adopt predictive analytics with greater accuracy. This includes updates to BigQuery ML (GA, coming soon), with support for additional models and AutoML Tables (beta). Plus they enhanced data discovery and governance with Cloud Data Catalog (beta, coming soon)
Customers: UPS, Booking.com & ANZ Personal Bank, (Smart Analytics Spotlight).
Unlocking the power of AI with solutions designed for every enterprise
Many enterprises see the value in applying AI and machine learning to their business challenges, but may not all have the necessary resources to do it. Today's announcements provide an easy way to use AI to address common business challenges—such as analyzing documents, forecasting inventory and demand or managing multiple customer service touchpoints.
Partners: Iron Mountain, Box, DocuSign, Egnyte, Taulia, UiPath, Avaya, Salesforce, Accenture
Expanding their platform to make it easier for developers to build and deploy AI
Google is constantly working to make it simpler for developers, data scientists and data engineers to build and deploy machine learning models that work for their businesses.
They announced a new AI Platform (beta), an integrated platform of AI services that helps teams prepare, build, run and manage ML projects via a shared interface, in the cloud or on-premises.
They also expanded their AutoML offerings including AutoML Tables, AutoML Vision, and AutoML Video to make it easier for businesses to build and deploy their own custom ML models.
Customers: LG CNS
Partners: Accenture, Atos, Cisco, Gigster, Intel, NVIDIA, Pluto 7, SpringML, and UiPath
---
Become a subscriber of App Developer Magazine for just $5.99 a month and take advantage of all these perks.
MEMBERS GET ACCESS TO
- Exclusive content from leaders in the industry

- Q&A articles from industry leaders

- Tips and tricks from the most successful developers weekly

- Monthly issues, including all 90+ back-issues since 2012

- Event discounts and early-bird signups

- Gain insight from top achievers in the app store

- Learn what tools to use, what SDK's to use, and more



Subscribe here