Marketing & Promotion
Amazon prime day 2018 data is out from Liftoff
Monday, August 6, 2018
2,192
Amazon Prime Day 2018 is over and a new mobile shopping analytics report shows how consumer shopping behaviors are changing and what it means for non-Amazon retail apps.
Liftoff released new data around Amazon's fourth annual Prime Day and how the day-and-a-half long sale affected the world of e-commerce. The data reveals a significant change this year, with Prime Day itself offering a dramatically larger lift to other mobile commerce businesses than previous years, but with a steep drop-off late in the week.
Amazon Prime Day is the new Black Friday, in July
As 2018's Amazon Prime Day kicked off on Monday, July 16th, despite the website having infamously crashed early on, the sales event went on to become the company's single most successful in its history, with more than 100 million products purchased by Prime members worldwide. This year, Amazon extended the sale to 36 hours, and, as hundreds of e-commerce businesses followed suit, Prime Day once again claimed the title of the new Black Friday in July.
To better understand the impact of Prime Day on mobile shopping apps besides Amazon, Liftoff analyzed the install and purchase rates over a seven day period, starting the Saturday before Prime Day and continuing through the following Friday. The company then compared "Prime Week" to the prior five-week period in order to establish benchmarks for shopping app install and purchase rates. The study analyzed over 4.1 billion mobile ad impressions, 867,520 app installs and 48,817 purchases within non-Amazon mobile shopping apps.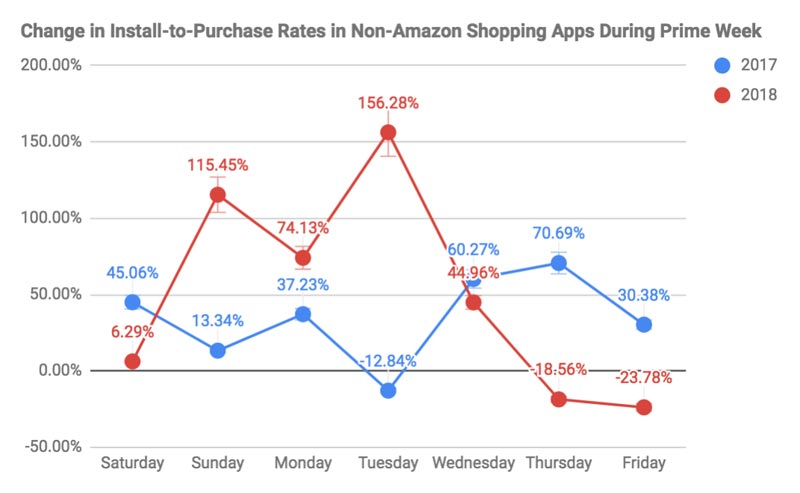 This is Liftoff's second annual analysis of Prime Week shopping behavior on mobile and how it impacts non-Amazon retail apps.
Looking at the data, it appears that this year's shoppers don't discriminate against a sweet deal. Scores of other retailers, from eBay to Macy's to Target, followed Amazon's lead and rolled out their own promotions in an effort to keep pace with the marketplace giant.
Their efforts seem to have paid off: in a major change from last year, Liftoff found that all non-Amazon retailers saw a massive 156% increase in mobile app installs and purchases DURING Prime Day, a trend which began on Sunday, spiked during the event and then dwindled considerably in the following days.
Conversely, Liftoff's 2017 analysis of Prime Week showed shopping activity increasing in advance of Prime Day, dropping as it took place, and then rising again in the following days. This year's buyer behavior suggests that next year, e-commerce marketers may want to put even more of a focus on the event itself.
Across the entire week this year, the percentage of users who installed a non-Amazon shopping app and made a purchase increased by 46.18 percent when compared to the previous five-week period, nearly identical to what we saw during Prime Week last year (a 46.76 percent lift). And again, as in 2017, Liftoff saw the percentage of new shopping app installs decrease during Prime Week by 6.42 percent, suggesting that while slightly fewer people installed shopping apps throughout the course of the week, those that did had a very high intent to purchase.
Consumer fatigue sets in this year
This year's Prime Day event was Amazon's longest yet, with 36 full hours of deals as opposed to the standard 24. Not only that but, with the sales kicking off on Monday, it was also the company's earliest start. This extension of the event, Liftoff's data suggests, may have taken a toll on shoppers' staying power.
Liftoff data shows that, while Prime Day boosted other retail apps in advance of and during the event, the days that followed took a major hit in install-to-purchase activity, with sales plummeting to a low of negative 23.78 percent on Friday compared to the prior 5-week period. This is in contrast to last year, when the install-to-purchase rate saw a lift of 70.69 percent, the highest of the week, on the Thursday following Prime Day, before closing out the week with a lift of over 30 percent.
For mobile marketers this year, the days leading up to and including Prime Day delivered a huge lift to retail sales, and indicate tremendous opportunity to drive meaningful sales and revenue. To capitalize on this sales frenzy, marketers should target new users in advance of next year's holiday and engage their attention all the way through the event.
---
Become a subscriber of App Developer Magazine for just $5.99 a month and take advantage of all these perks.
MEMBERS GET ACCESS TO
- Exclusive content from leaders in the industry

- Q&A articles from industry leaders

- Tips and tricks from the most successful developers weekly

- Monthly issues, including all 90+ back-issues since 2012

- Event discounts and early-bird signups

- Gain insight from top achievers in the app store

- Learn what tools to use, what SDK's to use, and more



Subscribe here