Apps
Bell Ringer app launches with brilliant new features
Wednesday, August 16, 2023
The Bell Ringer app developers transformed the original app that has been around since 2009. The new Bell Ringer app lets you shake your device and ring it like a bell, add snow and fire visual effects, hilarious new sounds, Santa Clause features, and tons more, all in time for the holiday season.
As we surge forward into the digital age, an innovative era has emerged, characterized by exciting applications that introduce unique and enjoyable experiences. A new entrant to the app world, "Bell Ringer," stands out from the crowd, dazzling users with a suite of creative features and immersive effects.
Unleashing the magic of 'Bell Ringer': A groundbreaking app infused with brilliant new features
Developed by a talented team of app designers and developers, Bell Ringer is redefining the landscape of interactive mobile applications, delivering a remarkable array of captivating sounds and vivid effects.
Link to download The Bell Ringer iOS App: https://apps.apple.com/us/app/bell-ringer/id342059802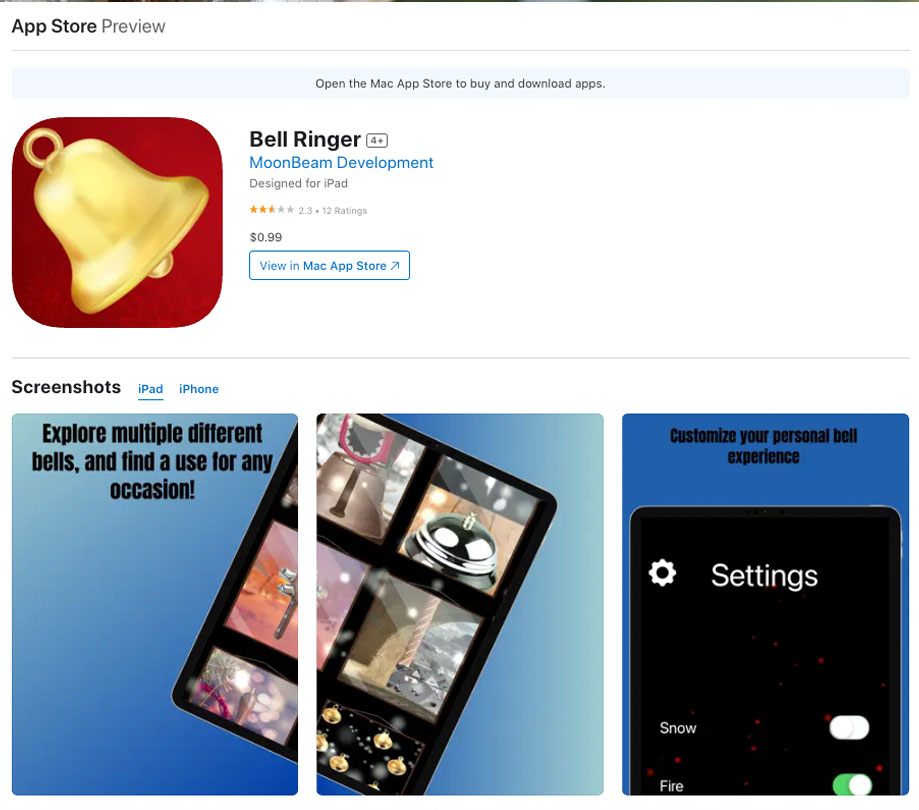 Snow and fire effects - An unparalleled visual experience
One of the main draws of Bell Ringer is the visually stunning snow and fire effects. Designed with meticulous attention to detail, these features transport users into an immersive digital universe.
The snow effect envelops your screen with a realistic white flurry, perfect for setting a cozy winter atmosphere or just for the sheer fun of experiencing a digital snowfall. Simultaneously, the fire effect offers a vivid display of burning embers and rising flames that are sure to leave you mesmerized. Both effects lend the app a heightened sense of realism and a truly unique aesthetic.
New Santa Clause sounds - A festive treat
With the holiday season around the corner, Bell Ringer is the perfect companion to usher in the festive spirit. The app features an array of brand-new Santa Clause sounds, from the beloved "Ho Ho Ho" to the enchanting jingling of sleigh bells. Users can now personalize their devices with these delightful sounds, making every notification or alarm a cheerful reminder of the Yuletide season.
"Bring Out Your Dead" sound - Hilarity at its finest
Perhaps the most unexpected and hilarious feature of Bell Ringer is the "Bring Out Your Dead" sound. Drawing inspiration from the infamous scene in Monty Python's "The Holy Grail," this feature brings a dash of dark humor to the app. The robust sound of the medieval town crier resonates at the touch of a button, eliciting hearty laughter from all who hear it. Whether you're looking to add a touch of humor to your day or to startle your friends with an unexpected sound, this feature is sure to deliver.
Conclusion
In the cluttered marketplace of mobile applications, Bell Ringer shines through with its unique blend of features. The app's immersive snow and fire effects, charming Santa Clause sounds, and hilarious "Bring Out Your Dead" sound provides a fresh and exciting user experience. Bell Ringer effortlessly merges entertainment with function, offering a unique experience that extends beyond the ordinary app.
Available for download across various platforms, Bell Ringer offers an escape from the mundane and a step into a world full of laughter, visual wonder, and auditory delight. It promises to be more than just an app - it's an adventure that sits in the palm of your hand.
---
Become a subscriber of App Developer Magazine for just $5.99 a month and take advantage of all these perks.
MEMBERS GET ACCESS TO
- Exclusive content from leaders in the industry

- Q&A articles from industry leaders

- Tips and tricks from the most successful developers weekly

- Monthly issues, including all 90+ back-issues since 2012

- Event discounts and early-bird signups

- Gain insight from top achievers in the app store

- Learn what tools to use, what SDK's to use, and more



Subscribe here