Missouri ranks 27th in key measures of strength in data-driven economy
Data-driven economy and innovation report by Center for Data Innovation name Missouri 27th best in the U.S.
Posted Wednesday, August 02, 2017 by Richard Harris, Executive Editor
---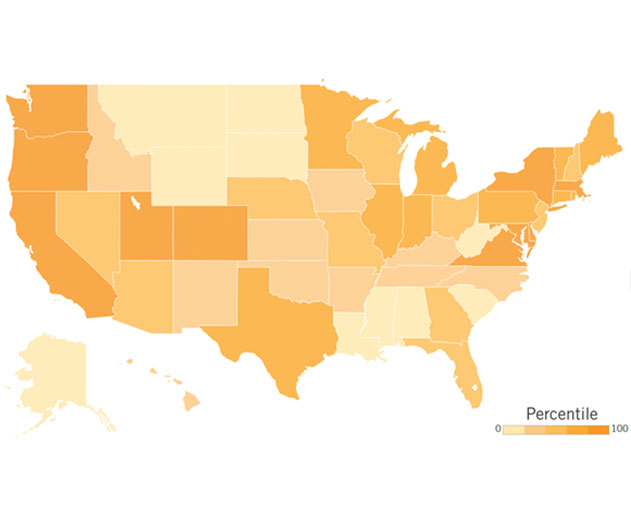 As data scientists and civic and business leaders across the country marshal the power of data and analytics to grow the economy and address societal challenges, Missouri ranks 27th in how well-prepared it is for success in this new data-driven environment, according to a new analysis by the Center for Data Innovation.

The Center, a data-policy think tank affiliated with the Information Technology and Innovation Foundation, ranked states on their progress in developing key assets necessary to take advantage of data-driven innovation. The new report found wide gaps among the states - but also a clear policy formula to encourage and enable data-driven innovation. The Center concludes policymakers should take action to ensure high-value datasets are publicly available, key digital infrastructure is widely deployed, and necessary human capital and business resources are in place.

"Data innovation will be a crucial driver of economic and societal progress in the coming decades," said Daniel Castro, the Center's director and the report's lead author. "Some states are actively building the foundations necessary for a thriving data economy, and others are lagging. Decisions that policymakers in Missouri make today will have long-term implications for its future growth and its residents' quality of life, as data plays an increasingly important role in the economy. By positioning itself at the forefront of data innovation, Missouri will be able to grow and attract the right kinds of companies to become a hub in the data economy."


The Center's assesses states' relative strength in 25 indicators covering three categories of assets critical to encouraging and enabling data-driven innovation:

- Data: the extent to which key datasets are available, including data about the government, education, health care, and energy. Missouri ranks 32nd in this category.
- Technology: the availability of key digital infrastructure, such as broadband, smart meters, and electronic health records. Missouri ranks 30th in this category.
- People and companies: human and business resources, such as the number of open data companies in the state, and the size of the data professional community. Missouri ranks 17th in this category.


Recommendations for states to better develop the underlying assets necessary for success in the data economy:

- Publish legislative data in open and machine-readable formats.
- Publish checkbook-level government financial data online in open and machine-readable formats.
- Develop an open data portal and statewide open data policy.
- Develop a publicly accessible all-payer claims database.
- Promote the adoption of e-prescribing for controlled substances, such as through legislative requirements or incentive programs.
- Pass legislation preventing strategic lawsuits against public participation (known as SLAPPs).
- Create a statewide e-government strategy, which includes consideration of emerging technologies such as the Internet of Things, and work with municipal governments to drive e-government adoption.
- Require public agencies to participate in programs such as submitting data to the Department of Energy's Building Performance Database.
- Work with state utility commissions and utility providers to accelerate the adoption of smart meters.
- Provide top-down leadership and support to state and municipal departments of transportation to publish transit data in real time using the General Transit Feed Specification standard.
- Support efforts to increase broadband access and improve broadband speeds.

"While the data economy is rapidly maturing, these are still early days," said Castro. "Policymakers in Missouri have an opportunity to maximize the state's potential to leverage data for social and economic good if they continue investing now in the data, technology, and people necessary for data-driven innovation to flourish."

---