The best words to use in push alerts that boost engagement
18,282
The best words to use in push alerts to get users to respond.
With the space constraints and urgency required in a mobile push notification, every word counts. Leanplum has released a new report, "Push Notification Power Words". Based on a text analysis of more than 2.6 billion push notifications, the report identifies highly effective "power words" to help mobile marketers break through the noise and drive better app engagement.
In the report, they identify four key themes and associated power words for
push alerts
that lead to greater mobile engagement, from opens to conversions.
- Urgency: Time-sensitive notifications deepen a user's need to interact with an app. Power words include: alert, breaking, critical, deadline, reminder.
- Exclusivity: Users appreciate being rewarded for a unique offer. Power words include: accepted, eligible, invitation, member, spotlight.
- Emotive: Words that spark feelings truly pique a user's interest. Power words include: believe, dream, indulge, memories, surprise.
- Value: Focusing on discounts or savings lures shoppers back. Power words include: bargains, buy, cash, deals, offers.
The report found that power words have substantial impact on
critical app metrics
. Publisher's Clearing House (PCH), a gaming and sweepstakes company, launched a series of A/B tests experimenting with copy to drive more mobile growth and app revenue. PCH learned that the closer an app user is to churning, the more urgent a tone is needed to re-engage them. The results were impressive: PCH saw a 30 percent increase in retention.
Here is the list of the 120 "power words" but to completely understand the meaning and method to each word, check out the full report in the link below.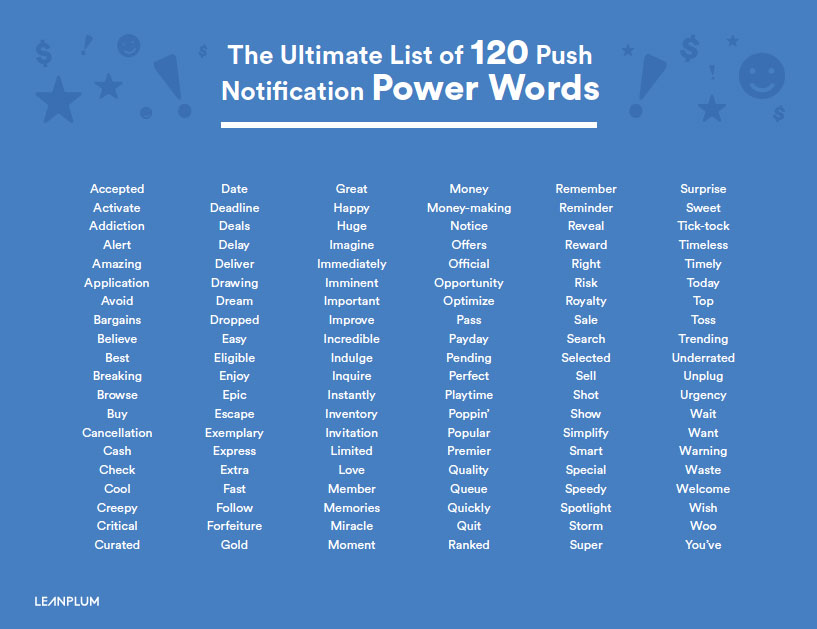 Read more:
https://www.leanplum.com/resources/library/push-no...