How citizen developers pose risks for data integrity
Posted Tuesday, February 07, 2017 by Richard Harris, Executive Editor
---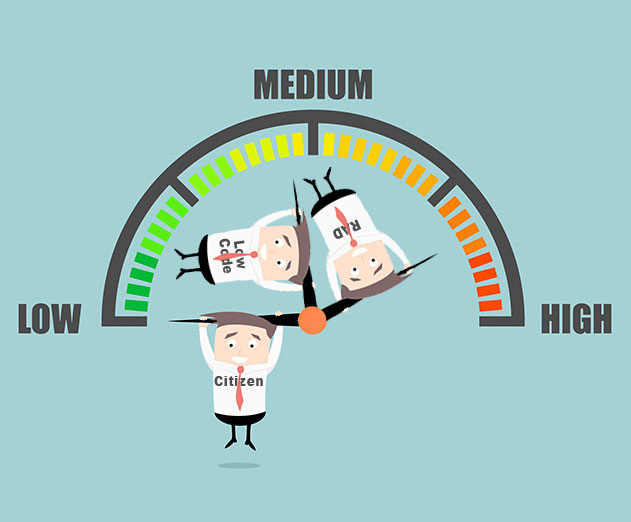 In new survey of over 500 IT Decision Makers, 75 percent believe an enterprise low-code platform is the solution to harness the energy of citizen application developers, while mitigating risks

In a new YouGov survey commissioned by Appian, large IT companies state that citizen developers pose risks for data integrity (73% of respondents), security (69% of respondents), integration (58% of respondents) and other aspects of enterprise business application development. As citizen-developed business apps are becoming prevalent to serve the fast-paced environment of today's workforce, 78% of IT leaders surveyed believe that having one low-code platform for the enterprise is more critical than ever to serve as the bridge between IT and citizen developers. The online survey fielded over 500 Information Technology Decision Makers (ITDMs) to understand challenges associated with citizen development (i.e. data security, integration, scalability).

With the U.S. Department of Labor predicting a shortage of professional developers by 2020, more citizen developers are building simple enterprise apps to address business needs like basic approval flows, data capture, and mobile data access. More than eight in ten (82%) ITDMs believe it is necessary for companies to ensure secure and scalable citizen development and seven in ten (71%) wish their company had an effective technology platform to manage citizen developers. More than three out of four IT leaders (CIOs, CTOs, etc.) see enterprise-grade low-code platforms as the solution to the risks posed by the rise of citizen application development. Nearly eight in ten (78%) report that as citizen development continues to grow, having one low-code platform is more critical than ever.

"Central IT must accelerate its response to digital transformation," said Matt Calkins, Co-founder and CEO of Appian. "Low-code development is that accelerator. It also provides the additional benefit of bringing the citizen development movement under the governance of IT to ensure security, data integrity and operational efficiencies are being met."


Additional findings include:

- 77 percent of IT leaders shared concerns that citizen developers risk using the wrong data in business applications. Often, IT leaders cite that citizen developers pull financial, customer and other data from the erroneous sources which can jeopardize operations.

- Nearly seven in ten (69%) ITDMs report data security is compromised due to citizen developers

- Over half (58%) of IT leaders surveyed report that their company has experienced integration issues from citizen-developed apps. These issues stem from employees working across different app development software which results in silos between business units and slowdown of operations.

Low-code is the solution to meeting the demand for business apps. According to Gartner, by 2020 at least half of all new IT business applications will be created on low-code platforms. Three in four (75%) IT leaders surveyed report a new technology platform that enables the governance of citizen development would alleviate the burden on IT departments, while more than three in four (76%) believe citizen developers should utilize one enterprise low-code platform to mitigate risks.

Enterprise low-code platforms ensure data governance and security while enabling business and IT to work together to build apps much more productively. Enterprise low-code is secured and managed by IT. IT ensures integration with other systems is done properly, ensuring data governance and quality. Developers and citizen developers can leverage this platform to quickly build useful business apps with little or no coding required. The result is faster time to market, and faster time to change, for enterprise applications. IT can also take citizen-developed apps built on the platform and easily add more power and sophistication, working closely with lines-of-business throughout the enterprise.

---