Marketing & Promotion
Top 3 ways to grow your audience with Facebook Analytics for Apps
Thursday, December 15, 2016
---
We live in a digital world. We shop on our desktop computers, browse the web on tablets, play games on mobile, and interact with bots. We're always on the go—at work, at home, even on vacation.
That means your ideal audience is out there, waiting to discover and enjoy your app and website or get in touch with you through your bot. To build great experiences for them, you need to measure how they are interacting with your business. That's why it's essential for you to identify your audience and understand their behavior across their devices and platforms.
We recommend you use these top 3 ways to
grow your audience
using Facebook Analytics for Apps.
Tip #1: Go beyond basic demographics
Facebook is a deep hub of demographic data. With over 1.7B people around the world interacting and sharing with each other, we can show you powerful data and insights about your audience.
With Analytics for Apps, you have access to these unique insights and an understanding of your customers' Facebook activity. Our anonymized and aggregated data provides information about your users—including age, location, gender, education level, job titles, language, their Page likes on Facebook, and more—so you can build a detailed picture of the audience for your app and website.
We also show you data and insights on how customers use your apps and websites to give you a more complete view of their overall behavior. Are they engaging with your business? For how long? Is there an area or flow where they're dropping off? Are they making in-app purchases? What triggers these purchases? Analytics for Apps makes it easy to see the data you need to create a better, more relevant experience for your audience. Plus, you don't need to use Facebook Login to use any of these capabilities—all app developers can leverage the power of Analytics for Apps. And it's all free.
With our powerful insights, you can learn who your users really are and what they really do, not just use cookies to find out what they did. Using this information, you can engage your audience on a deeper level to drive success and accelerate your growth.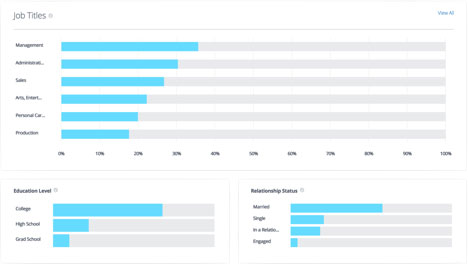 Tip #2: Optimize people's experience by combining demographics and behavioral analytics
To build a great product, you need to understand more than just who's using your product. You also need to understand how they're using it. By combining demographics with behavioral analytics, you can discover new insights about how to improve your product, which helps increase your retention.
In addition to helping you understand your customers' demographics, Analytics for Apps helps you understand their behaviors. For example, you can build a funnel that mimics your e-commerce flow (ex: a shopper views a product, adds it to their cart, starts to checkout, and then completes their purchase). Once you've built your funnel, you can see breakdowns by demographics like gender to see whether women or men have a higher conversion rate.
If you discover that women have a higher conversion rate than men, you might choose to bid higher when you advertise to women since they're more valuable customers for your business. But you might approach that insight from a different angle and decide to run experiments to see if you can increase the conversion rate for men. For example, you could try stocking some additional items in your store that might appeal more to male customers.
By combining demographic and behavioral analytics, you can learn ways to improve the experience for specific groups of people. This can help you increase their conversion and retention over time.

Tip #3: Think about people, not devices
To connect with your audience, you need to understand how they behave on all of their devices. focusing on silos won't be enough—you can't just consider desktop actions or just mobile app behaviors alone. Instead, you need to see the complete view: connecting the dots across desktop browsers, mobile web, native apps, and even bots. In understanding the complete picture, you'll get to know your audience on a deeper level and see how their behavior evolves over time.
Let's imagine you're a travel company that has a website and app, but most of your customers don't log in before purchasing. If this were the case, it would be hard for you to understand how people are planning their trips using multiple devices and platforms (ex: researching a trip in your app, then purchasing it on the web).
Analytics for Apps offers cross-platform measurement capabilities that help you understand when someone starts looking at a trip on their phone and then later purchases on their laptop. With other analytics tools that only show you data based on cookies or devices, this travel company might have concluded that their mobile app wasn't very effective. But with a people-based cross-platform analytics tool like Analytics for Apps, the travel company can see that the mobile app was a critical part of the path to purchase even if the purchase didn't occur in the app.
As your customers' paths to conversion becomes increasingly cross-platform and cross-device, it's key that you use a tool that measures people and their cross-platform activity, not just devices or cookies.

Get to know your audience with Facebook Analytics for Apps
Our world often requires constant attention to screens and devices. With powerful data and insights, you have the opportunity to better engage and retain your users, providing rich value in relevant experiences.
Get started with Facebook Analytics for Apps
today to dive in to deep insights about how your audience interacts with your business across websites, apps, and bots. It's all free, easy to set up, and it provides you with a more complete picture of your customers, their interests, and how to reach them.
Read more:
https://analytics.facebook.com/
---
This content is made possible by a guest author, or sponsor; it is not written by and does not necessarily reflect the views of App Developer Magazine's editorial staff.
---
---
Become a subscriber of App Developer Magazine for just $5.99 a month and take advantage of all these perks.
MEMBERS GET ACCESS TO
- Exclusive content from leaders in the industry

- Q&A articles from industry leaders

- Tips and tricks from the most successful developers weekly

- Monthly issues, including all 90+ back-issues since 2012

- Event discounts and early-bird signups

- Gain insight from top achievers in the app store

- Learn what tools to use, what SDK's to use, and more



Subscribe here