Industry Spotlight
Telepresence robot market accelerating
Monday, May 8, 2023
According to a recent market study from Fact.MR, the telepresence robot market is accelerating quickly at a 17% CAGR and will reach $1.6B U.S. by 2033. Some key findings from the study include the global telepresence robot market value, increases in demand, and the key market players.
The global telepresence robot market is expected to reach a valuation of $1.6 billion U.S by the end of 2033, expanding at an exceptional CAGR of 17% during the assessment period (2023 to 2033). Rising demand for telepresence robots from the healthcare industry is expected to drive market growth opportunities over the next 10 years.
A telepresence robot is a smartphone or computer-controlled robot with an alien presence. Telepresence robots are also referred to as 'Skype on Wheels'. Telepresence avatars offer various varieties and the robot can control the complete view of its surroundings instead of having a stationary view of target participants.
The telepresence robot market is accelerating at a whopping 17% CAGR and will reach $1.6B U.S. by 2033, according to Fact.MR report
Improved operational efficiency in different medical organizations owing to technological advancements and virtual interactions through telepresence robots is anticipated to drive market growth. Telepresence robots come with different features, including zoom capabilities, laser pointers, and self-directed driving for improved convenience and communication. Users can interact and view remote environments, including manufacturing plants, nursing homes or hospitals, and warehouses, by using these robots.
Key takeaways from the market study
The global telepresence robot market is valued at $334M U.S. in 2023.

Worldwide demand for telepresence robots is predicted to increase at a high-value CAGR of 17% from 2023 to 2033.

The global market is forecasted to reach a valuation of $1.6B U.S. by the end of 2033.

North America is projected to hold a significant share of global market revenue over the next 10 years.

"Growing advancements in robotic technology, increased adoption of telepresence robots in residential & educational sectors, and rising R&D activities for product advancements are predicted to generate lucrative opportunities for players in the target industry," says a Fact.MR analyst.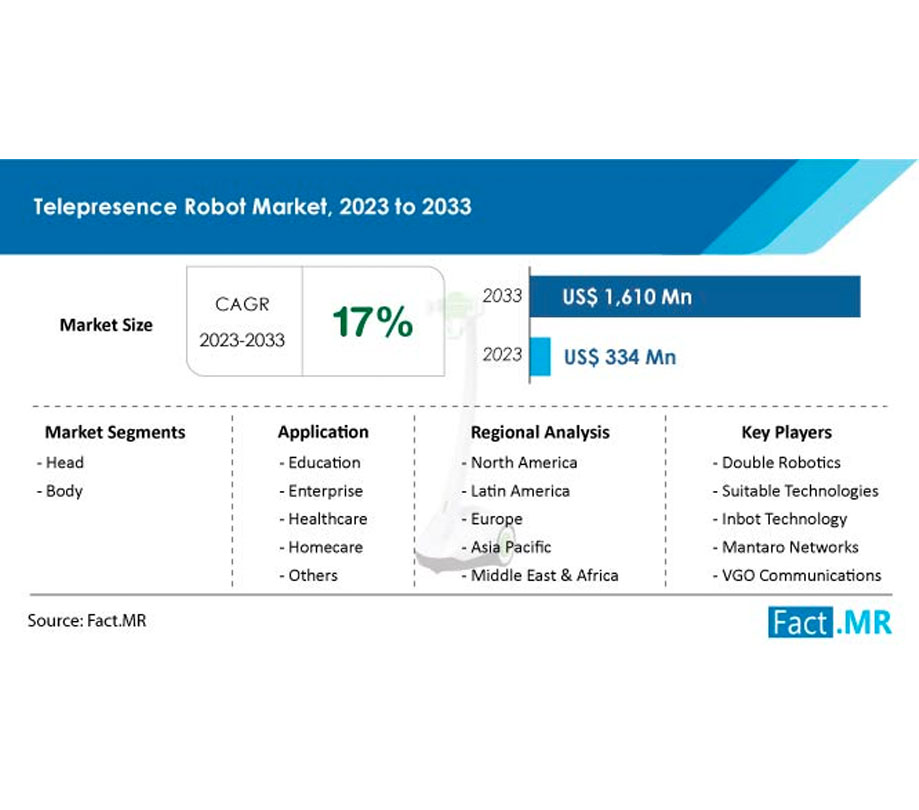 Increasing demand for telepresence robots in the healthcare industry
In recent years, there has been a noteworthy increase in the demand for telepresence robots in the healthcare industry, which is further accelerating growth opportunities. Increased adoption of telepresence robots is attributed to the easy availability of supporting devices due to their cost-effectiveness. Moreover, technological advancements in telepresence robots to increase the operational effectiveness of medical procedures are also contributing to enhanced market growth.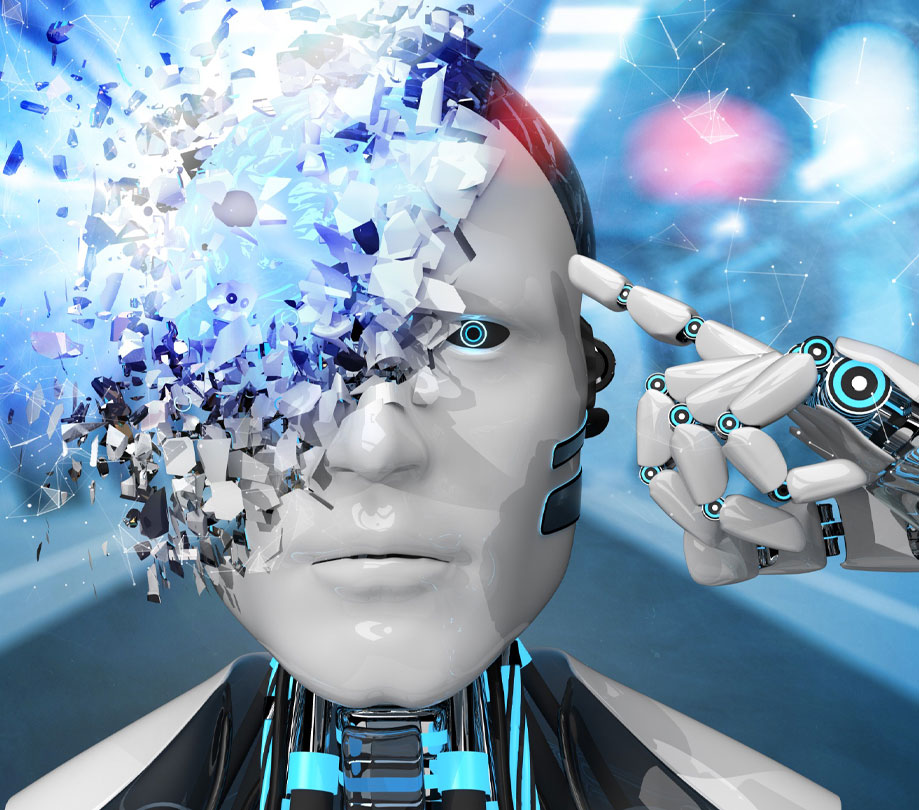 Market suffering from rising technical complexities and a lack of secure communication protocol
There are certain technical complexities, which are leading to operational failures. These complications associated with the operation of telepresence robots are also estimated to curtail expansion opportunities. The lack of a secure communication protocol is also anticipated to further challenge providers of telepresence robots.
Winning strategies
Key market players are investing in new developments, product launches, etc., to provide more efficient solutions and to gain a competitive edge in the industry. For instance,
In February 2020, GoBe Robots introduced a new telepresence robot, which is predicted to reduce the emissions of CO2 by thousands of tonnes.

In August 2019, Blue Ocean Robotics acquired Beam, which is a remote-controlled telepresence robot. As per Blue Ocean Robotics, the company has taken sole possession of facilities, which work on hardware inventories, Beam robots, and other related assets.

Key service providers of telepresence technology are Double Robotics, Suitable Technologies, Inbot Technology, Mantaro Networks, VGO Communications, Qihan Technology Co. Ltd., Ava Robotics Inc., Omron Corporation, iRobot Corporation, and Fellow Inc.
---
Become a subscriber of App Developer Magazine for just $5.99 a month and take advantage of all these perks.
MEMBERS GET ACCESS TO
- Exclusive content from leaders in the industry

- Q&A articles from industry leaders

- Tips and tricks from the most successful developers weekly

- Monthly issues, including all 90+ back-issues since 2012

- Event discounts and early-bird signups

- Gain insight from top achievers in the app store

- Learn what tools to use, what SDK's to use, and more



Subscribe here