Artificial Intelligence
Instagram using AI to stop bullies
Friday, July 12, 2019
How Instagram is using artificial intelligence to stop cyberbullies from posting offensive messages to other members.
Social media is used by almost everyone. Some people post endless pictures of pets and food, while others try to minimize the noise and only share life-moments that matter. There are many uses, but also many misuses. And it seems social media platforms have become of a bit of a playground for cyberbullying too, but there are some platforms like Instagram that are taking it head-on.
According to Google Trends, the term cyberbullying had very few searches before 2008. But as social media platforms expand, the cases of cyberbullying rise each year. 59% of teenagers have been bullied online. 42% happens on Instagram, with the sole reason being younger generations following the latest social media trends.
Instagram has had some counter-measures in place already to help their members fight cyberbully, including:
If the comment is directed at your account, you can delete the comment.
If the comment is directed at another user's account, you can report that comment.
Report the user.
Report the post.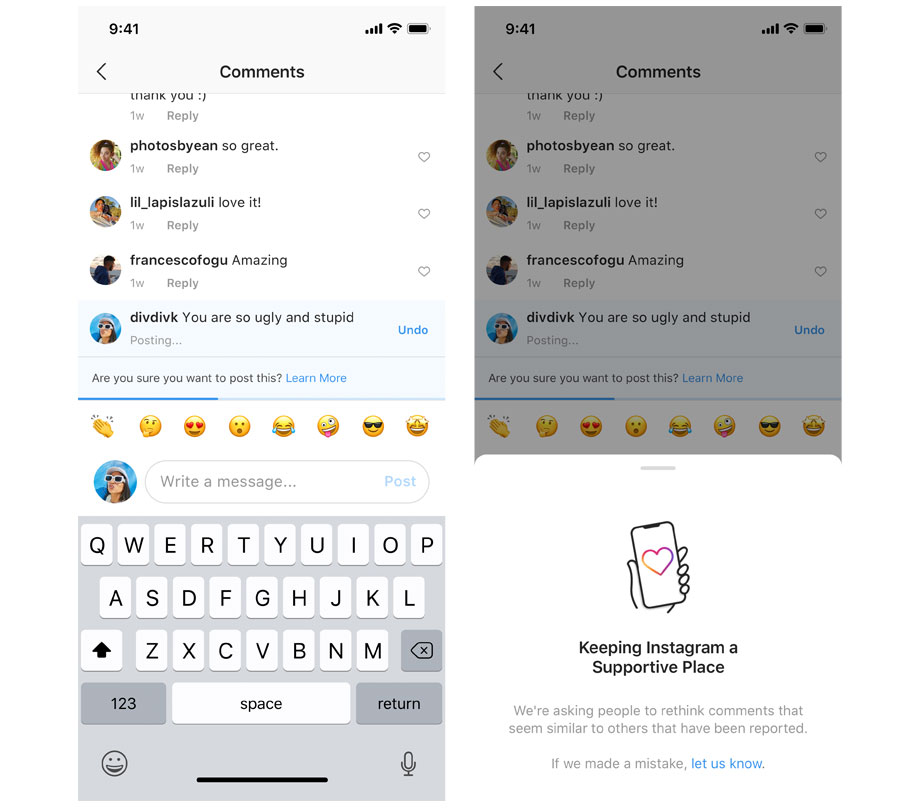 Those strategies are certainly helpful, but they don't do enough.
Recently, Instagram has started using artificial intelligence to censor hateful comments in hopes of deterring the user from making such comments. This platform does not prevent the user from making the comment but gives them a second chance to "UNDO" the comment before posting. When hateful words are detected, you will now be prompted with this question: "Are you sure you want to post this?"
Adam Mosseri, Head of Instagram said in a blog post from their website, "It's our responsibility to create a safe environment on Instagram. This has been an important priority for us for some time, and we are continuing to invest in better understanding and tackling this problem. I look forward to sharing more updates soon."
The idea behind Instagram's new AI detection is to thwart the comment entirely by hitting the source with the chance to recant. If that doesn't help, users can also now restrict the offending person's comments from appearing, and/or blocking them from seeing when they are online or have read messages.
Read more:
https://instagram-press.com/blog/2019/07/08/our-co...
---
Become a subscriber of App Developer Magazine for just $5.99 a month and take advantage of all these perks.
MEMBERS GET ACCESS TO
- Exclusive content from leaders in the industry

- Q&A articles from industry leaders

- Tips and tricks from the most successful developers weekly

- Monthly issues, including all 90+ back-issues since 2012

- Event discounts and early-bird signups

- Gain insight from top achievers in the app store

- Learn what tools to use, what SDK's to use, and more



Subscribe here