Apps
GPS locator tracking app gets updated for fleets and more
Monday, August 19, 2019
GPS locator tracking app gets updated for 6.0 with a new interface for consumers, fleet usage for businesses, and other improvements.
Chirp GPS, the leading GPS tracking mobile app for iOS, Android, and the web, has just released version 6.0 with a brand new tracking screen that is causing quite a stir among users - especially those owning businesses.
What's the buzz all about? It's the app's ability to show everyone at the same time on the map in real-time, and include all of their logistics information too. So users are able to see how far someone is away from them, or from a place on the map at any time. What's even more awesome still is the user clustering -so it's easier to know when people are together somewhere, and if you want to know where they are -just tap and get driving or walking directions to them. Overall this is a much-needed update to an already great tracking app.
Since 2011 Chirp has led the path for innovative features with mobile GPS tracking. From being the first app that allowed real-time breadcrumb tracking on mobile, to the new list of awesome features inside the latest version, the Chirp team continues to demonstrate why they are so popular. Check out some of what's new.
GPS locator tracking app updates included in 6.0
Brand new home screen with full-screen tracking
Now when you load Chirp, you land on the screen where you can see everyone at the same time - in real-time. Plus, not only is the location in real-time, but all of the other logistics are too, like speed, the distance away from me, and more. We moved everything out of the way for a full-screen view too, but if you want to see anything on the screen it's just a swipe away.
Creating new places and boundaries
It's never been easier to save a place to be alerted on when someone comes or goes there. Just double-tap anywhere on the map, or search for the place. You can also now set "one-time" alerts. For those times when you want to know when someone is coming or going, then just delete the boundary/place after alerting.
Speed improvements
Not only are all of the updates awesome, but they are faster! Now you can track people in less than a second.
Messages
Miss an alert? Now users can tap the messages icon to view any past message that came in such as place arrival, or a new connection established.
Layers
We moved map layers to the top menu, where you can select a regular map, satellite view, or even a heat map.
Weather
The current weather is now displayed in an overlay for any area - not just someone you are tracking. It even works for places.
"We worked hard to learn more about our users so that we could deliver an awesome update that everyone from parents to fleet owners can appreciate", Christian Hargrave, Chirp developer team.
GPS fleet tracking
Speaking of fleet tracking, the team also said there are heavy improvements to the ChirpGPS.com website which help fleet owners track their people and vehicles even easier, by allowing permission groups, MDM integration, route tracking, and more.
"Moms and Dads are using Chirp GPS to track their kids, fleet owners are using it to track vehicles, sales teams are keeping tabs of representatives in the field, and other folks are finding all sorts of creative ways to utilize our tracking platform -which helps propel or ingenuity even further." Richard Harris, CEO of Chirp GPS said.
GPS locator download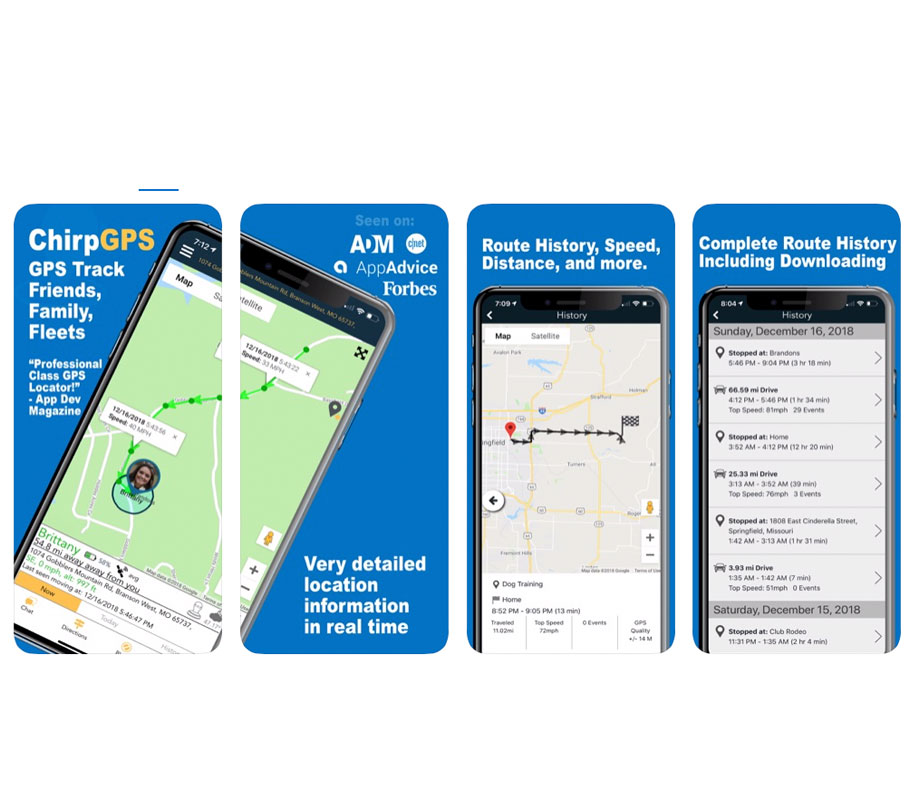 ---
Become a subscriber of App Developer Magazine for just $5.99 a month and take advantage of all these perks.
MEMBERS GET ACCESS TO
- Exclusive content from leaders in the industry

- Q&A articles from industry leaders

- Tips and tricks from the most successful developers weekly

- Monthly issues, including all 90+ back-issues since 2012

- Event discounts and early-bird signups

- Gain insight from top achievers in the app store

- Learn what tools to use, what SDK's to use, and more



Subscribe here