iOS
Changes to the way notifications work in iOS 12 you need to know
Wednesday, September 19, 2018
iOS 12 notifications have changed the way notifications are done which means app publishers need to rethink the strategies they use to engage customers through the lock screen.
iOS 12's public release has brought about key changes to the way we do notifications. With these changes, Urban Airship urges app publishers to adopt customer-centric messaging best practices to accommodate new user behavior, improve notification visibility and maximize the value that their app can deliver. Granular user controls over notifications, new Grouped Notifications and Provisional Authorization - a historic move by Apple that enables apps to offer a trial of "quiet" notifications prior to obtaining opt-in consent - create valuable opportunities if approached strategically.
Evaluate Opportunities for Greater Reach
Choosing notifications no longer has to be a binary decision made prior to understanding the value they'll offer. Publishers can choose to implement Provisional Authorization, which allows them to reach all app users with notifications delivered to the Notification Center without a sound. Users that are already opted in or those that choose prominent delivery will continue to receive notifications on lockscreens with an audible alert.
If 50% or more of users are opted out of notifications, this automatic notification trial may offer a better approach to get more users to understand the glanceable value notifications deliver. With every message users will be given the opportunity to turn them off or continue getting them with the choice of prominent or quiet delivery.
Run Opt-Out Users Through a Funnel
Preference centers are now deep-linked to notification settings in iOS, in "manage" buttons within notifications, and in "Turn off" buttons served via Provisional Authorization. Publishers can retain a greater level level of audience opt-in by allowing users to toggle notifications on or off for various categories, and by offering additional controls around message frequency or choosing different channels (in-app messages or email) for certain topics.
This tight integration between an app's preference center and iOS notification settings will expose more users to granular controls that they may not have even realized existed.
Get Tuned In to Users as Visibility is in Their Control
The more relevant and timely an app's notifications, the more likely people will be receptive to them audibly arriving on lock screens. Prominent or Quiet Delivery is an either/or choice with iOS 12, which both publishers and users need to realize.
For example, for media companies, being able to "break" news is inherently valuable, while live streaming adds new dimensions to coverage. The impact of these timely notifications is diminished if relegated to arrive quietly in the notification center. Publishers must re-examine their features or focus areas that are worthy of interrupting users on their lockscreen. Allowing users to select alternative means of delivery (email, message center, in-app message) for content they are more passively engaged with, which can help retain prominent delivery for more time-sensitive notifications.
Offer Great User Experiences that also Maximize Your Share of Screen
iOS 12 uses Grouped Notifications to condense the display of an app's notifications on the lockscreen and notification center — and they can be dismissed as a group. Maintain your on-screen visibility and offer better user experiences by setting up different groups for major sections (business news, sports, celebrity) or for major developing stories (the royal wedding, McCain, Russia investigation). While this requires operationalizing new processes within newsrooms, it allows users to easily swipe through each group to get all caught up or easily dismiss notifications on a topic, leaving your other grouped notifications to consume.
Publishers that do not set different groups will have all of their notifications stacked on top of each other, leaving only the most recent message immediately visible, which may result in users missing key updates that are important to them.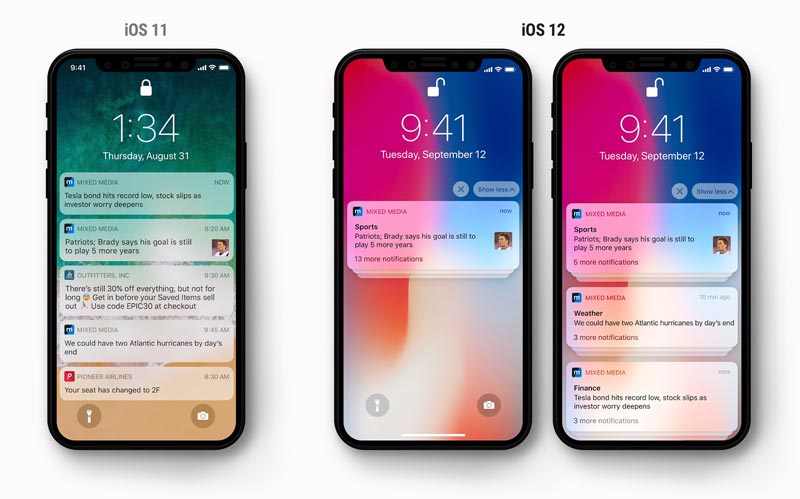 With iOS 12 notifications are no longer displayed in chronological order, but are grouped by app or by multiple groups the app sets.
Realize Notifications are an App Feature, Not a Marketing Channel
This is likely where famously user-first Apple is coming from in creating Provisional Authorization; real-time, relevant notifications are now a feature of apps - to be experienced - and too many people approach notification opt-in prompts as a binary decision likely with an old frame of reference like email subscriptions.
Data studies show that highly targeted notifications see more than 3X the engagement of messages sent to all users, and simply adding a picture can improve direct open rates 56%. Interactive notifications provide multiple button response options to further segment individuals according to their preferences, or to offer unique experiences like CNET's story about Not-A-Flamethrower. For USA Today, 95% of the notifications it now sends are Rich Notifications with captioned video notifications proving to be extremely engaging. Rich push notifications have driven an 18% increase in app opens for USA Today.
---
This content is made possible by a guest author, or sponsor; it is not written by and does not necessarily reflect the views of App Developer Magazine's editorial staff.
---
---
Become a subscriber of App Developer Magazine for just $5.99 a month and take advantage of all these perks.
MEMBERS GET ACCESS TO
- Exclusive content from leaders in the industry

- Q&A articles from industry leaders

- Tips and tricks from the most successful developers weekly

- Monthly issues, including all 90+ back-issues since 2012

- Event discounts and early-bird signups

- Gain insight from top achievers in the app store

- Learn what tools to use, what SDK's to use, and more



Subscribe here