Mobile Guidelines
Unified Experience Design: Solving XD's blindside
Wednesday, October 12, 2016
---
Any of us would be hard pressed today to find a consumer-facing brand that doesn't espouse to "design thinking," putting the consumer experience at the center of product development. Most people are on board with the concept that quality user experience, particularly for -- but by no means limited to -- digital experiences, drives sales and customer retention. This is why design thinking is quickly moving into the very heart of business strategy. The experience of the customer is what drives the business.
However, with today's accelerated pace of innovation and ever increasing consumer expectations, companies are feeling tremendous pressure to design their products and services faster. This has lead to the rapid adoption of approaches like agile development, which enable small, independent teams of designers and developers to tackle problems and new opportunities in much shorter time frames. For large companies, these agile development teams can number in the hundreds, all working on projects simultaneously and usually autonomously. With tens or even hundreds of individual development groups working independently and blind to one another and even to management, it becomes nearly impossible to know at a macro level what's happening across an entire enterprise. This puts even more pressure on experience design.
Despite
agile development
and other progressive approaches that have undoubtedly made companies more nimble and better adept at responding to market changes, they've also made the experience design process much more fragmented. This fragmentation, while often addressing the speed issue, isn't necessarily conducive to delivering a better overall experience because no one (not at the strategy level or the product team level)can actually see what that big picture experience looks like during the design process. When you consider companies that have multiple products and multiple services, you can almost taste the chaos.
Achieving Unity
What's needed is Unified Experience Design (UXD)
: a more centralized approach that doesn't interfere with the speed and efficiency of agile development teams, yet guides all products and services toward one cohesive customer-centric experience.
There are companies today who are demonstrating the power of this kind of unified experience: IDEO's next generation children's hospital; IBM's vision for the future of the workplace;Emirates newly-defined air travel experience – these are all great examples of what's possible. The reality, however, is that the vast majority of companies fail to develop and deliver these types of 360 degree experiences. Why? Because there is a fundamental gap between the overall strategy and the many products and services being created. The experience design process becomes unpredictable, poorly controlled and reactive. Communication breaks down and any attempt to rectify that only threatens to slow things down-- not an option for companies competing in the current digital era.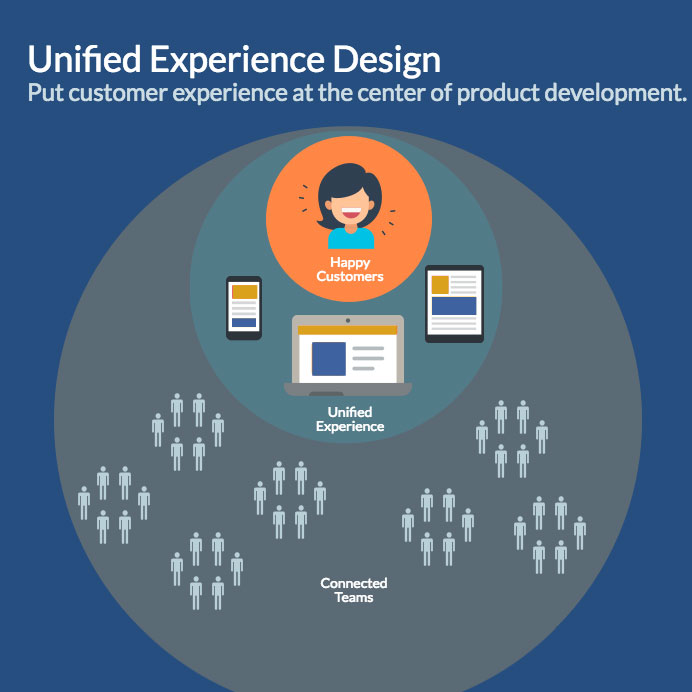 So how do we address all of this and accomplish Unified Experience Design? We propose 6 keys to achieving UXD.
Many of these will take time for companies to develop and adopt, but they are essential to getting experience design practices to the place we all know they need to go:

1. Experience architects (XAs) have to take the lead. Someone needs to drive the bus, and these individuals are responsible for authoring, planning and designing
all UXD deliverables
. An XA's skills encompass human behavior, user-centered design(UCD) and interactive design – in short, they have the skills to fit the necessary pieces together.
2. Have one common design language. If your teams aren't speaking the same language,your user experience will remain as fragmented as ever.
3. Establish a shared experience architecture. This provides a common blueprint around which teams can align their work.
4. Share lessons in real-time thru an agile team network. This will enable the entire organization to create better customer experiences, while saving time and .money.
5. Experience architecture has to be fluid and anticipate flux. Your architecture has to be as agile as your teams, allowing for the ongoing innovation your teams will want to leverage or you'll risk developers going rogue.
6. Customers remain at the center throughout. This may seem obvious, but you never want your process to obscure the primary objective, which is achieving coherent customer-centric experiences.
As you think through bringing the concept of UXD to your organization, here are some initial steps you can take:
- Determine how important Experience Design is to your organization
- Define your current and desired state of Experience Design
- Decide which is better: a top-down or bottom-up approach
- Engage your leaders to drive Unified Experience Design
Like the experience design process itself, the journey to UXD is going to be a collaborative and iterative process.
Read more:
https://www.bluescape.com
---
This content is made possible by a guest author, or sponsor; it is not written by and does not necessarily reflect the views of App Developer Magazine's editorial staff.
---
---
Become a subscriber of App Developer Magazine for just $5.99 a month and take advantage of all these perks.
MEMBERS GET ACCESS TO
- Exclusive content from leaders in the industry

- Q&A articles from industry leaders

- Tips and tricks from the most successful developers weekly

- Monthly issues, including all 90+ back-issues since 2012

- Event discounts and early-bird signups

- Gain insight from top achievers in the app store

- Learn what tools to use, what SDK's to use, and more



Subscribe here