user experience
user experience news search results
Developer news items we found relating to user experience
35 results
---
DevSecOps showcase by Sumo Logic unravels all their new changes

Monday, September 17, 2018 by Richard Harris



Sumo Logic announced a number of new solutions and enhancements to its platform to empower enterprises to "win in the analytics economy." These innovations, as well as those from DevSecOps ecosystem partners, will be showcased this week at Sumo Logic's user conference, Illuminate, in Burlingame, Calif. Illuminate will gather over 600 experts in machine d...
---
Predictive analytics for embedded apps lands

Monday, September 10, 2018 by Richard Harris



Logi Analytics announced the launch of Logi Predict, a predictive analytics solution specifically designed to be embedded in applications. Product managers and developers can embed machine learning and artificial intelligence capabilities into their applications, creating smarter software that reduces customer churn, detects fraudulent activities, targets customers with...
---
To make a progressive web app or not

Thursday, September 6, 2018 by Richard Harris



Mobile users are spending 80 to 94 percent of their mobile use time in apps, so you'd think the mobile web would be a thing of the past right? But the average mobile user also visits 100 different websites each month, and only half of all mobile users don't download any new apps during that same period. In order to achieve the speed and ease of use p...
---
Five tips for taking mobile payments from inside your app

Friday, August 24, 2018 by Carol Oles



Back in 2008 when the Apple App Store began, there were a mere 800 apps available for download. Fast forward ten years and there are over two million apps on the Apple App Store and approximately 8 million in the Google Play store. Thousands of mobile apps are being published to Google Play and Apple App Store daily, but are the ones geared toward e-commerce or requirin...
---
NodeSource pricing tier has changed

Thursday, August 16, 2018 by Christian Hargrave



NodeSource announced the release of a new, integrated product platform. Teams can now benefit from a more cohesive set of solutions for Engineering and DevOps, as well as a more streamlined user experience. This release also marks the first time NodeSource has offered a free-forever pricing tier, targeted at individual developers or those working on small projects. An a...
---
Developing apps for the cloud to fuel faster releases

Wednesday, August 15, 2018 by David Jones



Businesses are moving faster than ever to deliver new software updates to their users, in order to ensure that their products and services are always aligned with expectations and continuously delivering top-notch customer experiences. They have to move quickly because that's what customers expect, thanks to companies like Amazon, who reportedly delivers new updat...
---
New app helps you buy and sell powersports equipment

Tuesday, August 14, 2018 by Richard Harris



RumbleOn announced a new app for mobile on both iOS and Android, alongside a revitalized website experience. RumbleOn is transforming the way pre-owned powersports vehicles are bought and sold by providing users with an efficient, timely, transparent, and trustworthy acquisition and distribution experience. The new RumbleOn website and mobile app include signifi...
---
Better programmatic ads and fraud protection come from YouAppi upgrade

Wednesday, August 1, 2018 by Richard Harris



YouAppi, a growth marketing platform for premium mobile brands, just announced upgrades to its 360 Platform, initially launched last year. The 360 Platform hopes to address five critical needs for today's marketers: user acquisition, brand video, rewarded video, re-engagement and social media. Moshe Vaknin, CEO of Youappi had this to say; &ldquo...
---
The App Lifecycle: Tips for engaging and retaining users

Monday, July 30, 2018 by David Lundell



Today, there are over 6 billion apps across the app stores, with more and more popping up every day. Developers are constantly working to fight through the clutter to acquire new users via paid and organic channels. And in a world of ever-changing user attention, the challenge for developers once they do acquire a new user is figuring out how to keep the user engaged an...
---
AR on the web too!

Wednesday, July 25, 2018 by Erik Murphy-Chutorian



Augmented Reality belongs online. To date, AR has primarily been confined to the app store, but there's a growing group of visionary developers and companies that have figured out that by "AR-ifying" their products for the web, they win in a larger number of more satisfied and enthusiastic users and customers. At the moment, we're seeing an ex...
---
Open source IT automation solution from Red Hat gets an update

Wednesday, July 18, 2018 by Christian Hargrave



Red Hat, Inc. announced the general availability of Red Hat Ansible Engine 2.6, the latest release of its agentless open source IT automation solution. Red Hat Ansible Engine 2.6 adds new content for automating across hybrid and multi-cloud environments, along with simplified connections to network APIs and updates for Ansible deployments overseeing Windows environments...
---
10 years of apps but over 95 percent of them are invisible to users

Wednesday, July 18, 2018 by Richard Harris



I've been developing software since before the Apple App store existed, so I have a before and after picture of what the app store has done for me in terms of being a developer, and what it's done for consumers alike. If I were to sum up the last ten years of the App store experience as a developer, put simply in a Haiku-like format - "Apps have changed ...
---
Mobile blockchain SDK helps devs integrate the new tech

Monday, July 16, 2018 by Richard Harris



Devslopes LLC has announced the company has raised $300,000 in conjunction with their latest product named Blockstart to bring blockchain and cryptocurrencies to mobile app and game developers. Since its launch in 2015, Devslopes has taught over 300,000 students how to code and obtain jobs in the tech industry. After training both online students and corporate employees...
---
Parsing the customer journey just got easier

Friday, July 13, 2018 by Christian Hargrave



Neura announced Neura Moments, the synthesis of a user's real-life situation in a specific context, place and time. Neura Moments are situation-aware, predict intent, and actionable. The Neura Engagement Intelligence layer is able to identify which features of an app are used at specific Moments. This enables developers to route specific interactions with consumer...
---
Avoid mobile cybersecurity threats by checking the source

Thursday, July 5, 2018 by Sam Bakken



Earlier this month IT news organizations around the globe reported that Epic Games' popular Fortnite game was being counterfeited and malicious actors were, in fact, lacing the imposter apps with malware. We're only human, and people unwittingly let their guard down in anticipation of something they're passionate about, or when they think they might b...
---
MongoDB World 2018 and everything you need to know

Monday, July 2, 2018 by Richard Harris



At MongoDB World 2018, MongoDB made several major product announcements that the company says is "expanding on their presence in the database market." Nearly every company is focused on using software for a competitive advantage. The company says that with their latest enhancements database platform, "it enables a competitive advantage for thousands of cu...
---
KaiOS talks smart feature phones and app developers

Wednesday, June 13, 2018 by Richard Harris



KaiOS is a Linux-based mobile operating system built on a fork of Firefox OS that first appeared in 2017 and was developed by KaiOS Technologies Inc. in San Diego. We recently chatted with Tim Metz, Marketing Director at KaiOS Technologies, about KaiOS' emerging operating system for smart feature phones. We discuss why these devices are becoming relevant again, what...
---
Mobile retargeting best practices and worst mistakes

Monday, June 11, 2018 by Richard Harris



Retargeting has been a key component of growth strategies for most leading apps, but creating a successful retargeting strategy and measuring its success can be a slippery slope, especially without a clear market standard. Adikteev recently released a whitepaper with insights and best practices for having an efficient app retargeting strategy so we cau...
---
New STO planning software emerges

Wednesday, June 6, 2018 by Stuart Parkerson



STOlogix has announced the launch of a new front-end software solution which streamlines the functionality of complex and disparate software applications required for STO planning. The new software solution, STOplanner, is being developed by KAP Project Services, a leading project controls and project services provider for the oil, gas and petrochemical industries.Accor...
---
App development strategies from Swish's CTO Jeff Whelpley

Wednesday, May 30, 2018 by Richard Harris



Deciding on how to get your idea to the mobile market can be a long journey. Things like building your own infrastructure vs. a managed services approach, and leveraging open source technologies to keep dev costs down are just a few of the things to consider.We had a recent discussion with the CTO of Swish (a budgeting app founded by the guys who did Get Human) on mobil...
---
AI test automation capabilities released for Eggplant suite

Tuesday, May 29, 2018 by Christian Hargrave



Eggplant announced the latest enhancements to its Digital Automation Intelligence (DAI) Suite. The advancements support Eggplant's mission "to use AI, machine learning, and analytics to optimize the digital experience, allowing teams to keep up with the pace of DevOps, and improve time to market and customer satisfaction."The latest product releases will enable Eggplant...
---
Mobile advertising leads worldwide growth

Friday, May 25, 2018 by Richard Harris



Key trends in mobile advertising is the focus of a new quarterly report out from PubMatic that highlights mobile app advertising growth, the continued expansion of header bidding adoption across mobile inventory, and the expansion of cross-channel monetization.There has been a significant shift in monetization opportunities for mobile app developers as in-app header bid...
---
Android TV is not slowing down

Friday, May 25, 2018 by Ron Downey



Android TV is quickly becoming a staple on the technology roadmaps of pay-TV operators worldwide. More than a hundred cable providers and hardware manufacturers have already taken the plunge, and two-thirds of service providers expect it to be the market-leading platform by 2025. With Google announcing the launch of its ADT-2 developer device earlier this month too, put...
---
Why developers should add mobile print to apps

Friday, May 4, 2018 by Patrick Chen



Printing has been a major part of history for thousands of years, dating back to ancient Mesopotamia, and despite the rise of digital technologies, it's not going anywhere - in fact, the demand for printing continues to grow, for four major reasons:Despite digital advancements, printing is still the standard. Printed materials such as contracts, government forms and har...
---
Using AppDynamics for Kubernetes and CloudCenter 4.9 together

Wednesday, May 2, 2018 by Richard Harris



Cisco has announced Kubernetes support for AppDynamics and Cisco CloudCenter, enabling enterprises to quickly adopt Kubernetes in production, and create and modernize their applications for the multicloud era. Now, enterprises can easily harness the value of Kubernetes to help deliver better user experiences.Companies are rapidly adopting containers on the promise of in...
---
Magento Progressive Web Applications (PWA) Studio marches in

Wednesday, April 25, 2018 by Richard Harris



Magento Commerce has announced Magento Progressive Web Applications (PWA) Studio, a suite of tools for building online stores with app-like experiences. PWA Studio will allow Magento Commerce solution partners and UX developers to deliver fast and simple front-end experiences on mobile devices.Mobile commerce continues to grow and will contribute to half of overall reta...
---
Coinsource attempts to stop Bitcoin fraud

Monday, April 23, 2018 by Richard Harris



Coinsource has announced a partnership with Acuant, a multi-factor KYC / AML authenticator working to improve customer experiences, increase conversion rates, and mitigate fraud at all of Coinsource's Bitcoin ATM machines around the world. Acuant's API and patented technology will now authenticate IDs and passports by applying 50+ forensic and biometric tests, in second...
---
More rewarded mobile ads = higher user engagement

Thursday, April 19, 2018 by Richard Harris



Tapjoy published a new study showing that the more rewarded advertisements a mobile app user completes, the higher their engagement, retention and in-app spend metrics climb. While previous Tapjoy studies have focused on the relationship between rewarded ads and specific metrics such as spend or retention, this report is the first the company has done to analyze the imp...
---
Using feature flags in your app release management strategy

Thursday, April 19, 2018 by Richard Harris



Giant software releases that happen on an annual basis need to stay in the past. Year-long release cycles mean developers are forced to simply "push and pray" that the update is successful. There's too much room for error and consumers are forced to deal with too much change at once.Today's consumers expect constant, imperceptible software updates, and today's developer...
---
Move data between the cloud and edge with Couchbase Mobile 2.0

Wednesday, April 18, 2018 by Christian Hargrave



Couchbase, Inc. has announced the latest advancement in mobile data management with Couchbase Mobile 2.0. The latest release offers enterprise developers SQL queries, Full-Text Search, synchronization, and end-to-end security among other features to easily mobilize business applications to create better customer experiences and a more effective workforce. Companies acro...
---
5G will accelerate in-app advertising

Wednesday, April 18, 2018 by Yair Green



The adoption of 5G will have far-reaching consequences, propelling autonomous vehicles, infrastructure, advertising, and IoT into the next generation of connectivity. Its impact will be most evident in the network's speed, with download rates of up to 10 gigabytes per second, and in the proliferation of IoT devices, of which Gartner projects there will be 20.8 billion b...
---
Mobile website or mobile app, the changing tides

Tuesday, April 17, 2018 by Richard Harris



Programming with native mobile languages has been the keystone way of producing a rock-solid mobile app since the beginning of the mobile app stores, and there's good reason. After-all, programming as close to the hardware layer as possible is usually your safest bet, and using the language the manufacture fully supports will get that job done with less headaches.But in...
---
Pulse Secure expands to support hybrid IT with secure access

Monday, April 16, 2018 by Richard Harris



Pulse Secure has announced new cloud and virtual appliances to protect access and support applications in hybrid IT environments. Enterprises are quickly moving to deploy hybrid IT, leveraging the cloud to introduce new user services and gain disaster recovery resiliency, as well as continuing to use the data center when they must have total control of the application. ...
---
Sensory brings low power wake words to mobile apps

Monday, April 9, 2018 by Richard Harris



Sensory has announced that it has made a significant breakthrough in running its TrulyHandsfree wake word and speech recognition AI engine directly on Android and iOS smartphone applications at low-power. As a software component, TrulyHandsfree can be adapted to any app without requiring special purpose hardware or DSPs to capture efficiencies in computing.Until now, al...
---
Netskope unifies enterprise cloud and web security

Thursday, April 5, 2018 by Christian Hargrave



Netskope has announced the general availability of Netskope for Web, an expansion of the Netskope Cloud Security platform that enables safe web use for enterprise organizations. Powered by the same cloud-native architecture and patented Cloud XD technology of the award-winning and market-leading Netskope cloud access security broker (CASB), Netskope for Web uniquely und...
---
Featured Stories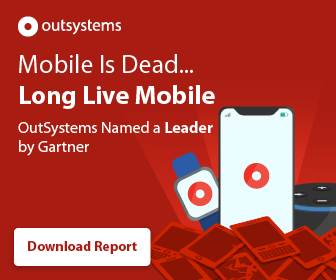 Stay Updated
Sign up for our newsletter for the headlines delivered to you

SuccessFull SignUp

co