Game Development
A Look Back at Golden Age of Atari at the Game Developers Conference
Tuesday, March 3, 2015
36,393
---
One of my favorite parts of GDC was a look back at the decidedly old school tech that could be seen, touched and played at the GDC Atari museum exhibit which was set up and sponsored by the Videogame History Museum.
As the US and Russia fought a cold war in the 1970's, the US video game industry was born with the huge commercial success of Pong, which spring boarded Atari into a global gaming powerhouse. Unfortunately, by the time the cold war was ending with the fall of the Berlin Wall in 1989, Atari was done. There were a number of reasons for Atari's demise, including management mistakes and competition from Nintendo and other soon to be gaming titans. Today, Atari is just a footnote in video game history.
Atari's downfall aside, in its day it offered a cutting edge home and arcade game platform. And at GDC, all of that Atari tech and software is still working today and is available for the GDC game developers to play with at the exhibit. And attendees did play, so much so in fact that the console games needed repairs (some of you will remember the old arcade days when your favorite game had that paper sign stuck to it – "Out of Order"). Well, you didn't have to see that sign at GDC thanks to Andy Kuntz of Hat Trick enterprises - shown here, board in hand and repair underway.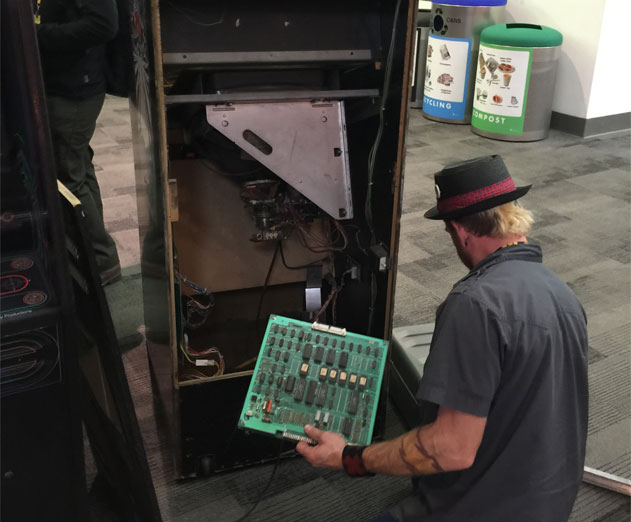 The exhibit was made available by the Videogame History Museum which is currently working with the city of Frisco, Texas to open a temporary 10,400 square feet museum space at the Frisco Discovery Center. The city also has dedicated nearly $1 million to cover startup costs and construction of a larger facility in Frisco to showcase the full Museum collection. The museum is currently hosting fundraising activities to help raise the total funds needed to complete the new building.
The mission of the non-profit museum is focused on archiving and preserving the stories of how the video gaming industry evolved, as well as documenting the contributions of the people that the industry possible. In addition to thousands of physical artifacts and memorabilia, the museum's digital archives boast hundreds of gigabytes of design documents, memos, magazines, press kits, and other historical corporate paperwork.
Read more:
http://www.vghmuseum.org/
---
Become a subscriber of App Developer Magazine for just $5.99 a month and take advantage of all these perks.
MEMBERS GET ACCESS TO
- Exclusive content from leaders in the industry

- Q&A articles from industry leaders

- Tips and tricks from the most successful developers weekly

- Monthly issues, including all 90+ back-issues since 2012

- Event discounts and early-bird signups

- Gain insight from top achievers in the app store

- Learn what tools to use, what SDK's to use, and more



Subscribe here