Apps
Is Temu safe, legit, or dangerous: Perspective from an app developer
Wednesday, July 12, 2023
20,236
Temu is taking the app stores by storm, and users wonder if it's too good to be true. We answer the questions about Temu being safe, legit, or dangerous and offer some app developer perspectives, insight into where the products come from, what quality the products are, and some things to consider before placing your first Temu order.
Temu is a shopping website, and app chalked full of products from overseas at ridiculously dirt cheap prices. They have almost everything you can imagine too. From laser pointer slingshots to Expresso makers, the entire ecosystem is built around keeping you shopping with a gamified experience, and it gets addicting quickly.
Some of the ADM staff have placed orders and received items from Temu already and are overall impressed. I received my first order a few days ago, and I've got to say the products are about what I expected - the product photos will also show the best version of a rug or the fun to be had with a drone in the air. But after spending hours using the Temu app & website itself and doing some diligence behind their technology stack, I thought it would be good to highlight some of the good, bad, and ugly things we found.
What is Temu and is it safe?
"Temu pronounced (tee-moo) is an online marketplace that connects consumers with millions of sellers, manufacturers, and brands around the world with the mission to empower them to live their best lives. Temu ships its products from a global network of suppliers and manufacturers, using experienced and reliable logistics partners. Temu's shipping origins can vary depending on the product being purchased. However, Temu works with leading package carriers like UPS, FedEx, and USPS to ensure that all orders are delivered promptly and securely to customers. Lastly, Temu means TEAM UP, PRICE DOWN," according to Temus about page,
"Temu allows China-based vendors to sell and ship directly to customers without having to rely on warehouses in the destination country. Temu offers free goods to some users who successfully encourage new users via affiliate codes, social media, and gamification. It also uses online advertising on Facebook and Instagram. According to Andrew Chow writing for Time, Temu is also starting to develop a reputation for undelivered packages, mysterious charges, incorrect orders, and unresponsive customer service," according to Wikipedia.
Link to shop on the Temu web app:
https://temu.to/k/usidSG1LD0KafvJ
Links to download the Temu shopping app:
Temu the company: Who are they, where are they from, where is their headquarters, and how many employees do they have
"The company went live in the US in September 2022 and is a Chinese-based company that is owned by a parent company called PDD Holdings, which is registered in the Cayman Islands," according to Wikipedia.
"They have around 10,000 employees worldwide, completed over 61 billion orders, obtained over 11 million merchants, and processed over 20B USD in cash. Temu was founded in Boston, Massachusetts in 2022, and its headquarters is located at Suite 355, 31 St. James Avenue, Boston, Massachusetts 02116, USA", according to Temu.
While their headquarters are based in the US, Temu's warehouses and sellers are primarily based out of China, specifically in the Xinjiang area. Shein, another fast fashion shopping app that is very similar to Temu, is currently under investigation for the origins of its products and potential violations of US trade and import laws. This is concerning because Temu, which operates from the same area in China and is owned by Pinduoduo Inc. Pinduoduo Inc., is known for its involvement in malicious activities and has raised concerns regarding its US apps. These concerns are serious and include potential violations of US trade and import laws, questionable practices concerning the origins of their products, and potential issues related to privacy and malware.
"Investigations in 2022 alleged that Shein failed to declare that it had sourced cotton from Xinjiang for its products, a violation of the Uyghur Forced Labor Prevention Act. These claims are exacerbated by further reports of illegal labor conditions among the suppliers of Chinese fast fashion firms as well as findings that Shein products pose health hazards and environmental risks. Shein and several other Chinese fast fashion firms have also faced a high volume of copyright infringement accusations and lawsuits for intellectual property (IP) rights violations.
Shein and similar companies present a range of challenges to U.S. interests, including difficulties monitoring supply sources and obstacles in ensuring fair market practices with U.S. competitors. These companies also exploit trade de minimis import exemptions, through which firms make shipments to the United States that are below an $800 value and are therefore not subject to import duties. Taken together, Shein and similar firms serve as a case study of Chinese e-commerce platforms outmaneuvering regulators to grow a dominant U.S. market presence," argued U.S. lawmaker, Kaufman.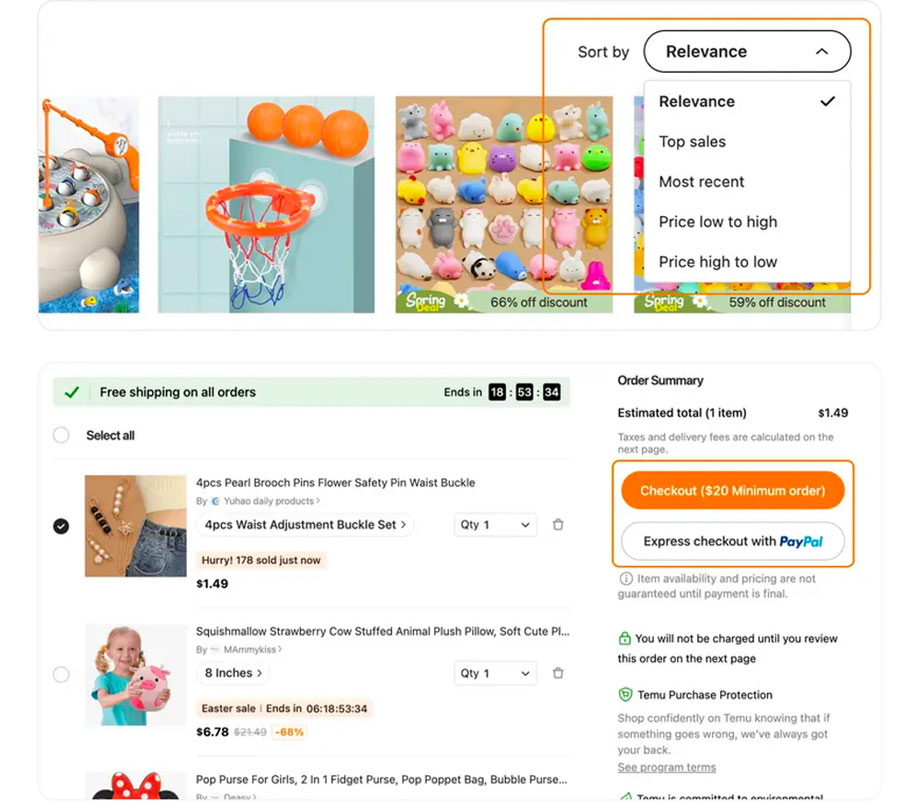 Image credits: Temu
Where do Temu products come from and are they any good?
According to Temu, "Temu ships its products from a global network of suppliers and manufacturers, using experienced and reliable logistics partners. Temu's shipping origins can vary depending on the product being purchased. However, Temu works with leading package carriers like UPS, FedEx, and USPS to ensure that all orders are delivered promptly and securely to customers,"
Temu does not mention any specific countries or regions where the products come from, so we dug a little deeper and found out that the majority of products on Temu come from China, in the Xinjiang region. The products work as advertised but they are often smaller than pictured and of lower quality. The lower quality is a result of the lack of quality control in factories that disregard labor laws and overwork, underpay, and mistreat workers. Another factor that influences the product's quality and durability is that the manufacturer may not have the motivation or resources to use when creating the products, for them to meet quality standards. With such low costs of items on Temu, you have to accept the risk that the items will arrive defective, break early, and not meet your expectations. However, some users are happy with their purchases and products from Temu.
The technology stack of Temu, Servers used, App code, Web code
The details of the underlying technology stack at Temu are unknown to the public. The developers behind the Temu app have chosen to keep this information undisclosed, which would help them maintain a competitive advantage, or avoid potential security risks.
Overall, the technology stack of Temu encompasses a combination of web and mobile technologies, including various programming languages, frameworks, databases, and cloud infrastructure to provide users with a seamless experience across the web, Apple App Store, and Google Play Store.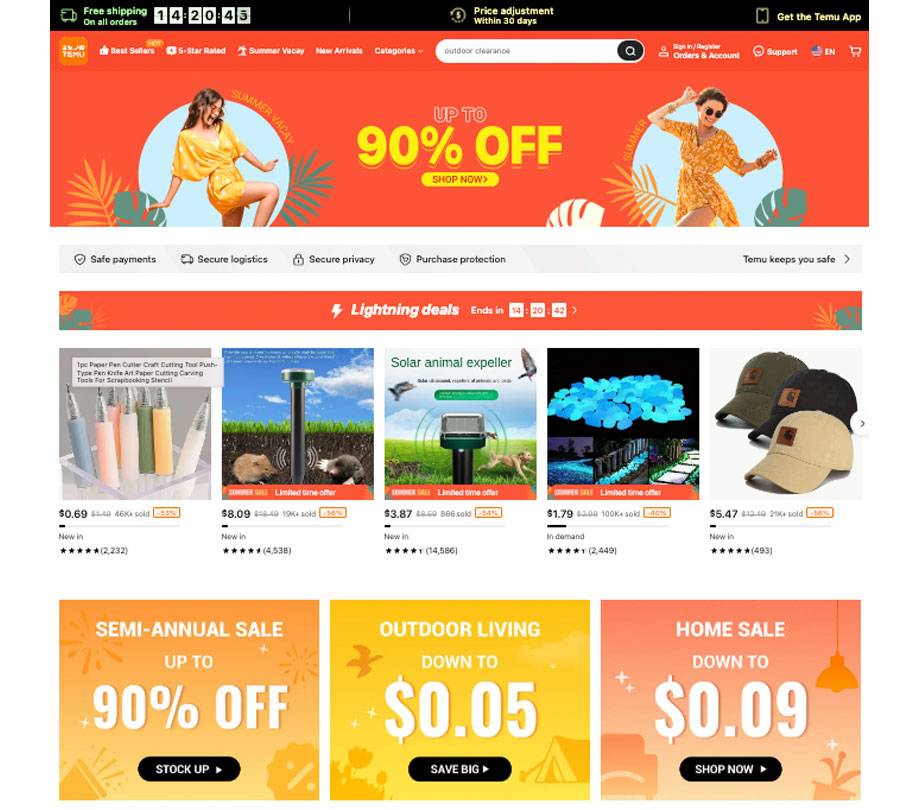 Image credits: Temu
Security of Temu app APIs, Your data, Encryption
Temu has raised concerns regarding security and user privacy since its introduction to the US. One of the primary concerns with Temu is its data handling practices. The app collects an extensive amount of user data, including personally identifiable information (PII) and behavioral data. There have been allegations that Temu shares user data with the Chinese government due to PDD Holdings' ties to China. There is a lot of skepticism and a lack of transparency surrounding the app's data practices.
According to Temu's privacy policy, "We employ a number of technical, organizational and physical safeguards designed to protect the personal information we collect. However, security risk is inherent in all internet and information technologies and we cannot guarantee the security of your personal information."
Below is the data Temu collects from you, what they do with it, and who they share it with:
What Temu Collects from you:
Contact data
Demographic Information
Profile data
Communications
Transactional data
Marketing data
User-generated content
Government-issued identification numbers
Payment information
Promotional information
Other data not listed in privacy policy

How Temu uses your personal information:
Service delivery
Research and development
Marketing
Interest-based advertising
Compliance and protection

Who Temu shares your data with:
Affiliates
Service providers
Payment processors
Advertising partners
Third parties designated by you
Business and marketing partners
Linked third-party services
Professional advisors
Authorities and others
Business transferees
Sellers, other users, and the public.

In a recent interview with cybersecurity experts Richard Crone, Michael McPherson, and Keely McCormick, they shared their security concerns for Temu, and ways to use it more securely:
"It has access to your wifi network, it has access to your GPS, your microphone, all these types of things it can access through your device, which could further give it access to other devices. Maybe you work at a place that they want access to, so now they have access to your device. You bring your device to work now they have access to a work network," McPherson said.
"If you're willing to wait, then you can get a deep discount. If you're willing to log on and share your data, we'll give you a bonus. If you're willing to refer, we'll give you a bounty, so all of this is helping to create a strong enrolled user base. It's safe to shop in Temu. It's even safer if you use a mobile wallet like PayPal, which doesn't share your payment credentials with Temu," Crone said.
To add to the security concerns, Montana's governor Greg Gianforte recently banned the use of Temu statewide to "protect Montanans from Chinese Communist Party surveillance."
Payment methods used on Temu
The Temu App has safe and legitimate payment methods, and there have been no reports of users being scammed by the Temu App to date. They have implemented many of the industry standard certifications including Visa Secure, Mastercard ID Check, American Express SafeKey, Discover ProtectBuy, JCB J/Secure, PCI/DSS compliance, and TrustedSite certified secure. Some of the well-recognized payment methods Temu accepts include PayPal, Visa, Mastercard, American Express, Discover, Maestro, Diners Club International, JCB, Apple Pay, Afterpay, Klarna., Google Pay, and more.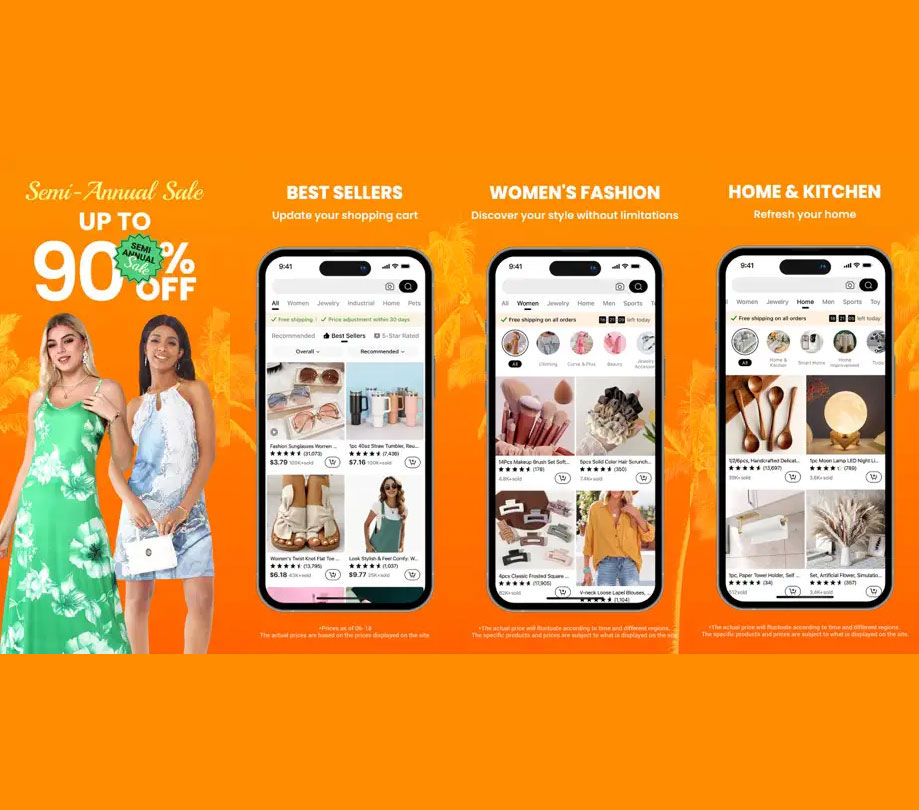 Image credits: Temu
The sellers on Temu are like vendors on Alibaba, pricing on exact items can vary from vendor to vendor, searching for the same thing will yield different results
On Temu, the sellers can be compared to vendors on Alibaba in terms of their role as sellers on an online marketplace. Both platforms provide a platform for businesses and individuals to sell their products to a wider customer base. However, there are certain differences between the two platforms. One notable difference is the target market. Alibaba primarily caters to B2B (business-to-business) transactions, where businesses can source products and materials from suppliers. On the other hand, Temu is more focused on B2C (business-to-consumer) transactions, allowing individual sellers to reach end consumers directly.
When it comes to pricing on exact items, it is important to note that both platforms operate as marketplaces, meaning that sellers have the flexibility to set their own prices. While there may be similarities in pricing among vendors on Alibaba and sellers on Temu, it is also common to see variations in pricing for the same product on both platforms. This can be due to factors such as the seller's pricing strategy, location, shipping costs, and other market dynamics.
Additionally, the product selection and variety may differ between the two platforms. Alibaba typically offers a wider range of products, including bulk orders and wholesale options, as it primarily caters to businesses. Temu, being more consumer-oriented, may have a focus on individual products or smaller quantities.
It is worth mentioning that both Alibaba and Temu provide search functionalities to help users find specific products. However, due to the nature of online marketplaces and the varying inventory of different sellers, searching for the same item can yield different results in terms of pricing, availability, and seller reputation. This is because each seller operates independently and has their own pricing structure and inventory.
Temu reviews and complaints
"These ads appear to be working to boost Temu's installs. But dig into the app's reviews and you'll find similar complaints to Wish, including scammy listings, damaged and delayed deliveries, incorrect orders, and lack of customer service," said Sarah Perez from TechCrunch.
"The reliability of the Temu app has been questioned due to various user opinions and reviews on platforms such as Trustpilot. Reported problems include difficulties with returns, lack of invoices for businesses, problems with deliveries, and lack of contact information. Additionally, there have been complaints about long waiting times in customer support chat. The games offered on the app have also sparked controversy, as many users have complained about not making any profits," said Alfredo Salvador from Droiders.
"This is great for the price. Remember that 1000 pieces sounds like a lot, but these are literally the size of small stones, so if you want to do a larger area, you'll need to order multiple bags (more than 10). My photo shows 4000 pieces, which will hardly fill the average potted plant," said a Temu reviewer for glow in the dark landscaping rocks.
"I just ordered another set of these. I love them! You can hear these as they work and they sure do work!!! The second sent is for my parents. These don't bother my dog at all. Highly recommend!!," said a Temu reviewer for a solar light.
"This is an awesome speaker and while glass does seem to work nice, guitars are amazing to put it on and so are cardboard boxes but the best thing I found in the house? The dryer and washer. It's got clear plastic doors and just sounds amazing while amplifying it nice and loud! Overall a super cool speaker and easy to use. Comes with a lanyard to attach it to, a charger, a replacement sticky pad which you can wipe off with a wet cloth to get it sticky again, and a pad with 4 cut ion cups on it," said a Temu reviewer for a wireless speaker.
"It works really well. I was not sure because the price was too cheap but I was wrong. My wife loves it. It has rubber on the bottom, so it sticks on the floor well. It took me about 10 min to all those knives sharpen again. I will update after some time about durability, but I strongly recommended for now," said a Temu reviewer for a knife sharpener.
"This neck fan love the color it's white it has three speeds should be perfect when it gets hot. It also has a USB port to charge it but it came charged to show that it was working. Box was a little dented, but the neck fan was in great shape," said a Temu reviewer for a neck fan.
"Very handy for under washing machine and dryer. Can also be used under low furniture and refrigerator. Recommended," said a Temu reviewer for a dryer vent cleaner.
"Definitely works. It may cut your bag a little bit but other than that I have no problem using it. Another thing is the magnet won't stay stuck to my refrigerator so there's that but overall it works well. You have to buy the batteries yourself they take AA batteries!" said a Temu reviewer for a snack sealing machine.
Summary
With any app that promises great benefits or features, it's natural to wonder if it's too good to be true. While the Temu App offers extremely good prices, hence the slogan "Shop like a billionaire", it's essential to set realistic expectations. After reading through user experiences and reviews we found that the app generally delivers on its promises and is not overly deceptive. Users can expect to receive their ordered items within a reasonable timeframe. However, there are concerns regarding the unclear origins of the products and potential violations of labor and import laws, placing it in a somewhat ambiguous position.
---
Become a subscriber of App Developer Magazine for just $5.99 a month and take advantage of all these perks.
MEMBERS GET ACCESS TO
- Exclusive content from leaders in the industry

- Q&A articles from industry leaders

- Tips and tricks from the most successful developers weekly

- Monthly issues, including all 90+ back-issues since 2012

- Event discounts and early-bird signups

- Gain insight from top achievers in the app store

- Learn what tools to use, what SDK's to use, and more



Subscribe here