New progressive web app framework introduced by Marfeel
Progressive web apps are getting a boost from new framework release by Marfeel.
Posted Thursday, January 18, 2018 by Christian Hargrave, Assignment Editor
---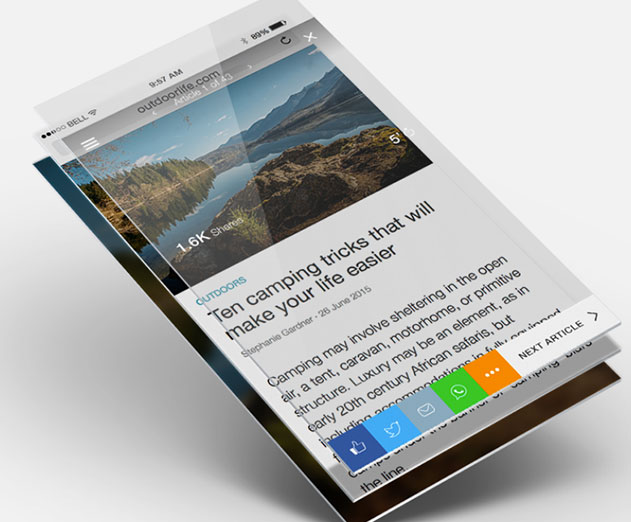 Marfeel has announced the launch of its Marfeel PWA technology, which enables publishers to benefit fully from the next big thing in the mobile ecosystem. As an early adopter of progressive web app technology, Marfeel offers such forward-looking capabilities as 0.7-second page loads for first meaningful paint, push notifications, offline access to content, and striking increases in site traffic - all promising to increase conversions and engage users.

As the popularity of app-store downloads continues to wane, Marfeel's PWA technology aims to fill the void by bringing the benefits of traditional native apps to web apps via super-speedy mobile sites. A mobile site enhanced with Marfeel PWAs can be saved to the user's home screen with the browser interface completely hidden, essentially giving it the look and feel of a native app.

Website speed is an important ranking factor in Google searches. According to a 2016 Google report, 53 percent of visitors abandon a mobile site when page loads are longer than 3 seconds. That's a painful fact for mobile sites running over 3G connections, where the average load time is 19 seconds - and 70 percent of cellular network connections worldwide are expected to remain at 3G or slower speeds through 2020. Marfeel changes the picture with PWA technology, which renders content visible and ready for interaction (the first meaningful paint metric) in less than one second, even on a 3G connection.


Benefits that until now were exclusive to native applications:
Reliably instant page loads of less than one second, even in chancy network conditions


Immersive full-screen user experiences that deepen engagement


Traffic that continually drives users back to mobile sites


More responsive user interactions, without balky scrolling


Significant boosts to SEO resulting from faster page loads


Marfeel co-founder and COO Juan Margenat says that although progressive web app technology may be unfamiliar to many publishers today, it's destined to become "the next mainstay in the mobile ecosystem. That's why even though PWAs are a promise from tomorrow, Marfeel is providing them today, so our partners can immediately reap the rewards of the enhanced engagement and performance that the Marfeel PWA delivers," he notes. "Google pioneered this concept, and we're pleased to commit to it as part of our philosophy of continuous improvement and staying on the edge of mobile evolution."

Progressive web apps "aren't packaged and deployed through stores, they're just websites that took all the right vitamins," blogger Alex Russell explains. A user's frequently-visited sites gradually "earn the right" to live on the home screen and send notifications, he writes, thus progressively becoming "apps" that are "zero-friction, zero-install, and easy to share."

The Marfeel PWA is built on top of service workers, a set of new JavaScript APIs that allow Marfeel to run script in the background even when the user is not browsing the website, which enables Marfeel partners to send push notifications when users are offline.

Mobile sites enhanced with the Marfeel PWA technology can intercept requests between the browser and the partner domain or URL, which enable them to deliver offline access. The enhanced speed provided by PWA technology also allows Marfeel to independently detect when a reader is browsing on a mobile device and then send the request directly to Marfeel servers. The company has also invested in a faster CDN (content delivery network), switching the logic of their code to the server-side so requests made by mobile devices are served directly by Marfeel's servers.

---