Augmented Reality
1st anniversary of WebAR SDK
Monday, November 7, 2022
Blippar is celebrating the first anniversary of its WebAR SDK, which launched in October 2021, and continued to develop with enhanced GPU SLAM, marker tracking, improved performance capabilities, a Unity Beta Plug-in, new compatibilities, and a tremendous adoption increase of over 100k users.
Blippar celebrates the first anniversary of its WebAR SDK. The powerful tool enables developers to implement key AR behaviors in products while delivering the levels of engagement, immersion, and innovation that users are seeking.
"At Blippar, we believe the power of AR needs to be in the hands of creators. We have over 100k creatives using our platforms - from building content on Blippbuilder, our free AR creation platform, to coding complex, immersive experiences on WebAR SDK - we pride ourselves on offering leading technology to users of all skill levels. We're excited to reach this milestone, with so much innovation - including the recent launch of our SDK Unity plug-in - achieved in such a short space of time. We've already seen many amazing creations built on the platform, and we look forward to seeing what developers will create next," said Faisal Galaria, CEO at Blippar.
Blippar celebrates the first anniversary of its WebAR SDK
Blippar's WebAR SDK is a software development kit that enables users to create AR experiences for consumption on mobile browsers and head-worn devices. With the WebAR SDK, developers can create AR experiences that merge realistically with objects and environments using WebGL-based 3D content. But without having to learn new skills, as it's compatible with the majority of AR frameworks. It also doesn't interfere with other plugins or libraries and can be incorporated into third-party applications.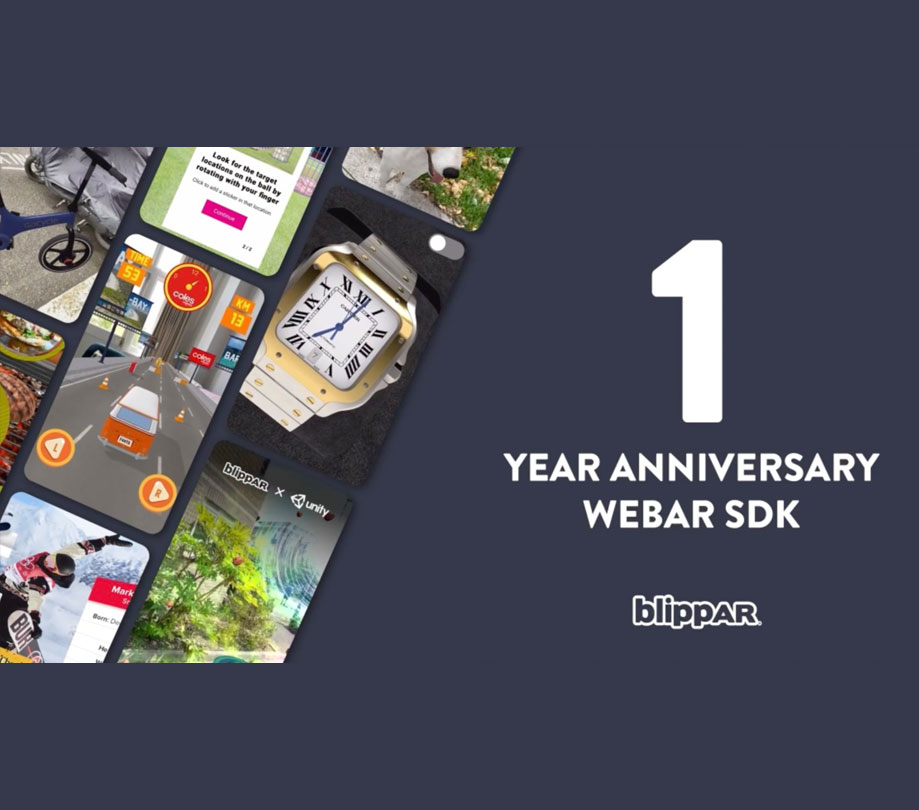 Since the initial launch in October 2021, WebAR SDK has continued to develop:
Enhanced capabilities: the SDK has improved performance as calculations occur in the phone's GPU (graphical processing unit) for its SLAM (surface tracking) and Marker Tracking. This ensures that AR experiences remain as realistic as possible by locking digital assets into place relative to real-world objects and surfaces.

Unity Beta Plug-in: Developers can now create lightweight AR experiences that can be published directly to any web browser. This feature saves considerable time and effort as Unity developers no longer need to work between multiple platforms to create and publish web AR experiences. Notably, this plug-in was adopted by nearly 500 Unity developers in less than a month after its launch.

Customization: AR experiences created with the SDK can be highly personalized with over 30 web attributes, from custom loading screens to auto marker detection functionality, alongside custom buttons, styles, texts, and animations.

Compatibility: Created with developers in mind, popular frameworks, including PlayCanvas, A-Frame, and Babylon.js, work seamlessly with the WebAR SDK.

Tremendous Adoption: There are 100,000+ users of Blippar's platforms, with new users of the SDK increasing month after month since its launch in 2021.
Blippar's WebAR SDK
"Blippar's WebAR SDK is our go-to AR development tool. We use it to create campaigns for a range of our clients, including Nestle and Johnson & Johnson, enhancing their marketing and product communication. The powerful SLAM and Marker Tracking technologies enable us to deliver high-quality global campaigns and project outcomes that delight customers," said Jason Ried, Managing Director of Fuzzy Logic, an AR enterprise solutions studio, and early adopter of Blippar's SDK.
---
Become a subscriber of App Developer Magazine for just $5.99 a month and take advantage of all these perks.
MEMBERS GET ACCESS TO
- Exclusive content from leaders in the industry

- Q&A articles from industry leaders

- Tips and tricks from the most successful developers weekly

- Monthly issues, including all 90+ back-issues since 2012

- Event discounts and early-bird signups

- Gain insight from top achievers in the app store

- Learn what tools to use, what SDK's to use, and more



Subscribe here