How Virtual Reality is helping seniors improve their quality of life
Posted Wednesday, September 27, 2017 by Christian Hargrave, Assignment Editor
---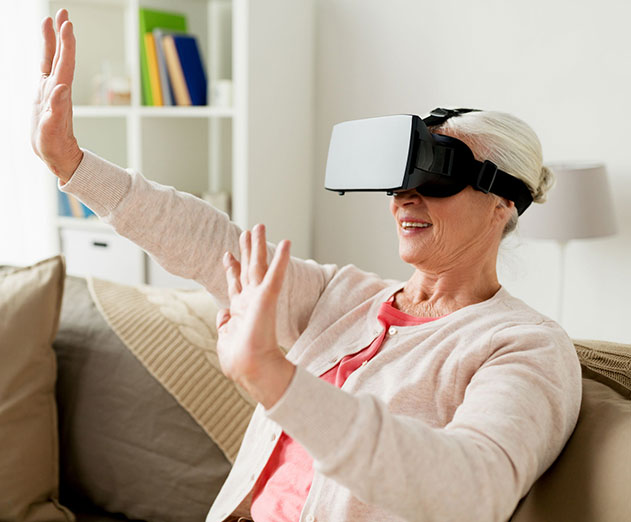 As the population ages and seniors' needs and expectations around care delivery, hospitality, amenities and access to technology shift, Maplewood Senior Living announced that it has launched the Center for Aging Innovation and Technology. The goal of the Center is to transform the aging experience for older adults by enabling greater independence, providing better management of health and wellness, broadening social connectedness, improving safety, and focusing on people-centric solutions for a better quality of life.

"The new Center for Aging Innovation and Technology helps us demonstrate the art of what is possible by incorporating new technologies, experiences and services into the lives of our residents," said Gregory D. Smith, President and CEO of Maplewood Senior Living, based in Westport, Connecticut. "Maplewood has always been committed to pushing the boundaries of what senior living should look like and we are pleased to launch this Innovation Center to demonstrate to our clients how we convert next-generation solutions into tangible tools and outcomes."


Virtual reality helps aging seniors in the following ways:
Rendever Virtual Reality: This virtual reality (VR) system is specifically designed for seniors and offers immersive experiences that can entertain, spark memories, foster social connections and reduce stress and anxiety.
Eversound: These wireless, noise-cancelling earphones can be used one-on-one or during group activities to help seniors hear more clearly thereby improving engagement. To date, 80 percent of residents who tested the earphones continue to use them and report more enjoyment and engagement during activities.
Fall Prevention Systems: Through these technologies, Maplewood is hoping to improve fall rates among high-risk residents.
Skype Lounge: These nicely appointed rooms enable full Skype capabilities utilizing large, easy-to-see screens and optimal sound, so residents can join family members at important events they may otherwise be unable to attend like a grandchild's birthday, graduation or wedding.

The launch of the Center for Aging Innovation and Technology follows the appointment of Brian Geyser, APRN-BC, MSN, Vice President of Clinical Innovation and Population Health, who is responsible for leading innovation at Maplewood.

"New technologies like VR can really expand a resident's world," said Geyser. "For one of our residents, we were able to use VR to take her back to her hometown in Maine. We even visited her childhood home. We then capped off the experience with a fresh blueberry pie from our farm-to-table kitchen. It was quite a thing to see. I'm honored to be able to deliver experiences like this to our residents.

---