Omni-channel insights launch for phone call analytics platform DialogTech
Posted Wednesday, July 26, 2017 by Christian Hargrave, Assignment Editor
---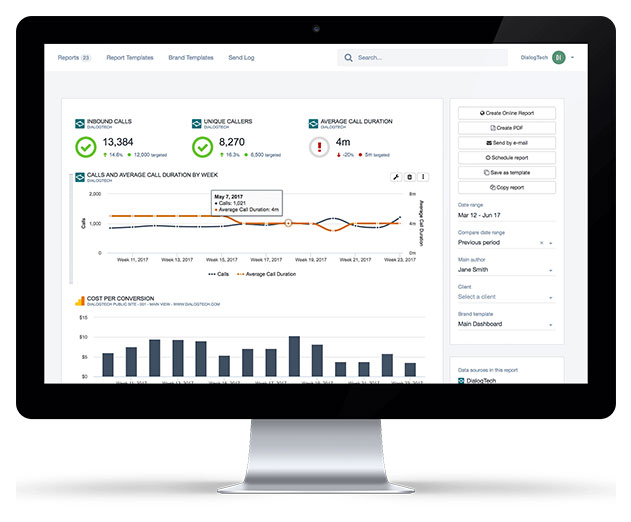 DialogTech, a provider of marketing analytics for phone calls, has announced the launch of Dashboard Insights. Businesses and agencies can now access and visualize DialogTech's call analytics data however they choose to gain the right insights into how phone calls from digital advertising, website interactions and offline marketing drive appointments, customers and revenue. Dashboard Insights reports can also include data from Google Analytics, AdWords, Bing, Facebook, Twitter and other reporting platforms, so marketers can analyze phone call data alongside online activity for omni-channel insights.

"DialogTech pioneered call analytics by providing marketers with industry-leading data on calls, callers and conversations and passing that data to the other marketing tools they use to drive growth," said Irv Shapiro, CEO of DialogTech. "Now with Dashboard Insights, the reporting within the DialogTech platform is truly world-class and a game changer for businesses that value phone calls."


Customizable Reports for Analyzing Phone Calls

Dashboard Insights makes it easy for marketers to analyze the business impact of the phone calls they generate from every marketing source to every store, dealership, franchisee, call center or other location. From high-level overviews of marketing performance to channel- and location-specific deep dives, users can create beautiful graphical reports to view trends, compare performance and evaluate impact. Businesses, franchises and agencies can get a complete understanding of what marketing efforts drive calls and what happened on each call to each location.


Omni-Channel Dashboards for Holistic Analytics

DialogTech customers can connect their Google Analytics, Google AdWords, Bing, Facebook and Twitter accounts to Dashboard Insights to analyze online data alongside phone calls. This holistic view of the customer journey provides a single source of information into marketing performance - both online and over the phone - for every channel and interaction. Marketers can use Dashboard Insights to create data-driven blueprints for how to optimize media spend, ad targeting and website experiences to have the greatest impact on customer acquisition and revenue.

---