Marketing & Promotion
5 Steps for Mastering App Data Collection for User Acquisition and Reengagement
Thursday, January 7, 2016
---
User acquisition and re-engagement are essential to the success of any app marketing strategy. Whether the goal is bringing back dormant users, acquiring quality users who complete in-app events (like bookings or purchases), or even showing custom ads to a segment of users who have achieved an in-app activity threshold, collecting the right app data plays a major role in being able to plan your app marketing strategy accordingly.
Breaking it down into five essential steps, here are Jampp's tips for mastering app data collection:
1. Create your Event Funnel
It's important to identify which in-app events will determine how well your app marketing campaigns are performing.
You can collect data for every step the user takes inside your app, but identifying key events will ensure better optimized data. Once you've determined those events, you're ready to conduct a Funnel Analysis. The Event Funnel is the set of steps (tracked as events) that a user completes in order to reach the "conversion" or "key event," it's essential to understanding user behavior.
Depending on your app, users may take more or less time to move along the funnel. If you establish time-goals for your events, you can identify which steps are taking longer than intended and check for issues, possible feature improvements and/or specifically target users "stuck" in a certain step.
2. Classify your Event Parameters
Event parameters can contain invaluable information for retargeting campaigns. For instance, let's say you have an e-Commerce app and you want to target users who have recently viewed microwaves.
Your users will trigger a "content viewed" event every time they visit a product site, and this event will have a "content ID" parameter that identifies the product type. You can then group together users who triggered the "content viewed" events with the "content ID parameter" with value "=microwave," and (re)target those users with special microwave offers.
To facilitate reviewing and analyzing your reports, make sure to keep event and parameter names easy to read and intuitive.
3. Determine how to identify your users
It's important to align your events to identify your users. To be successful, you need to know each instance in which a user opens your app or visits your mobile website. Why? Because user identification is crucial to linking large amounts of event data to each specific user ID. Identify all installs and in-app events from Android users with Google Advertising ID and all installs and in-app events from iOS users with Apple IFA.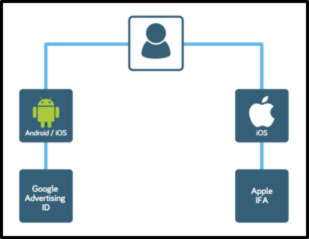 Don't forget to align your collected data to the correct device IDs from the beginning. This makes for a rich user database, which is key when setting up powerful app marketing strategies. By correctly identifying the device IDs that trigger each in-app event, you'll be able to create accurate and complete user segments for your re-engagement efforts.
4. Consider privacy regulations
Every day seems to bring news of another major data breach, so consumers today are understandably more and more concerned with the privacy of their data.
Consider a "privacy settings" screen, so the user can consult your privacy policy at any time and select how much information they wish to share. Assuming privacy options are available, highlight how or why sharing data improves the service or user experience. Keep in mind that different countries have different regulations. The European Union, for example, has stricter privacy/data protection regulations than the US.
Most likely, you will collect Personally Identifiable Information (PII) for your app's functionality or for financial reasons (billing). Contextual apps require data such as geo-location, which falls under this category. Apps with built-in social features may need access to the user's address book, and so on.
Here's a list of commonly requested user information: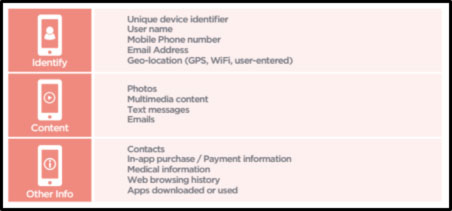 Once you have determined the data you need to collect, you should consider how long you will store the data and how you will ensure user information is stored securely.
Summarized below are the user privacy key points:
5. Assess how well your plan is working
So you are collecting the right data. Now what?
The following assessment chart determines how well prepared your app's data collection is, in order to optimize your user acquisition and re-engagement campaigns towards your key goals:
Hopefully, these 5 simple steps will help you plan a comprehensive data collection strategy for your app.
Read more:
http://jampp.com
---
This content is made possible by a guest author, or sponsor; it is not written by and does not necessarily reflect the views of App Developer Magazine's editorial staff.
---
---
Become a subscriber of App Developer Magazine for just $5.99 a month and take advantage of all these perks.
MEMBERS GET ACCESS TO
- Exclusive content from leaders in the industry

- Q&A articles from industry leaders

- Tips and tricks from the most successful developers weekly

- Monthly issues, including all 90+ back-issues since 2012

- Event discounts and early-bird signups

- Gain insight from top achievers in the app store

- Learn what tools to use, what SDK's to use, and more



Subscribe here