Blockchain
Blockchain app builder SDK from thirdweb
Tuesday, November 14, 2023
AvaCloud has partnered with thirdweb to streamline the development of apps on custom blockchains, providing developers with the tools and SDKs needed for faster deployment. This collaboration enhances AvaCloud's offerings and enables easy launching of high-performance apps.
Ava Labs and thirdweb are expanding AvaCloud's offerings and improving time-to-market for apps that need a custom, highly performant blockchain. AvaCloud already offers fast, simple custom blockchain deployments. Thirdweb's robust SDKs, smart contracts, and other tools enable AvaCloud builders to go beyond infrastructure and easily launch high-performance apps.
In the past, deploying blockchain networks was notoriously complex and time-consuming. A Cambridge study found that "large-scale networks take more than four and a half years for the full launch." App development has been similar. Launching complex apps can take 9+ months.
AvaCloud adds thirdweb, making building apps on custom blockchains easy
With today's release, deploying custom blockchains and building apps is as easy as ever.
No more tireless research for blockchains, tooling, and SDKs. Developers can now be at ease and skip worrying about the teams and resources needed to build blockchains and apps.
thirdweb's development tooling is comprehensive, easy to use, and falls within three key capabilities: building wallets, deploying pre-built smart contracts, and helping quickly build blockchain apps. Sign up with AvaCloud to get started, and schedule a demo today.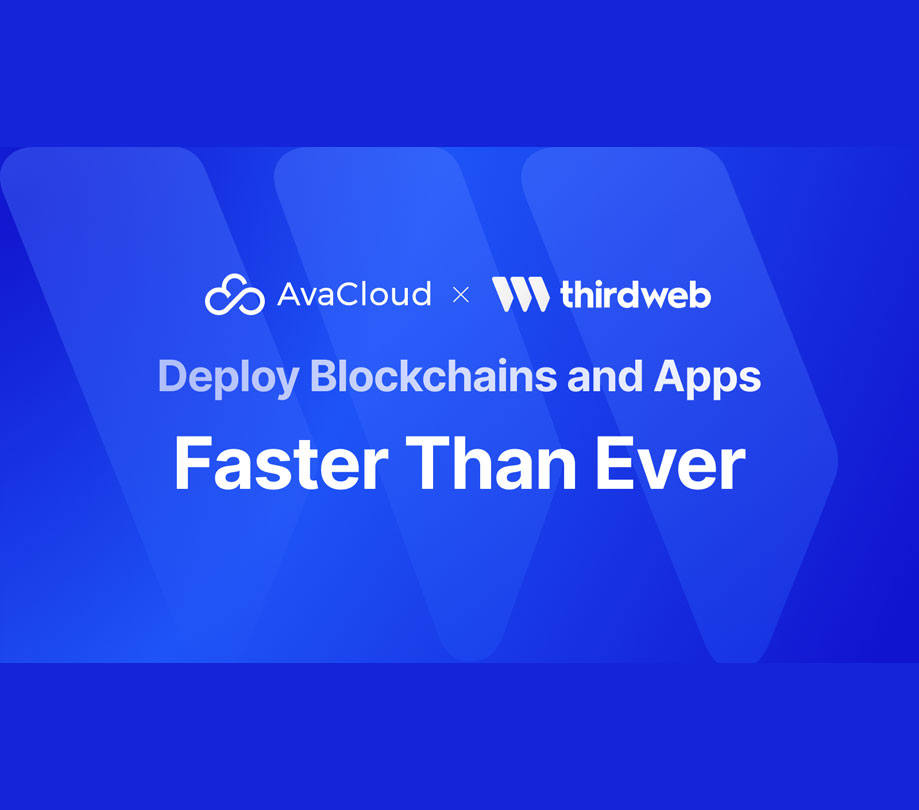 Here are some of the conveniences that app builders gain:
Easily Onboard Users with Customizable Wallets - Upgrade the user onboarding experience with features from fully customizable Connect Wallet modals to flexible login options, including email, social, and others.
Deploy Once-Click Smart Contracts - Choose from a suite of pre-built, audited smart contracts for many use cases, including NFTs, other tokens, staking, loot boxes, marketplaces, and more. Or build your own custom contracts using thirdweb's SDKs.
Quickly Build Blockchain Apps - To date, 100,000+ developers have used thirdweb to build, including 300,000+ deployed smart contracts. Everything you need to easily maximize your app is here.

"We believe this partnership is going to propel the adoption of Web3 apps and games by giving developers and studios the tools to build apps for billions of users on fast, secure blockchains. AvaCloud is transforming the way developers are launching Web3 apps, and we believe integrating thirdweb is the final piece to the puzzle," said Jake Loo, CTO of thirdweb.
"With over 20 years of experience in building traditional capital markets products for large organizations, I've seen first-hand what can get in the way of achieving success when launching products. AvaCloud and thirdweb are two solutions that both share a vision to minimize the complexities around blockchain development and maximize success for all innovators, no matter the level of expertise," said Nick Mussallem, Head of Product of Ava Labs.
---
Become a subscriber of App Developer Magazine for just $5.99 a month and take advantage of all these perks.
MEMBERS GET ACCESS TO
- Exclusive content from leaders in the industry

- Q&A articles from industry leaders

- Tips and tricks from the most successful developers weekly

- Monthly issues, including all 90+ back-issues since 2012

- Event discounts and early-bird signups

- Gain insight from top achievers in the app store

- Learn what tools to use, what SDK's to use, and more



Subscribe here