Game Development
AI content generator from YAHAHA Studios steals the show at GDC
Friday, April 14, 2023
YAHAHA Studios recently stole the show at GDC with their new AI-generated content tool, Co-Pilot. YAHAHA can now generate locales, environments, and worlds with just a few text prompts. Nearly 800 games were created and uploaded to the platform at its in-booth creation stations during GDC 2023.
Game Developer Conference (GDC) 2023 saw YAHAHA taking over the convention from March 20th - 24th, drawing more than 2,700 participants to its in-booth speeches, over 5,000 people to its networking party, and supporting the creation of nearly 800 games during GDC. All games were created by attendees during YAHAHA's live events and supported by YAHAHA's code-free data-oriented design (DoD) engine. The company also revealed its upcoming features plan, including an AI generated-content (AIGC) Co-pilot feature, multiplayer mobile creation, one-click art style changes, VR adaptation, and more.
YAHAHA Studios steals the show at GDC with AI Generated-Content Co-Pilot
YAHAHA demonstrated its pioneering Text2Game AIGC Co-Pilot tool, YAI, in an exclusive demo at GDC 2023. With this application, game developers will be able to streamline the creation process even further, generating locales, environments, and worlds with just a few text prompts. Utilizing YAHAHA's ever-growing asset library, its cutting-edge inbuilt virtual assistant builds environments seamlessly and with speed. The platform's DoD engine's capabilities include the ability to save the entire game state, as well as a novel design approach tailored to less-experienced developers, enabling creators to develop game concepts that may have previously been too complex. With the introduction of AIGC, an intended key feature of YAHAHA which will launch soon, YAHAHA aims to lower the barrier to entry even further for developers, as well as reduce the overall cost of game creation.
Also revealed was the mobile co-creation feature, supported by the DoD engine, which will make YAHAHA the world's first platform to support multiplayer game creation on mobile devices.
The upcoming one-click art style switcher will enable creators to bring their changing visions to life in an instant. Whether it be a Chinese ink painting, soft, dreamy watercolors, or an impactful cartoon style: with just a single click, YAHAHA users can experiment with different visual styles in their creations.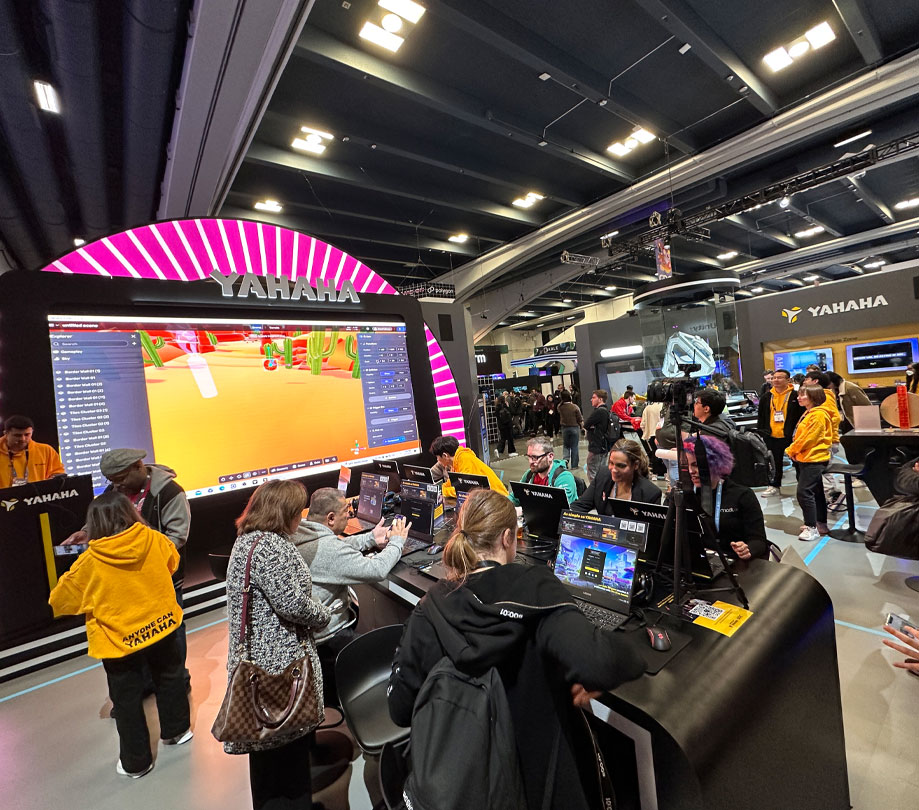 YAHAHA can now generate locales, environments, and worlds with just a few text prompts
YAHAHA also announced its VR device adaptation milestone, which will adapt any game created on YAHAHA for VR devices, at no extra cost to developers. Not only will this allow developers to reach an even wider audience, but all of these features will work in tandem with YAHAHA's new industry solutions, incorporating educational and metaverse initiatives, to form a seamless B2B, B2C, and commercial experience for all.
YAHAHA Studios also ran a series of in-booth and featured talks, attended by more than 2,700 people, where they discussed current applications of the platform and upcoming product releases to continue to widen access in game development. YAHAHA's core ethos is to make game development easier and more intuitive for creators. This has led to the provision of an educational program based on its own code-free gene development, incorporating courses that can be both embedded into campus curriculum systems and taken by individuals.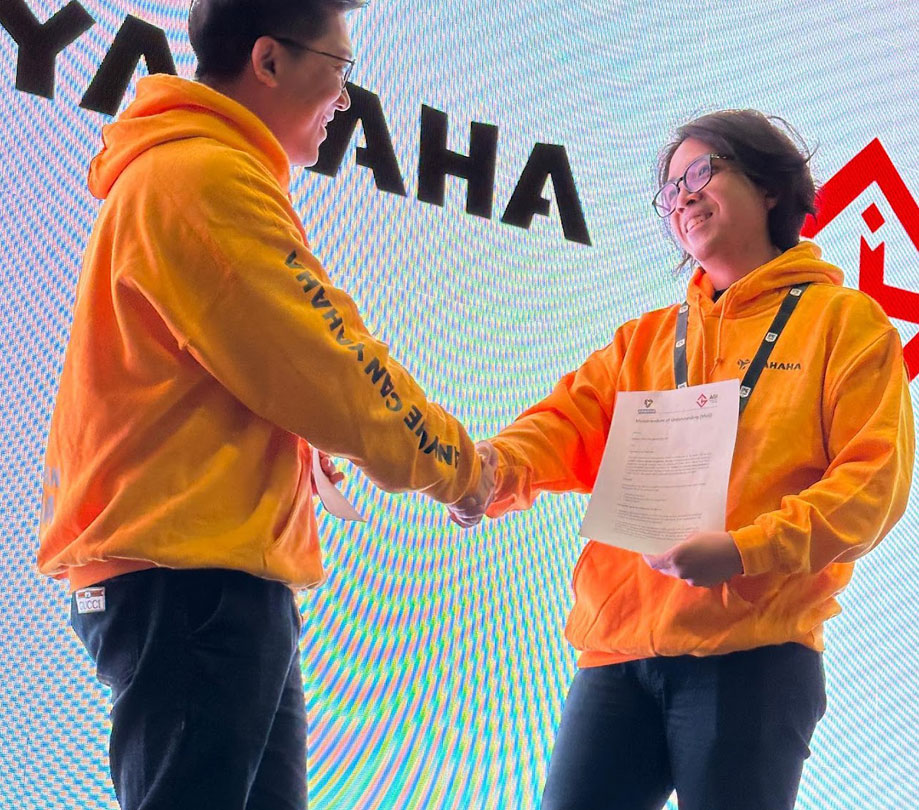 Nearly 800 games were created and uploaded to the platform at its in-booth creation stations over the course of GDC 2023
"The low code game development engine by Yahaha is effortless to use and powerful. It will be a very useful tool to bridge more players into game developers. Especially in Indonesia, YAHAHA can be a platform to create more talent in the game industry, which is why we're excited to have signed a Memorandum of Understanding with YAHAHA to collaborate further with their community, creator programs, and educational outreach," said Adam Ardisasmita, Vice President of AGI.
"It's been a pleasure to see so many people learning about and creating with YAHAHA at this year's GDC. There's been a real buzz around YAHAHA, and knowing that nearly 800 games were created at our booth is amazing. With the reveal of our new Text2Game generative AI tool, and following the release of Asset Ovi earlier this year, 2023 is set to be a year of launching even more powerful new features to enable game developers to realize their creative visions in YAHAHA.
The announcement of our B2B Metaverse solution is also an exciting opportunity to bring the Metaverse to more and more businesses and help them reach customers in new and ever-engaging ways. We remain committed to empowering creators with world-first tools, and aim to make YAHAHA the single best game development platform for developers of all backgrounds," said Pengfei Zhang, COO at Yahaha Studios.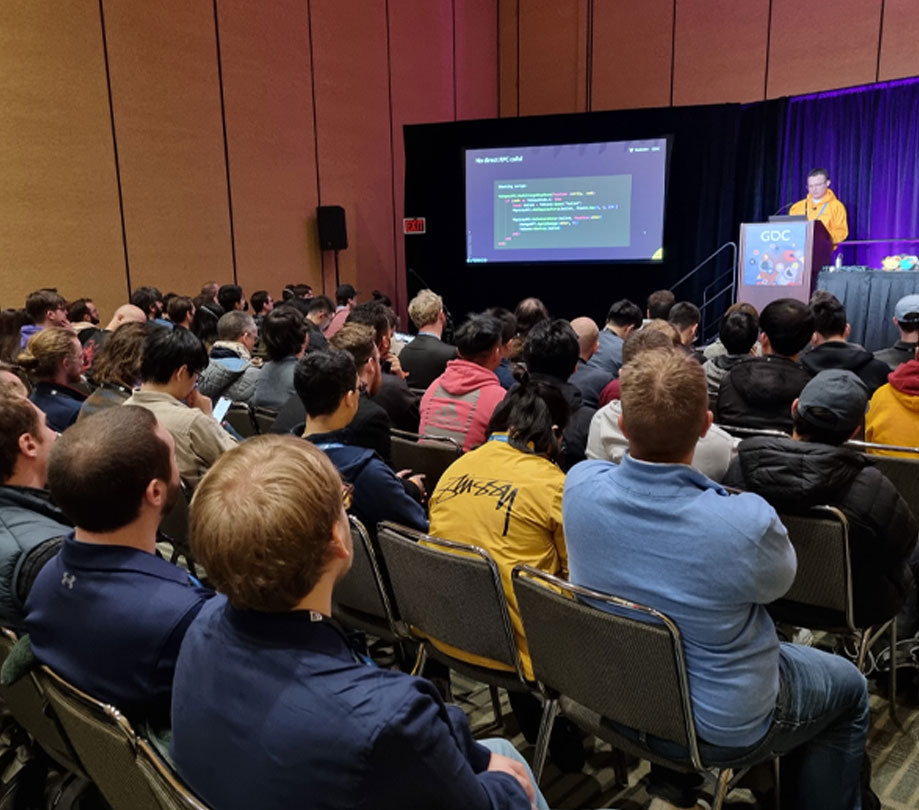 ---
Become a subscriber of App Developer Magazine for just $5.99 a month and take advantage of all these perks.
MEMBERS GET ACCESS TO
- Exclusive content from leaders in the industry

- Q&A articles from industry leaders

- Tips and tricks from the most successful developers weekly

- Monthly issues, including all 90+ back-issues since 2012

- Event discounts and early-bird signups

- Gain insight from top achievers in the app store

- Learn what tools to use, what SDK's to use, and more



Subscribe here